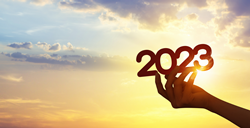 Positioning your organization as an authority through disruptively innovative PR builds respect, credibility, and trust—so people trust before they buy.

TAMPA BAY, Fla. (PRWEB)
January 16, 2023
As skilled labor shortages continue, demands for remote work options and higher wages have changed the landscape for employers.(1) This substantial shift hits businesses as the economy threatens a recession.(2) It's tempting to pull back and cut marketing budgets. However, advertising is a major economic driver and supports about 18% of all U.S. jobs.(3) Historically, companies that proactively market during a recession recover faster, sometimes gaining ground against competitors.(4) Crisis management veteran, Karla Jo Helms of JOTO PR Disruptors, an 'Anti-PR' agency that puts innovative startups on the map, advocates efficient marketing strategies to lower customer acquisition costs while maintaining maximum visibility.
"During uncertain economic times, marketing seems like an easy cut," says Helms. "However, out of sight is out of mind. Businesses who strategically approach marketing during downturns position themselves ahead of competitors."
The Great Resignation forced many employers to adapt to remote workers, flexible schedules, higher wages, and competing for skilled labor.(1) Some of these changes are here to stay, but the quit rate and unemployment rates are down compared to the end of 2021.(5) This may indicate some restabilization of the labor market.
A perhaps more insidious trend is "quiet quitting" or employee disengagement. While not new, employee disengagement historically increases during recessions. The loss of productivity costs $483 billion to $605 billion annually in the U.S.(6)
Disengaged employees are unlikely to step up and take responsibility for extra tasks. And they are more likely to quit if offered another opportunity, costing the company time and money in hiring and training. Inversely, higher employee engagement correlates with a 21% increase in productivity.(6)
The debate about a recession rages. While not all economic markers point to a recession, inflation is high, while the stock market and consumer confidence are low.(2)It's possible the U.S. can avoid a recession, but the road ahead remains uncertain.
Advertising propels sales and supports American jobs across industries.(3) Marketing is not a luxury but an economic necessity. Last year in the U.S. alone, advertising generated $7.1 trillion in sales activity, supporting 28.5 million jobs.(4)
Whether an organization is B2B or B2C, loyal customers create enduring income and drive organic growth. Businesses who over-trim marketing dollars during downturns lose market traction because of the Law of Familiarity.(7)
In sales, there is an inverse correlation between familiarity and perceived risk. When a business feels familiar, customers are confident in their purchase.(8)
Research of past recessions shows that brands that "go dark" can lose as much as 24% of brand use and are more likely than competitors to lose market share.(7)
Rather than slashing marketing budgets, Helms recommends companies invest strategically to maintain visibility in the marketplace.
B2B consumers can be particularly risk-averse, making marketing more essential. Third-party validation, whether through awards, testimonials, or PR, rapidly builds the familiarity that creates loyal customers.(8)
Helms helps her clients achieve this by establishing them as Thought Leaders in their industry. "Let people see and understand your passion and expertise," Helms says. "Positioning your organization as an authority through disruptively innovative PR builds respect, credibility, and trust—so people trust before they buy."
To help B2B startups efficiently maintain and gain market share during economic uncertainty, JoTo PR is offering "Familiarity In a Box." It's a multichannel disruptive Anti-PR package for those challenging the status quo.
"Familiarity is a cornerstone to healthy business growth," she advises, "and we never shy away from helping courageous, forward-thinking brands lean in now and reap the benefits for years."
To learn more, visit https://info.jotopr.com/the-law-of-familiarity
About JOTO PR Disruptors(TM):

After doing marketing research on a cross-section majority of 5,000 CEOs of fast-growth trajectory companies and finding out exactly how they used PR, how they measure it, and how they wanted the PR industry to be different, PR veteran and innovator Karla Jo Helms created JoTo PR(TM) and established its entire business model on those research findings. Astute in recognizing industry changes since its launch in 2009, JoTo PR's team uses newly established patterns to create timely Anti-PR(TM) campaigns comprising both traditional and the latest proven media methods. This unique skill enables JoTo PR to continue to increase the market share and improve return on investment (ROI) for clients, year after year—beating usual industry standards. Based in Tampa Bay, Florida, JoTo PR is an established international public relations agency. Today, all processes of JoTo are streamlined Anti-PR services that have become the hallmark of the JoTo PR name. For more information, visit JoTo PR online at http://www.jotopr.com
References: 

1. Ferguson, Stephanie. "Understanding America's Labor Shortage: The Most Impacted Industries." December 28, 2022, U.S. Chamber of Commerce, uschamber.com/workforce/understanding-americas-labor-shortage-the-most-impacted-industries.

2. Tepper, Taylor. "Recession Tracker: Are We In A Recession?." Updated: Nov 30, 2022, Forbes, forbes.com/advisor/investing/are-we-in-a-recession/.

3. The Advertising Coalition. "Study from The Advertising Coalition Finds Advertising Drives $7.1 Trillion in US Sales." May 26, 2022, MarTechSeries, martechseries.com/sales-marketing/study-from-the-advertising-coalition-finds-advertising-drives-7-1-trillion-in-us-sales/.

4. Kumar, Nirmalya; Pauwels, Koen. "Don't Cut Your Marketing Budget in a Recession." Aug 14, 2020, Harvard Business Review, hbr.org/2020/08/dont-cut-your-marketing-budget-in-a-recession.

5. Reed, David. "The future of the Great Resignation: weighing labor market trends as 2023 approaches." October 24, 2022, Sedgwick, sedgwick.com/blog/2022/10/24/the-future-of-the-great-resignation-weighing-labor-market-trends-as-2023-approaches.

6. Leadbelay. "The true cost of "quiet quitting" (aka employee disengagement)." December 6, 2022, Leadbelay, leadbelay.com/blog/the-true-cost-of-quiet-quitting.

7. Nova. "The History of Advertising in a Recession." August 31, 2022, Create With Nova, createwithnova.com/blog/the-history-of-advertising-in-a-recession.

8. George, Eric. "How Your Business Can Thrive During A Recession." Nov 29, 2022, Forbes Business Council, forbes.com/sites/forbesbusinesscouncil/2022/11/29/how-your-business-can-thrive-during-a-recession/.