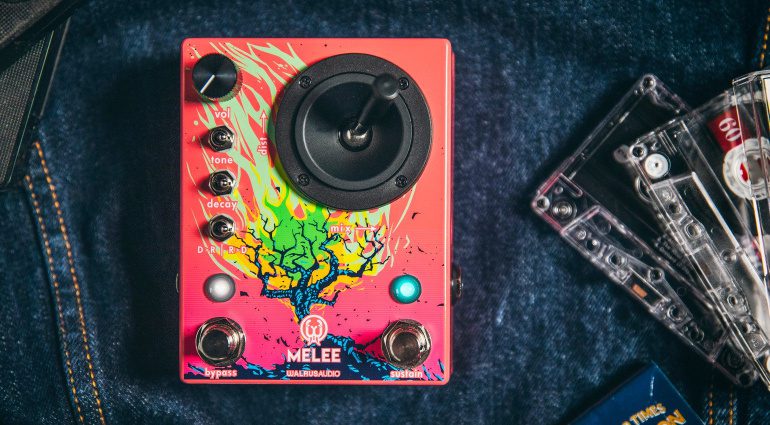 Walrus Audio Melee  · 

Source:
Walrus Audio
Walrus Audio Melee Wall of Noise is a pedal with built-in joystick control. Combining distortion and reverb into one noise-making machine. Perfect for ambient drones and weirdness?
Walrus Audio Melee
The new Walrus Audio Melee "Wall of Noise" looks interesting, as it is bright pink and it features a joystick control. It could be considered a hipster stompbox, or just a nice compact creative tool for studio and stage alike.
Combining reverb and distortion puts it in Shoegaze territory and ambient drone/noise music. Though, it isn't exactly My Bloody Valentine in a pink box.
Joystick?
The Joystick controls distortion  (up-down) and reverb portion (left-right) which makes it a tweakable effect and might be fun in the studio if you fancy a waggle to see what happens. Though using it live, I could possibly stomp on it and snap it, so be careful where you place it.
Elsewhere, it has a standard volume knob control and three mini-toggle switches: Tone, Decay and D>R / R>D, i.e. the effect order.
Plus, Modulation can be added to the wet signal by holding down the bypass switch and moving the decay toggle switch.
The bypass switch can be used as a momentary. Press and hold the sustain switch to ramp up the reverb trails. Release it and the trails will ramp back down to wherever the decay switch is currently set.
The sustain switch can latch in all three programs. Press and release the sustain switch to capture and sustain the current reverb decay.
The Reverbs
• Ambient Reverb (Pink LED) – Huge reverb with massive trails 
• Octave Down Reverb
 (Yellow LED) – Similar to the Dark mode in the Slö * pedal. Walrus Audio describes it as offering an eerie lower octave hovering in the reverb trail for a nice and dark atmospheric touch.
• Reverse Reverb with Feedback (Blue LED) – Add reversed reverb trails back into your signal, create gentle melodies or push into reverse feedback overload. 
It also features three bypass modes: DSP, DSP+True and True Bypass.
It looks interesting and it sounds like it could be a lot of fun to play with. Though potentially, a little wild and erratic, but that is half the fun surely.
MSRP – USD 299 / EUR 355 *
More Information
Video
* This post contains affiliate links and/or widgets. When you buy a product via our affiliate partner, we receive a small commission that helps support what we do. Don't worry, you pay the same price. Thanks for your support!
Image Sources:
Melee with joystick: Walrus Audio
Waggle that joystick: Walrus Audio