Tuesday afternoon's brief Senate session began with Sen. Jean Breaux, D-Indianapolis, discussing two recent events that she said "would cause great distress to the spirit of Dr. Martin Luther King."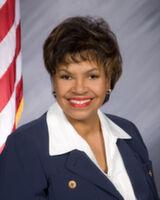 An Asian student was stabbed in Bloomington on Wednesday in what has been called a hate crime, while in Beech Grove on Saturday, an unaccompanied toddler was found brandishing a loaded weapon.
"These are two very concerning incidents that should concern us all," Breaux said.
 "And they are precisely the reason that the Senate Democrats are strong advocates on behalf of trying to ensure that hate crimes are adequately punished in the state of Indiana."
Breaux said there should be a stronger penalty for those who target others for their race, gender or ethnicity. 
"We were unsuccessful, but this is precisely the reason why, because we know there are people who are targeted for things beyond their control.
"And this is precisely the reason why we advocate so vehemently for gun safety and gun safety programs," she said, referring to the Beech Grove incident.
John Asplund is a reporter for TheStatehouseFile.com, a news website powered by Franklin College journalism students.