Fight the Power: How Hip Hop Changed the World
Saturday, 9pm, BBC Two
Public Enemy's Chuck D leads this fantastic four-part documentary telling the history of hip-hop. Bringing the story to life through immersive archive footage and interviews with leading academics and groundbreaking artists (think Grandmaster Caz, Ice-T and Roxanne Shanté), the first of this week's double bill starts in 60s America with the dawn of the Black Power movement. Hip-hop would then emerge in the ashes of the neglected Bronx. "Hip-hop was created by the oppression," says KRS-One, "because it was our art that defended us against the oppression." It's a cracking series capturing the infuriating lows and exhilarating highs behind music that has influenced generations. Hollie Richardson
Michael McIntyre's Big Show
6.50pm, BBC One
If you've never understood Michael McIntyre's appeal, just try to resist him in concert with Alison Hammond – they're the two sunniest people in showbiz. Hammond gingerly hands over her phone to play Send to All, while Peter Crouch and Abbey Clancy play a round of Midnight Gameshow. Ellen E Jones
The Masked Singer
7pm, ITV1
The Cat and Mouse are out of the bag – the singing duo were unveiled to be Martin and Shirlie Kemp last week. This gloriously silly competition continues with Knitting, Pigeon and Jacket Potato still in the game. HR
Ant & Dec's Limitless Win
8.30pm, ITV1
The neverending cash quiz continues with last week's contestants Conall and Michael returning to hold their nerve and try to win big. They're followed by couple Jenny and Clive who are literally getting married the next morning – they won't be feeling any pressure then … HR
Mystery Road: Origin
9pm, BBC Four
The slow-burning but gripping Aussie crime drama set in a rundown mining community reaches its final double bill. Wary Indigenous detective Jay Swan (Mark Coles Smith) makes a case-breaking discovery in a dunny, which casts new light on the recent spate of robberies and his town's murky history. Graeme Virtue
Atlantic Crossing
9pm, Drama
Following the Nazi invasion of Norway, crown prince Olav (Tobias Santelmann) determines to stay and fight – before hot-footing it to England – while his wife, the crown princess Märtha (Sofia Helin), and her children flee to Sweden. With a return to Norway out of the question, Roosevelt (Kyle MacLachlan) offers Märtha sanctuary. Ali Catterall
Film choice
Bank of Dave, Netflix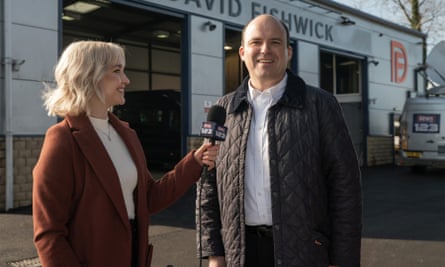 The true story of Burnley self-made millionaire Dave Fishwick, who loans money to local businesses with the profits going to charity, has become an amiable comedy, albeit one a fair distance from the facts. Here, Joel Fry's hangdog London solicitor Hugh – hired by the chipper Dave (Rory Kinnear) to get his project legitimised as a bank – has his prejudices dismantled by the town's friendliness. It's a classic British underdog story, with some cracking courtroom drama, a conceited City grandee to hiss at, and Def Leppard in the role of deus ex machina. Simon Wardell
The Hanging Sun, 10.50am, 8pm, Sky Cinema Premiere
Francesco Carrozzini's adaptation of Jo Nesbø's novel Midnight Sun edges away from the grisly twists and turns of the Scandi noir author's usual output. Rather, it's a tale of redemption, as Alessandro Borghi's taciturn stranger hides out from his criminal family in a starkly beautiful but hidebound religious community in the Nordic far north. Soon, he is drawn into the lives of Jessica Brown Findlay's abused wife and her son. Charles Dance and Peter Mullan provide the dramatic heft, as hope peeks tentatively through the gloom. SW
Berberian Sound Studio, 11.45pm, Film4
A film to be listened to as much as watched, retro stylist Peter Strickland's unsettling chiller delves into the obscure world of movie post-production. Toby Jones plays Gilderoy, an unworldly sound engineer who flies to Italy to supervise the effects on a horror picture. We never see the work in progress, only the screams of the (mainly female) cast and the evisceration of various fruit and vegetables as the violent, misogynistic imagery starts to mess with Gilderoy's mind – to the point where he falls out of sync with reality. Unsettling fare. SW
Live sport
Premier League Football: Liverpool v Chelsea, 11.30am, BT Sport 1 At Anfield. Followed by Crystal Palace v Newcastle at 5pm on Sky Sports Main Event.
Women's Super League Football: Man City v Aston Villa, 11am, Sky Sports Premier League Lioness Steph Houghton leads her team against Aston Villa at the Academy Stadium. Chelsea then play Liverpool tomorrow at 12.15pm on BBC Two.
Bowls: World Indoor Championships, 1.30pm, BBC Two The semi-finals at Potters Leisure Resort, Great Yarmouth. The final is on tomorrow from 2.40pm.
Champions Cup Rugby Union: Northampton Saints v Stade Rochelais, 12.25pm, ITV1 & BT Sport 3 From Franklin's Gardens stadium. Harlequins v Cell C Sharks is on BT Sport 2 at 12.30pm.