Traders Guide: In the first week of 2023, the Indian markets started on a subdued note and lost nearly a percent and a half, tracking feeble global cues. The tone was positive in the beginning but selling pressure in the last three sessions pushed the bulls on the back foot.
The benchmark indices, NSE Nifty50 and BSE Sensex settled closer to the week's low to close at 17,859.45 and 59900.37 levels. Most of the sectoral indices traded in tandem with the benchmark index wherein banking, financials and IT were among the top losers.
The broader indices traded mixed wherein smallcap showed some resilience and managed to end flat while the midcap lost nearly a percent.
Here is a list of things to watch out for on 09 January 2022
What Should Investors Do?
Markets have resumed the corrective trend after a marginal breather and a decisive break below 17,800 in Nifty and 41,500 in the banking index would further add to the pressure. On the downside, the 17,450 zone would act as crucial support for Nifty.
Meanwhile, volatility would remain high across sectors with the beginning of the earnings season. Keeping in mind the scenario, we recommend preferring a hedged approach and avoid overtrading.
Ajit Mishra, VP – Technical Research, Religare Broking Ltd.
Technical Outlook
Bulls lost control of Nifty's psychological 18,000 mark, and index ended lower for third day in a row. The daily momentum indicator is in bearish crossover, suggesting weak price momentum for near term. Further, the daily chart index breached its smaller degree trend line support which was placed at around 18,050 levels and post that significant selling was witnessed.
If we observe broader time frame (weekly chart), the front-line index is trading  between the 9 & 21 EMA which is placed at 18,070 & 17,826 levels. From past three weeks, bears are making a strong attempt to drift below 17,800 levels but 21 EMA is acting as an anchor support for the Index.
The volatility may continue over the short term with predominant weakness. On the lower end, support is visible at 17,750 levels while on the upper end, resistance can be seen at 18,250 levels, above which a bullish reversal may happen
– Rohan Patil, Technical Analyst, Samco Securities
Key support & resistance levels for Nifty50:
The Nifty50 closed 0.74 per cent lower at 17,859.45. Key Pivot points (Fibonacci) support for the index is placed at 17804.61, 17745.19, and 17649.0, while resistance is placed at 17996.99, 18056.41, and 18152.6.
Key support & resistance levels for Nifty Bank:
The Nifty Bank closed 0.99 per cent lower at 42,188.80. Key Pivot points (Fibonacci) support for the index is placed at 41941.57, 41750.67, and 41441.67, while resistance is placed at 42559.57, 42750.47, and 43059.46.
Gross Open Interest:
Open Interest means the number of contracts open or outstanding in futures trading in NSE at any one time. One seller and one buyer together create one contract.
Here the gross values of Open Interest Positions taken by the four participants namely Client are Clients are the retail individual investors who invest in the derivatives instruments, DIIs are domestic individual investors, FIIs are foreign institutional investors and Pro are the proprietors and brokerage firms who trade on their own behalf.
Image Source – Stockedge
Stocks in News
Bandhan Bank Q3 Update: Advances up 14% YoY & up 5% QoQ at Rs 87,998 cr and deposits up 21% YoY & up 3% QoQ at Rs 84,500 cr.
Multiple Expressions of Interest received for the Strategic Disinvestment of Government and LIC Stake in IDBI Bank.
Ashoka Buildcon emerges as lowest bidder for National Highway Authority of India (NHAI) project worth Rs 2,161 cr.
Asian Paints Bd approves setting up a new water-based paint manufacturing facility with a capacity of 4 lk kl/annum at an approx investment of Rs. 2,000 cr.
Bharat Agri Fert receives approval from Thane Municipal Corp for a residential project in Thane, revenue from project seen at Rs 500-600 cr.
Tata Steel Q3 Update: India business production up 4.2% QoQ & up 4% YoY at 5 mt and India business deliveries down 4% QoQ & up 7% YoY at 4.73 mt.
Titan Q3 Business Update: 12% growth in combined sales YoY across the company's standalone businesses
HCL Tech & The ODP Corporation sign agreement for IT & digital services.
SBI Card re-appoints Rama Mohan Rao Amara as MD & CEO effective January 30, 2023.
Aditya Birla Fashion & Retail to raise Rs 500 cr via NCDs.
Lupin receives approval from US FDA for fesoterodine fumarate extended-release tablets.
Sical Logistics: Resolution applicant infuses initial fund of Rs 65 cr as per approved Resolution Plan.
JK Cement arm, JK Paints & Coatings, acquires 60% equity shares of Acro Paints for Rs 153 cr.
FII Activity on Friday:
Foreign portfolio investors (FPIs) remained net sellers for Rs 2902.46 crore in the Indian markets while Domestic Institutional Investors (DIIs) were net buyers to the tune of Rs 1083.17 crore, provisional data showed on the NSE.
FII Index and Stock F&O: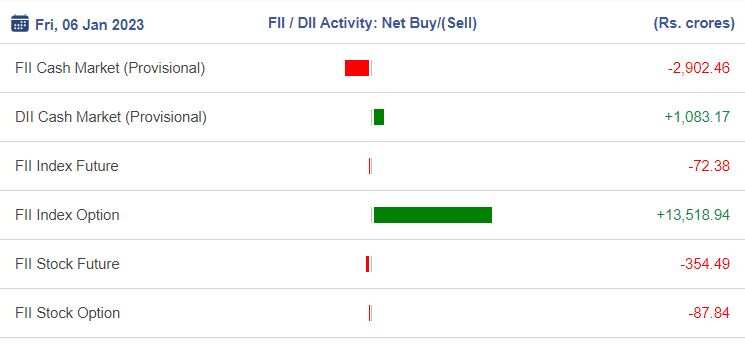 Image Source – Stockedge
Bulk Deals:
Landmark Cars Limited: Bofa Securities Europe SA bought 2,50,218 equity shares in the company at the weighted average price Rs 576.04 per share on the NSE, the bulk deals data showed.
Homesfy Realty Limited: Anant Aggarwal sold 48,600 equity shares in the company at the weighted average price Rs 300.55 per share on the NSE, the bulk deals data showed.
Bodhi Tree Multimedia Ltd: Renu Pittie sold 90,000 equity shares in the company at the weighted average price Rs 145.57 per share on the NSE, the bulk deals data showed.
Accuracy Shipping Limited: Antara India Evergreen Fund Ltd bought 2 5,15,000 equity shares in the company at the weighted average price Rs 161.62 per share on the NSE, the bulk deals data showed.
Stocks under F&O ban on NSE
Indiabulls Housing Finance is placed under the F&O ban for Monday. Securities in the ban period under the F&O segment include companies in which the security has crossed 95 percent of the market-wide position limit.