Alex 'A-Rod' Rodriguez is a highly successful baseball player, who continued his professional rise beyond the ballpark. A retired athlete for quite some time, he is now an established entrepreneur. His journey into multiple business ventures has been prosperous. He came up with yet another unique business concept, post-breakup with Jennifer Lopez. 
Alex 'A-Rod' Rodriguez is an iconic baseball legend, who famously played for the New York Yankees. He made his MLB debut for the Seattle Mariners, and also played for the Texas Rangers. An enigmatic performer throughout his career, he is rather more symbolic of his glorious Yankees stint. 'A-Rod' is a 14-time All-Star and a one-time World Series champion. 
ADVERTISEMENT
Article continues below this ad
'A-Rod' has always hogged the limelight both on and off the field. His celebrity romantic pairings have made up many town gossips. The most talked about love relationship of his life until now was the one with pop megastar, Jennifer Lopez. The pair separated post-engagement, but 'A-Rod' successfully replicated one business model of his ex-fiancee.
Alex Rodriguez: Bouncing back in fashion 
Alex 'A-Rod' Rodriguez started dating Jennifer Lopez in 2017, and the couple got engaged in 2019. However, they separated in 2021, making big news. 'A-Rod' is aware of his status as a paparazzi's favorite. So he ensures to maintain a glamorous appearance.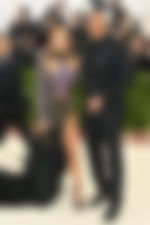 Lopez too is an entrepreneur who owns a cosmetics brand. She launched some skincare products while being in a relationship with 'A-Rod'. The beauty-conscious, 'A-Rod,' reportedly tussled with Lopez to use those cosmetics. Therefore, post-breakup, 'A-Rod' decided to launch his own skincare product. 
Last week, I spoke to over 2,000 inspiring entrepreneurs at the "Million Dollar Mastermind" Conference in Dallas, TX. What an incredible event! Thank you @ryanstewman and Dan Fleyshman for having me. pic.twitter.com/pJKq7oCqZg

— Alex Rodriguez (@AROD) June 9, 2022
Speaking in an interview with GQ Sports, 'A-Rod' said, "This is my, it's called Complexion Booster Sun Goddess. So this lotion gives me a little bit of bronze. It also gives me a little bit of sunblock and a little bit of moisturizer. So, this is something I'm coming out with very soon. This is called a teaser. And all the men around the world are gonna fall in love with this product, I promise you." 
Read More – $400 Million Superstar Jennifer Lopez Admitted She Was "Always Fighting" With Ex-Boyfriend Alex Rodriguez for a $50 Beauty Product
ADVERTISEMENT
Article continues below this ad
'A-Rod' further added, "I've been waiting for this product for 20 years. Yeah, because as a baseball player, we take on so much sun, we take such a beating that if you can have a moisture that can give you moisture, sunblock and a little bit of color, it is perfect. It beats makeup, it's a trifecta. And there is nothing wrong with men and a little makeup. Trust me I like it, I do it all the time." 
Rodriguez's life in the present day
Alongside being a successful entrepreneur, 'A-Rod' is a broadcaster and analyst. He is also the co-owner of the NBA team, the Minnesota Timberwolves. 'A-Rod' is a caring single father to two daughters. 
ADVERTISEMENT
Article continues below this ad
Watch This Story – Michael Kay Caught Alex 'A-Rod' Rodriguez Smoothly Mentioning About Jennifer Lopez's Engagement With Ben Affleck 
So, what do you think of Alex Rodriguez's business ideas?