Snoqualmie, Washington, is the Cascades getaway for the residents of Seattle and western Washington. With I-90 cutting through Snoqualmie Pass as the main means of passing through the range, makes Snoqualmie incredibly accessible and brings thousands every year to its stunning mountains, trails, waterways, summer sports, and winter sports.
Travelers looking for a chill, accessible, mountainous escape will love Snoqualmie with its famous waterfall and hikes. Here is our ultimate travel guide to Snoqualmie, Washington.
Best Time To Go To Snoqualmie
Freeway of snoqualmie pass lighting up during the most spectacular night where venus is next to the moon
The generally agreed-upon best-time-to-visit Snoqualmie is during the warm months between May 7th and October 14th.
During this time, the weather in Snoqualmie is usually clear and sunny with warm, but never hot, temperatures. During these months weather also won't close the pass limiting accesses in and out of Seattle.
Related: 10 Must-See Places In Seattle That Should Be On Your Bucket List
July and August are the most popular times to visit Snoqualmie. During these two months, temperatures hover around 81.5 °F (27.5 °C) with low humidity.
It is understandable why so many visit Snoqualmie during this time. Winter sports lovers will brave Snoqualmie Pass to enjoy The Summit at Snoqualmie ski resort.
However, the trails, waterways, and stunning nature of Snoqualmie are the major draw.
What To Know When Visiting Snoqualmie
A photo from Snoqualmie Pass, WA
Many travelers don't realize just how accessible Snoqualmie is from Seattle. Assuming traffic isn't bad, travelers getting on I-90 in the center of Seattle will only need about 30 minutes (if their traffic is fine) to reach Snoqualmie.
Snoqualmie is one of Washington's most sought-after locations with iconic sights like the 270-foot-tall Snoqualmie Falls. This waterfall was famously featured in the 1990s show Twin Peaks. Aside from that, Snoqualmie is well-equipped to handle visitors.
Every year, thousands escape the Emerald City to run to the mountains of Snoqualmie. Join them in exploring beautiful Snoqualmie.
Best Ways To Get Around Snoqualmie
Traveling into and around Snoqualmie isn't too challenging with several options for travelers. Driving in may be the recommended option, but it is hardly the only option. Here is a look at how to get around Snoqualmie.
By Car
Cars are the usual method used to get into Snoqualmie. Residents of Seattle and greater western Washington often make the drive into Snoqualmie to enjoy the region. Renting a car to visit Snoqualmie is strongly suggested.
I-90 runs right through Snoqualmie and Snoqualmie Pass making it extremely easy to reach as long as the weather holds up. Travelers can exit I-90 at Exit 25 where they'll then head through Snoqualmie Ridge.
Related: Visit Puyallup, The City That Celebrates Farming With Festivals
At the bottom of the hill, travelers can take a left at the Railroad Crossing on Railroad Avenue and go across the bridge, the Falls will be on travelers' left.
Travelers can then take the third exit in the roundabout, and they will find a gift shop where they can pay to park on their left. Parking prices are usually quite low.
By Uber or Lyft
Travelers will be able to Uber and Lyft into Snoqualmie, but this will be the most expensive option. Split between a few people, the ride won't break the bank, and it does allow travelers to wander around Snoqualmie without worrying about a car.
However, having a car really simplifies this trip. Plus, sometimes the wait for a ride back to Seattle can be a little long.
By Town Car Or Limo Service
A photo from Seattle, Washington/ United States- 11/27/2017: Snoqualmie Pass road
Travelers looking for a luxurious and relaxing experience traveling into Snoqualmie may want to try enlisting the help of a town car or limo service.
For around $85-$95 each way, travelers can enjoy relaxing town car or limo services.
By Tour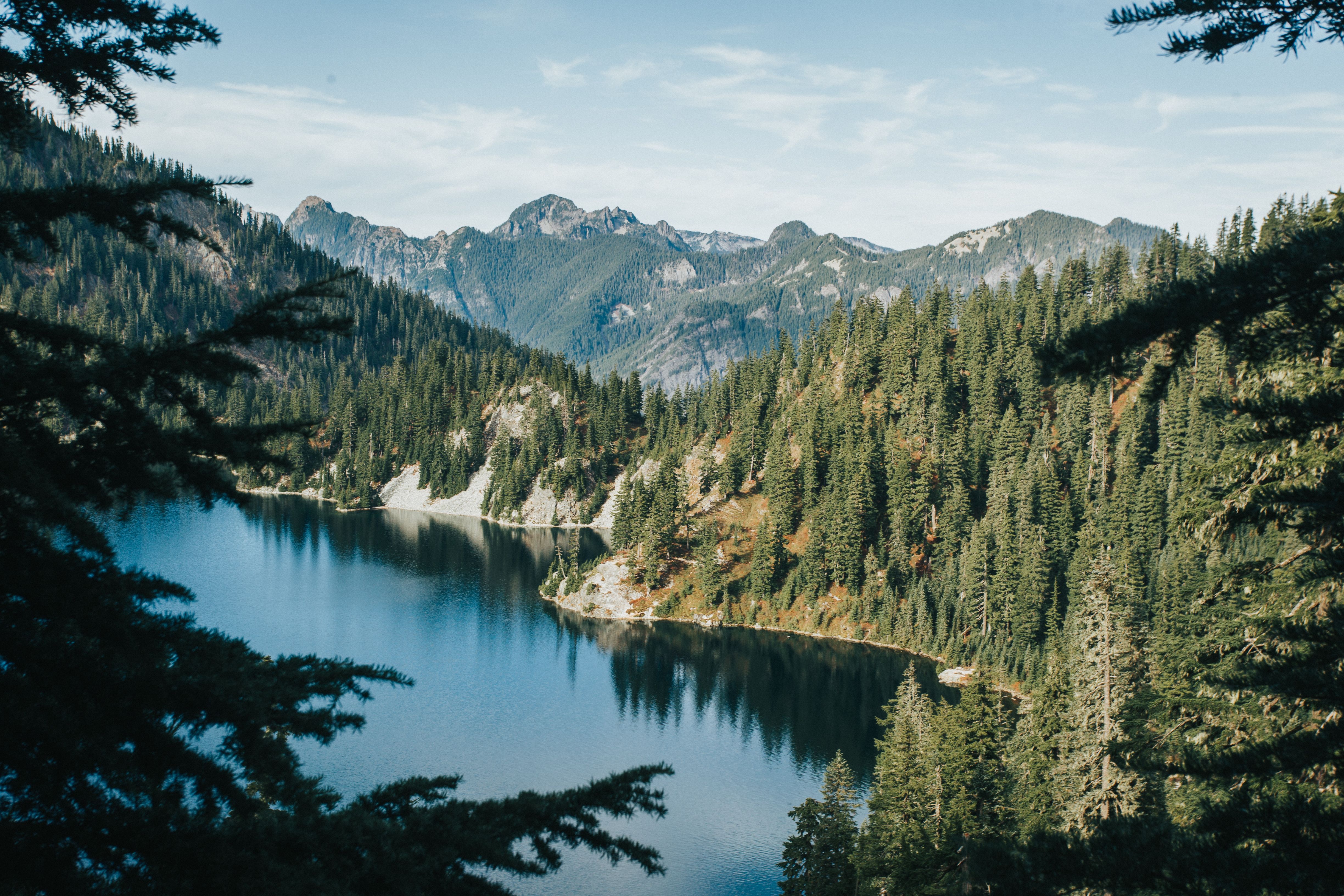 A photo of Snow Lake is seen on a sunny day in Snoqualmie Pass
First-time travelers to both Snoqualmie and the surrounding area may want to try taking a tour. Tours through Snoqualmie will take travelers to all the most popular sights and will handle transportation for travelers.
This is a great choice for travelers who don't know the area and want a bit of extra guidance.
By Bus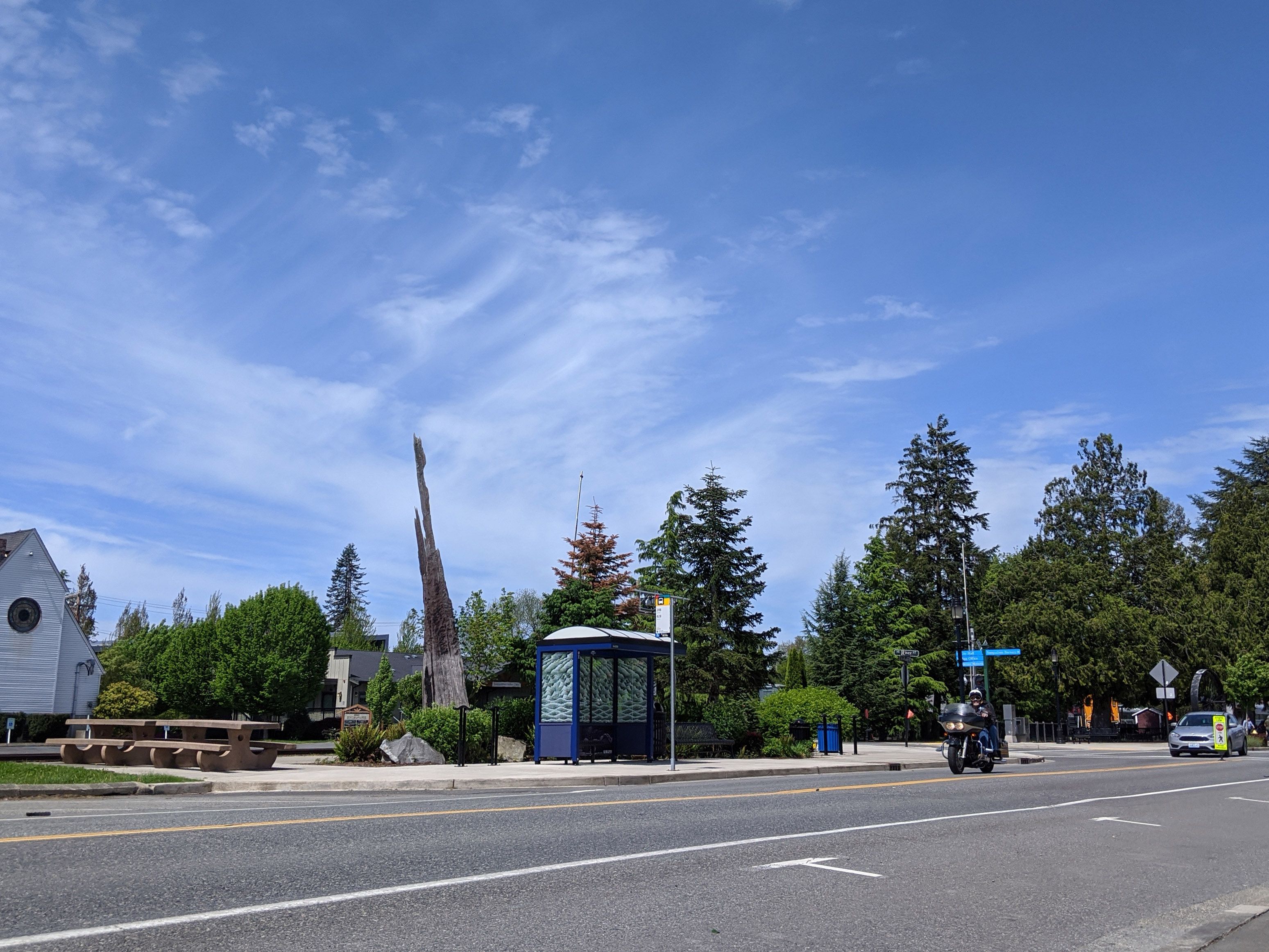 Snoqualmie, WA USA – circa May 2020: Street view of an empty metro bus stop on a bright, sunny day downtown
Travelers can kiss that thirty-minute-commute goodbye if they choose to take a bus into Snoqualmie. However, It is absolutely doable.
Using the 554 from Seattle to Issaquah, then they can board the 208 to get the rest of the way directly to Snoqualmie Falls.
There will be a little bit of walking, but it's not terrible. Travelers can then get off the bus at the stop near the old steam locomotive Walk across the bridge and stay to the left a little over half a mile to Snoqualmie Falls.
Because the route needs two buses, travelers can expect to pay 5 dollars one way to reach Snoqualmie.
The big downside to this method is that the commute time will likely be more than double.
Related: Scenic Sightseeing: The Ultimate Travel Guide To Vancouver, Washington & Things To Do
Where To Stay In Snoqualmie
A photo from Mount Baker-Snoqualmie National Forest, Washington, USA
Snoqualmie draws an assortment of travelers every year. Some are interested in stunning accommodations set in aesthetic backdrops while others are looking for natural settings where they can be immersed in nature. Here is a look at accommodations that can be found in Snoqualmie.
Snoqualmie Inn – Hotel America
The stunningly aesthetic Snoqualmie Inn is an excellent getaway with its backdrop of staggering mountain views. Home to 99 rooms, this inn is the ultimate destination for relaxation.
Travelers who want to get in touch with nature can visit the famous Snoqualmie Falls scenic area and trail or one of the other dozens of adjacent hiking trails. Travelers will also have access to skiing and snowboarding at Snoqualmie Summit or hit the links at Snoqualmie Falls golf course.
Travelers looking to soak in luxury can try North Bend Premium Outlets, Snoqualmie Casino, local breweries, and other local dining options.
Address – 35228 Snoqualmie Pkwy, Snoqualmie, WA 98065
Amenities – Pool, Free Breakfast, Beach, Canoeing, Children's Activities
A photo from Mount Baker–Snoqualmie National Forest, Washington
Douglas Fir Campground
Stunningly located on the banks of North Fork Nooksack River in Mt. Baker-Snoqualmie National Forest, Douglas Fir Campground is an incredible getaway for travelers who want to camp in the nature of Snoqualmie.
Travelers will love this beautiful northern Cascades campground.
Address – 810 State Route 20, Snoqualmie, WA 98284-1263
Amenities – Standard sites for accommodating tents and RVs, Children's Activities
A photo from Snoqualmie Pass, Washington, United States
Salish Lodge & Spa
Salish Lodge & Spa is the pinnacle of Snoqualmie luxury. This resort is a complete getaway with incredible restaurants, spa treatments, and lovely decor that sits in the aesthetic natural beauty of Snoqualmie.
Travelers who want the resort experience, complete with fireplaces in their room, while traveling through Snoqualmie will love Salish Lodge Spa.
Address – 6501 Railroad Ave SE, Snoqualmie, WA 98065-9687
Amenities – Hot tub, Bar/Lounge, Hiking, Skiing, Pets Allowed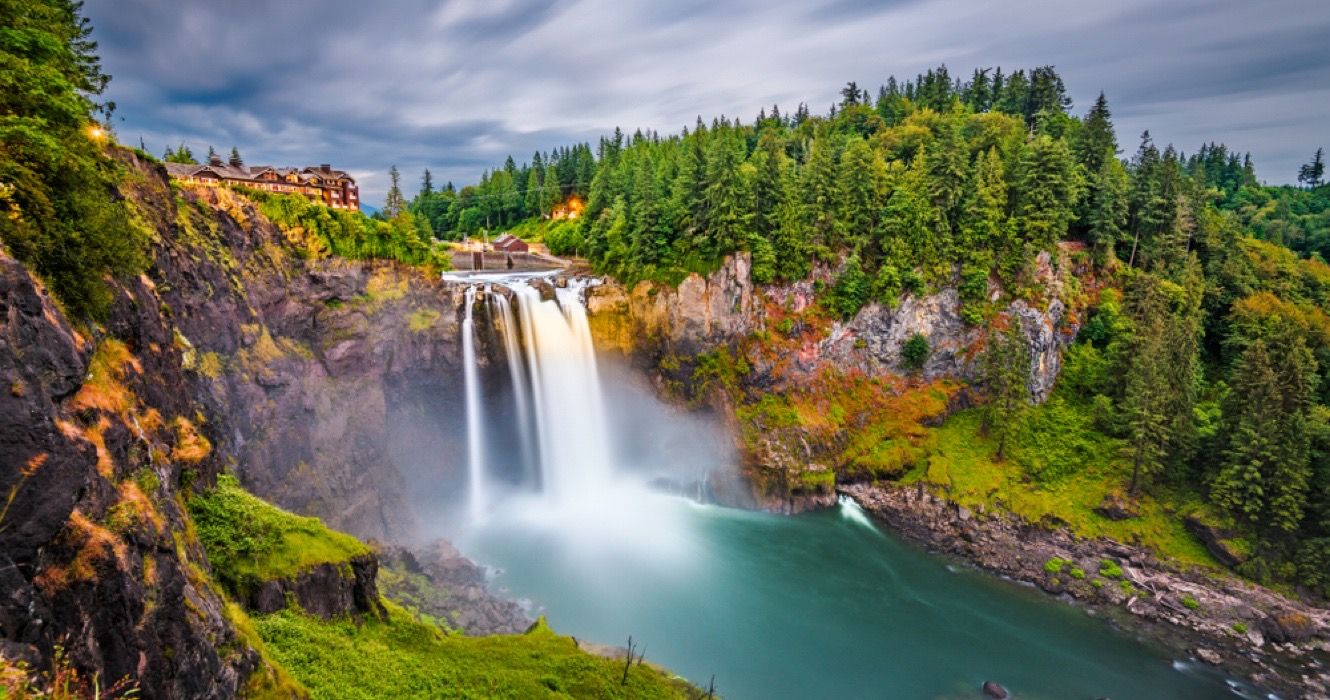 A photo of Snoqualmie Falls, Salish Lodge, Washington
Where To Eat In Snoqualmie
Snoqualmie has many choices for dining with so many making the trip there each year. To help travelers out, here is a guide to the best places to travel to in Snoqualmie.
The Black Dog
Stock photo of a burrito
Travelers looking for the perfect lunch or breakfast stop in Snoqualmie should try The Black Dog. This restaurant offers a mix of sandwiches, soups, and light fare.
They are also extremely friendly to those with dietary restrictions. Their Vegan Burrito is one of their most highly-rated choices. Travelers will love a quick lunch break at The Black Dog.
Address – 8062 Railroad Ave. SE, Snoqualmie, WA
Contact – 425-831-3647
Cost – $$-$$$
Fan-Favorite – Vegan Burrito
Gianfranco Ristorante Italiano
A photo of Stuffed portobello mushrooms stuffed with mozzarella and gorgonzola cheese and aromatic herbs
Travelers with a love for Italian food will want to check out Gianfranco Ristorante Italiano. This is the best Italian food that can be found in Snoqualmie and with travelers from all over saying the same thing, new travelers to Snoqualmie can be confident they will have a delicious meal here.
Though their main courses may be out of this world, travelers should make sure to save some room for their incredible desserts. It is recommended to call ahead and make a reservation.
Address – 8150 Railroad Ave SE, Snoqualmie, WA 98065
Contact – 425-888-6621
Cost – $$-$$$
Fan-Favorite – Portobello Gorgonzola
The Attic at Salish Lodge & Spa
usa clam chowder hunter angler gardener cook
The Attic is part of Salish Lodge & Spa, and it is an excellent evening and late-night destination for food and drinks.
They feature a wood-fired pizza oven, sandwiches handcrafted using house-made mozzarella and other fresh cheeses, and its completely updated bar that offers Pike Hive Five Hopped Honey Ale produced by The Pike Brewing Company, Salish Honey Flavored Vodka, and private label wines.
Address – 6501 Railroad Ave SE Ste 102, Snoqualmie, WA 98065-9687
Contact – $$-$$$
Cost – 425-888-2556
Fan-Favorite – SalishClam Chowder
Top Things To Do In Snoqualmie
Snoqualmie has a mix of relaxing and outdoorsy activities to entertain travelers. Travelers will never find themselves bored during their time in Snoqualmie.
Snoqualmie Falls
A photo of Snoqualmie Falls, Snoqualmie, United States
Snoqualmie Falls has already been mentioned several times in passing in this travel guide. This 270-foot waterfall.
This stunning natural attraction isn't just a great destination for taking photos, there are also surrounding trails that offer scenic hiking and vistas of the area.
The hike around the falls is a 2.3-km out-and-back trail.
It is a popular destination for hikers and though travelers can bring their pets along, they are supposed to stay leashed.
Mailbox Peak Trail Loop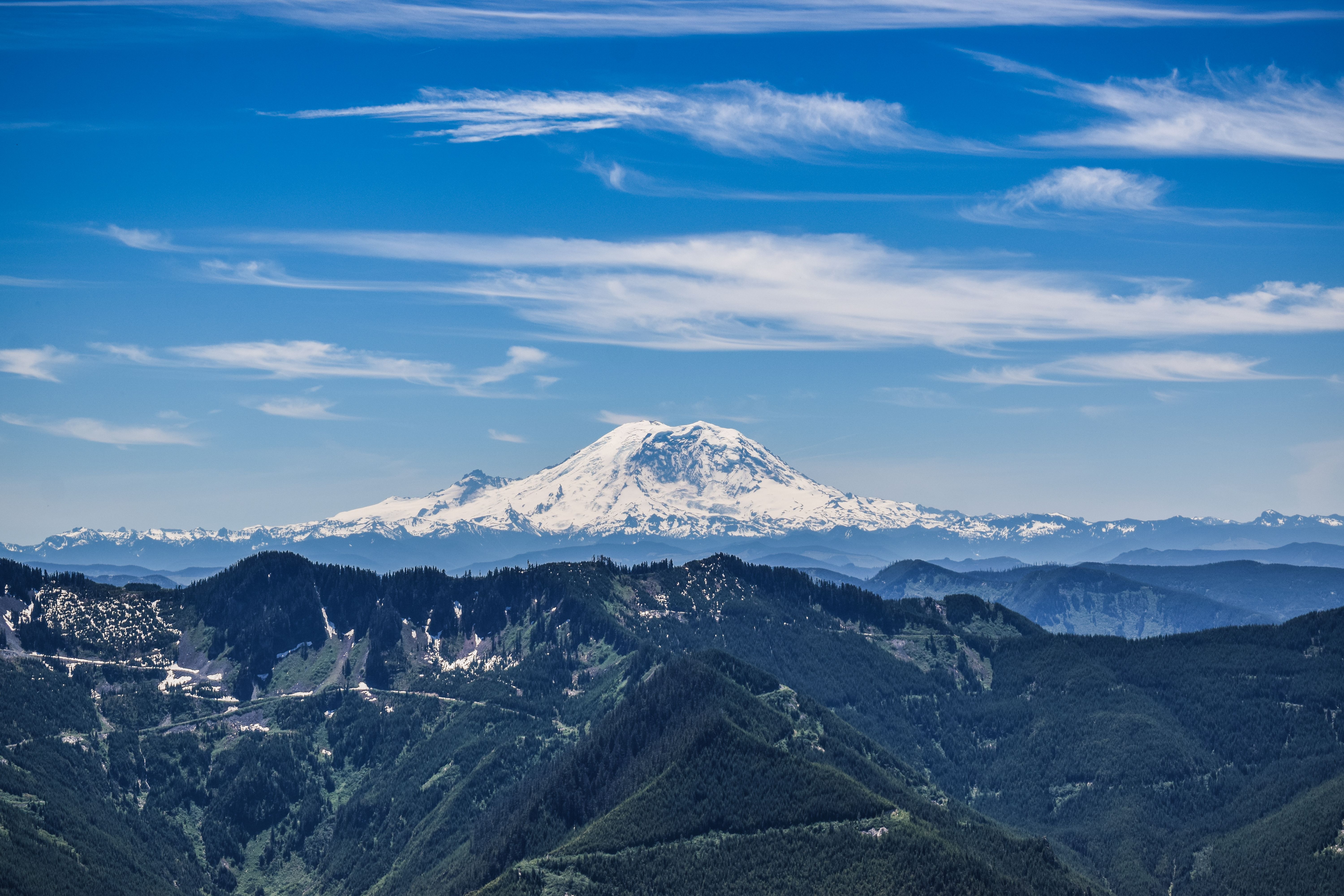 A photo of Mt Rainier from Mailbox peak
Travelers looking for a bit longer hike in Snoqualmie should check out the Mailbox Peak Trail Loop. This 7.7-mile loop is generally considered challenging and usually takes travelers around six and a half hours to finish.
This is a popular trail and travelers will likely encounter other travelers while on this hike. Dogs are welcome on this trail and can be off-leash in sections.
Gold Creek Pond Loop
A photo of Gold Creek Pond Cle Elum Washington
Gold Creek Pond Loop is a shorter loop great for travelers looking for a scenic stroll. This loop is just over a mile long and wraps around the lovely Gold Creek Pond.
Taking less than 30 minutes to complete, this is a popular trail where travelers will likely encounter others. It is especially busy between June and October.
The loop is dog-friendly, but they do need to stay on a leash.
Sigillo Cellars
Man pouring white wine into a glass at a bar during a wine tasting
Travelers looking for a relaxing activity in Snoqualmie should check out Sigillo Cellars. Founded in 2010, Sigillo Cellars has been important in representing Washington wine.
Travelers visiting Sigillo Cellars can look forward to more than a simple tasting. They have put together a portfolio of Bordeaux and Rhône varietals, plus other favorites available, to be shared.
Travelers will love their family-friendly wine-tasting, dining, and event venue.
DirtFish Rally School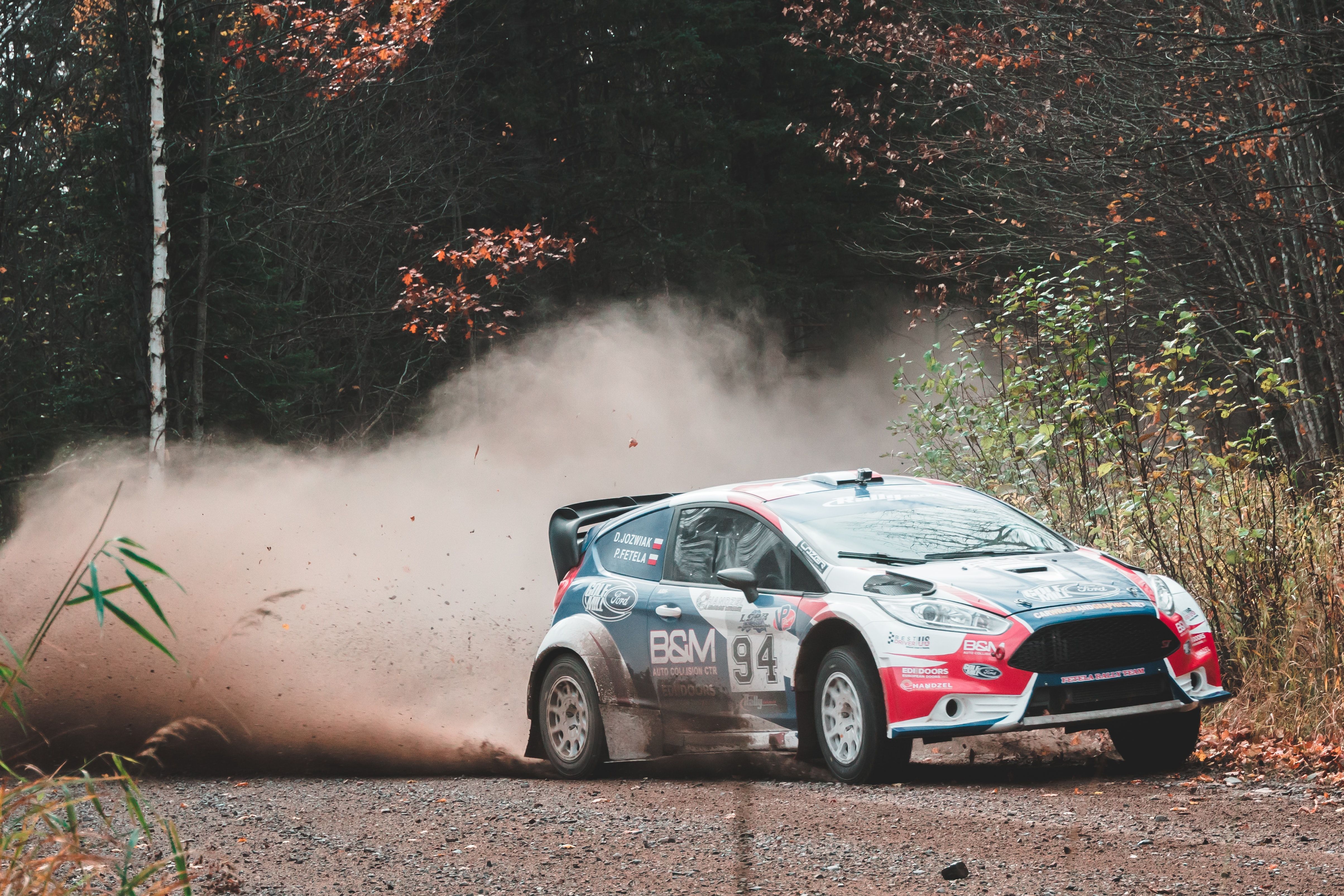 A photo of a driving rally car
Travelers looking for an adrenaline-filled change of pace should check out DirtFish Rally School. This school employs top-notch professional instructors who teach people from all around the world how to rally.
Travelers between 15 and 85 and of all skill levelers will be able to enjoy the thrills of rally driving. Adrenaline junkies will love spending time at DirtFish Rally School.
How To Spend A Perfect Day In Snoqualmie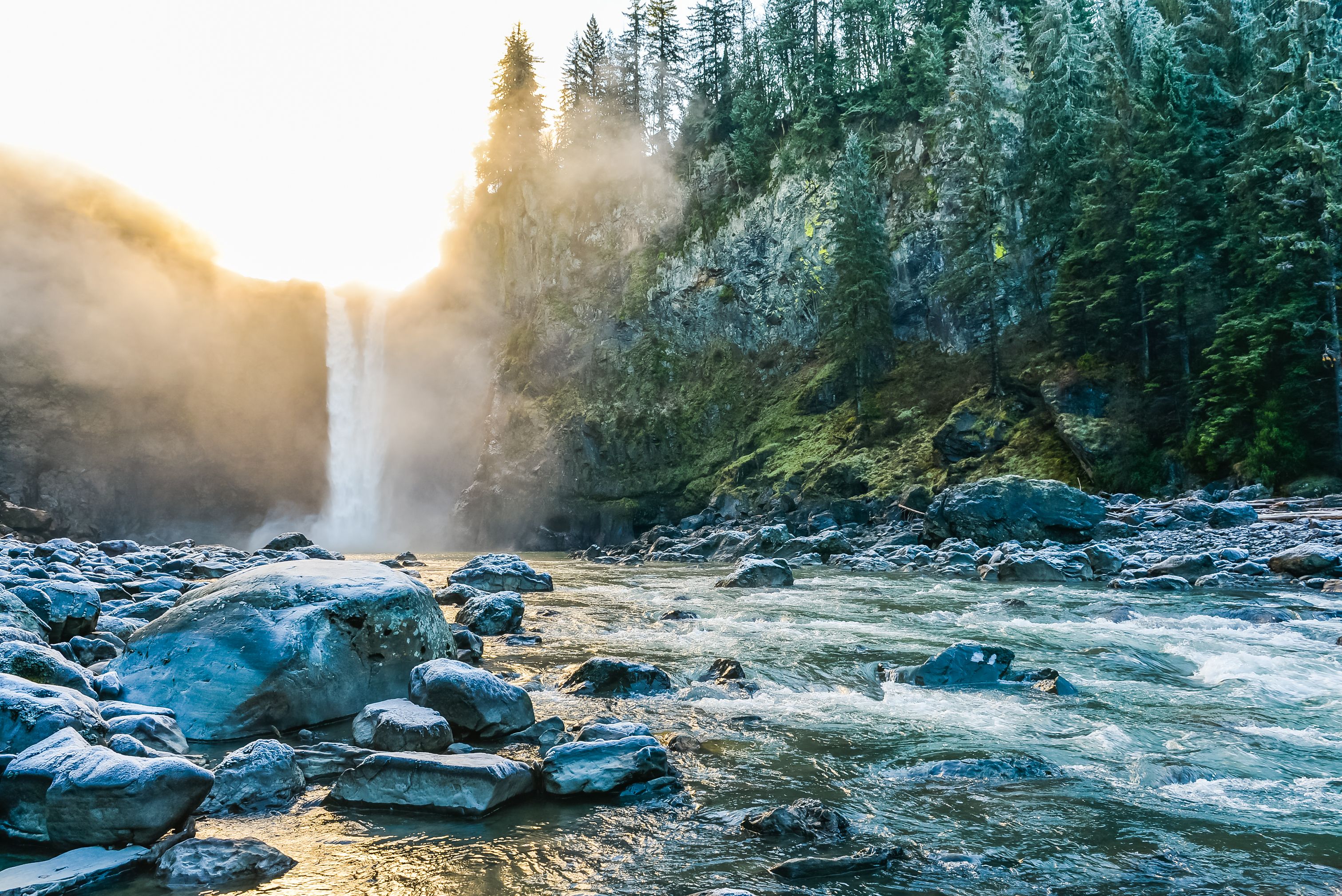 A scenic view of Snoqualmie falls with golden fog when sunrise in winter season,Washington,USA
The perfect day in Snoqualmie starts with a stop at The Black Dog for breakfast before venturing out to conquer the Mailbox Peak Trail. While at The Black Dog, travelers should order something extra to be eaten on the trail.
This is a long hike with many sights to snag photos of, but travelers should be finishing up by the early afternoon.
Related: Explore Washington's Capital: The Ultimate Travel Guide To Olympia & Things To Do
Travelers will likely have eaten lunch while on the trail. Once they are back in Snoqualmie they should clean up and then head to Sigillo Cellars.
After enjoying the amazing wine of Sigillo Cellars, travelers will want to venture to the Attic at Salish Lodge & Spa. Travelers will love spending the later hours of the evening at this lovely establishment.
That would be a perfect day in Snoqualmie.
FAQ
Q: Are There Any National Parks Near Snoqualmie, WA?
Washington State is known for its natural beauty. It's home to a coastline full of beaches as well as several mountainous ranges, which are beautiful whether you're looking at them from afar or close up. To get the most out of Washington's scenery, checking out the state's national parks is a must.
Washington is home to three natural parks – Olympic, Mount Rainier, and North Cascades. While all three are equally beautiful, they all offer different types of scenery and activities. Guests should do their research before visiting to ensure they do so in the best season, which varies depending on the chosen park.
Q: Are there beaches outside Seattle in Washington?
Washington's southwest corner is home to one of the state's most picturesque peninsulas: Long Beach. Known for its long stretch of sandy beach, breathtaking views, and idyllic small towns and villages, the area also has a number of claims to fame that make it a top vacation destination.
From kite flying festivals to seafood harvests, a famous boardwalk to historic maritime past, the Long Beach peninsula's natural beauty, and charm make it one of the best places to visit in the Pacific Northwest—iconic attractions definitely included.
Q: Can Snoqualmie Be Included Into A Road Trip?
Yes, Snoqualmie can be included in a road trip of the US Pacific North West. For those unfamiliar with the Pacific Northwest, it is one of the most stunning natural settings in the entirety of North America. The Regions of Washington State and Oregon, the American portion, are home to temperate rainforests, the Olympic Mounts, the Cascades, the Puget Sound, Mount Hood, and Mount Rainier to say the least.
There is so much beauty in this region that you could plan to do nothing else but drive through it. And honestly, you wouldn't be disappointed. Though, for the adventurous, there are numerous trails and hikes to explore to get a close look at the landscape. If Travelers have the opportunity to take two weeks to explore the Pacific Northwest then do it.