This land-locked city in the Colorado Desert, 100 miles (170 km) east of Los Angeles, conjures up images of mountains, palm trees, wide blue skies, and swimming pools, of which there are 40,000 – that's one pool for every year-round resident! Being the aquatic bipeds that we are, when temperatures are reaching an average of 90 °F (32 °C) to 100 °F (38 °C) for much of the year, a place to cool off is much appreciated. But it's not just swimming pools — Palm Springs has outdone itself when it comes to tourism and entertainment. No matter what time of the year, there is always an abundance of things to see and do.
Palm Springs often refers to the nine cities that make up the Coachella Valley: Palm Springs, Desert Hot Springs, Cathedral City, Rancho Mirage, Palm Desert, Indian Wells, La Quinta, Indio, and Coachella. Wherever the choice of destination, there is something for everyone in this exciting valley; from hiking and biking trails through canyons and deserts, driving tours to the Modernist houses of the rich and famous, shoot-outs in the Wild West, climbing into life-sized dinosaurs, giraffe feeding at the zoo and gardens, to marveling at a desert sunset over the valley from a rotating tramcar. To top it all off, a vibrant nightlife, engrossing shopping districts, museums, and theaters create a cosmopolitan feel usually reserved for the big cities.
Best Time To Go To Palm Springs
Depending on one's tolerance for dry heat, Palm Springs is a great place to visit all year round. However, that said, daytime temperatures during the summer months can easily surpass 100° F (38 °C).
There may be the benefit of fewer tourists flocking to the valley during this time, but many of the outdoor attractions reduce their opening hours, which means missing most of the festivals and other popular events that take place during the cooler months.
If lounging by the pool all summer is the aim, then it's a great time for the budget-seeking traveler.
Related: 10 Things You Shouldn't Sleep On Doing In Palm Springs
Fall is a favorable time to go while hotel prices are still lower, as are the temperatures, but the valley really comes to life from January to May when the rest of the country is still wrapped up in their woollies.
Spring-breakers and festival aficionados descend on the cities for film, music, and arts festivals and plenty of outdoor frolicking. Rain and windstorms are rare and don't last long, but winter receives more rainfall than the rest of the year.
What To Know When Visiting
When planning a visit to Palm Springs, it's important to keep in mind a few things.
Winter is the busiest season, so be sure to book accommodation and festival tickets early.
Summer weather can be challenging but coming prepared with sunscreen, a hat and the right clothing will help prevent heat exhaustion and sunburn.
Stay hydrated! Make sure to carry water when biking, hiking, or heading off into the desert.
If visiting in the summer, best to avoid cycling and hiking during the afternoon when temperatures are at their highest.
Getting From L.A to Palm Springs
There are a few ways to get to Palm Springs from LA – the fastest is by road taking the U.S. 101 S to I-10 E, then State Route 111 highway. Check the California Department of Transportation website for conditions before traveling as the San Gorgonio Pass may close if there is snow or strong winds.
Related: These Driving Tours Of Palm Springs Make It Easy To See Famous Landmarks
While most people prefer to drive or take a bus to get to Palm Springs from the West Coast, flying is the fastest yet most expensive option.
The newly renovated Palm Springs International Airport (PSP), is just ten minutes from downtown Palm Springs. Getting from the airport to downtown Palm Springs, one can take a taxi, hire a car or catch a bus.
Bus
Bus is the cheapest and most convenient option for the budget traveler, especially if the ticket is booked in advance. Leaving Union Station, bus tickets are available from $14.99 for Palm Springs, and the trip will take approximately 2 to 3 hours.
Train
Amtrak Sunset Limited trains run from Union Station directly to Palm Springs and take about 2.5 hours. If time is not an issue, hop on the Amtrak Pacific Surfliner to Fullerton, which connects to an Amtrak Thruway bus to Palm Springs.
Getting Around Palm Springs And The Coachella Valley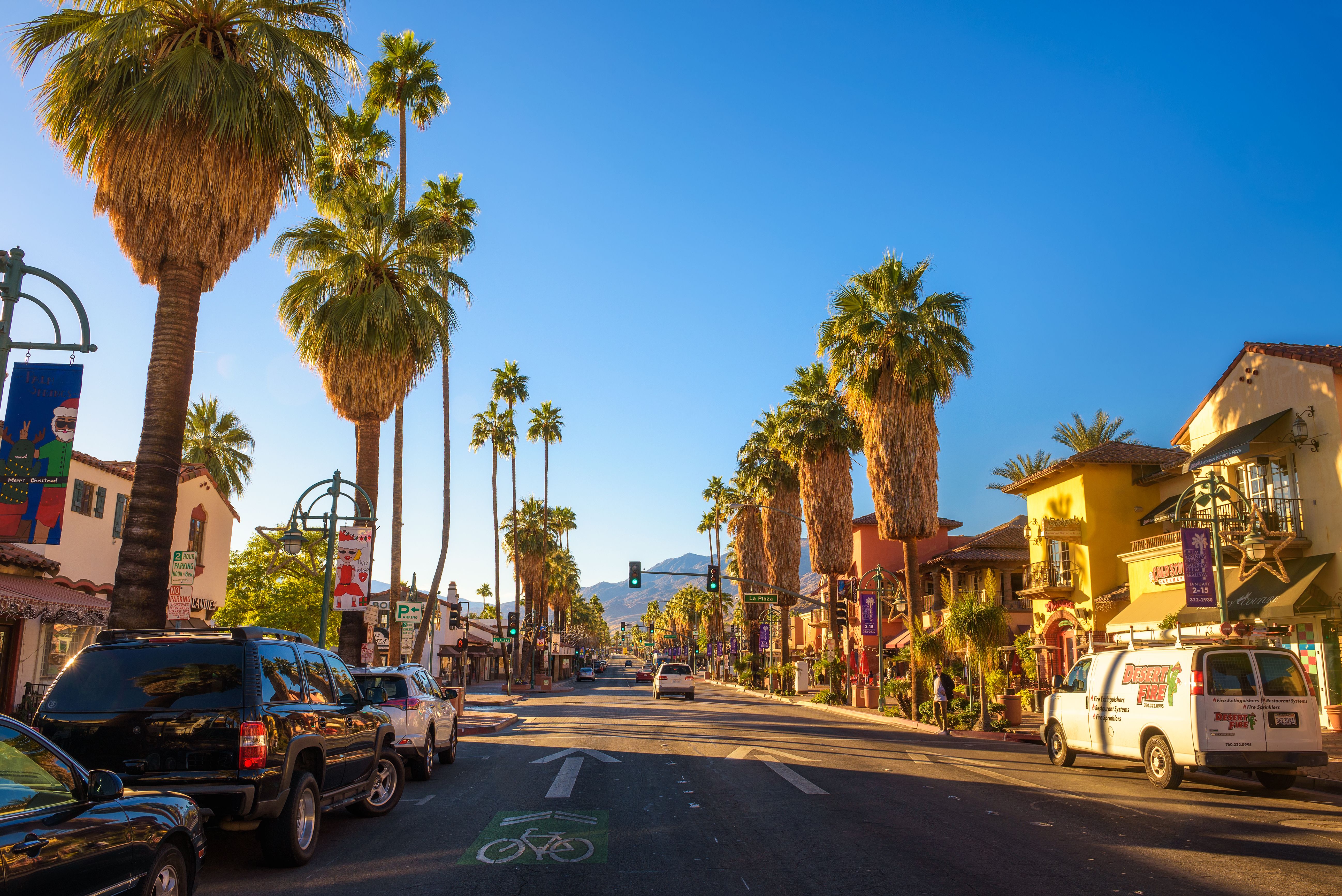 Photo: Nick Fox. Shutterstock
Car
Downtown Palm Springs is very pedestrian friendly so if visitors don't plan on exploring outside the city, having a car is not necessary. But with so many amazing things on offer in the Coachella Valley, it is advisable to rent a car to allow for the freedom to head off and see the sights at a more leisurely pace.
Taxi or Rideshare
Cabs, Ubers, and Lyft are also available with several companies offering their services.
Taxi Options
Cost
A base rate of $4 is charged for all cab rides with an extra $4 added per mile traveled. If starting at the airport, there is an additional $2.50 charge.
Bus
If renting a car is not an option, there are buses available for getting to and from neighboring cities around the valley – just allow for more time to arrive at the destination.
Driving from Palm Springs to Coachella takes 30 minutes by car as opposed to 2 to 2.5 hours by bus.
SunLine Transit Agency operates a bus that runs nine routes (plus one commuter route) throughout Palm Springs and the Coachella Valley.
Travelers will need exact change to pay: $1 for adults, 85 cents for kids ages 5 to 17, and 50 cents for seniors.
Or purchase a day pass, which costs $2 per child and $3 for each adult, or a 10-ride pass for $8.50 per child and $10 for each adult.
Bike
There are many lanes designated for cyclists around Palm Springs, and it's a great way to get around.
There are maps of bike routes on the city's website. For bike routes, check out MTB Project and Bike n Brunch Rides
Where To Stay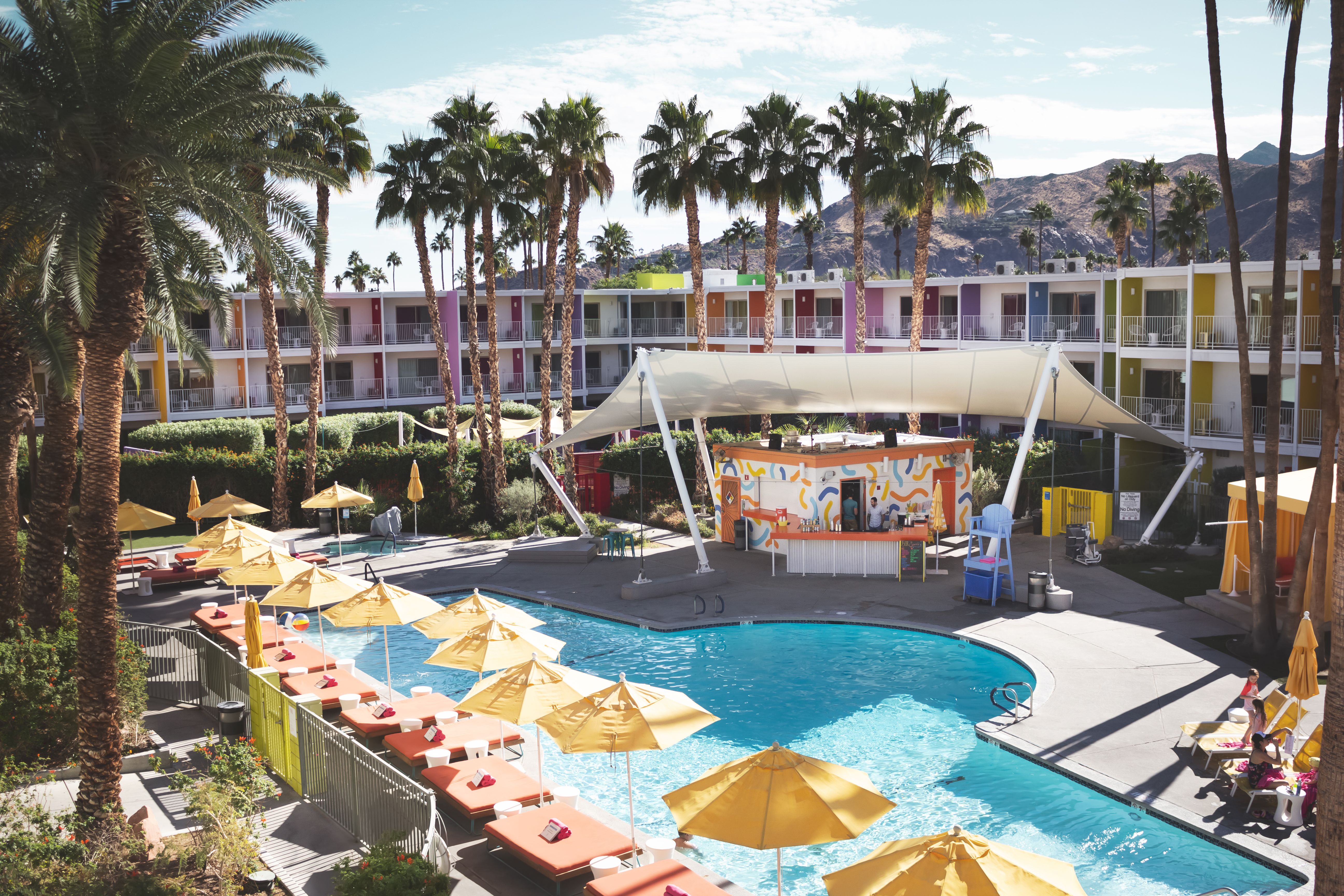 Photo: The Image Party. Shutterstock
Deciding where to stay in Palm Springs is not easy with hundreds of hotels and luxury resorts, bed and breakfasts, vacation rentals, Airbnbs, and camping and RV sites to choose from.
Fortunately, there is an array of accommodations to suit all budgetary requirements and tastes.
Miracle Manor Boutique Hotel & Spa
Address:12589 Reposo Way, Desert Hot Springs, CA, US
spa, hot tub, yoga, pet friendly, swimming pool
$$$
Arrive Palm Springs
Address: 1551 N Palm Canyon Dr. Palm Springs, CA 92262
Pool and patio, poolside cocktails, firepit, pet friendly, bicycles
$$$
Related: Twin Palms: The Cost Of Renting Frank Sinatra's Palm Springs Estate
Skylark Hotel
Address: 1466 N Palm Canyon Dr, Palm Springs, Ca 92262
Pool, 1950s modernist style, complimentary Wi-Fi and breakfast.
$$
For those looking for a touch of old Hollywood glamour indulgence, the Willow Historic Palm Springs Inn brims with charm and romance.
Related: 10 LGBTQ-Friendly Hotels To Book In Palm Springs
Where To Eat In Palm Springs
Foodies are going to love the choices of restaurants, pub food, and bistros around Palm Springs. There's food from all over the world, pizza parlors, trendy fusion, vegan and vegetarian, fast food, pub food, chic eateries, steakhouses, gourmet burgers, dog menus (menus for dogs, not menus of dogs), brunches, lunches, and midnight munchies.
Boozehounds – "Where dogs bring their humans"
Where: 2080 N. Palm Canyon Drive, Palm Springs, CA 92262
When: Happy Hour Cocktail and Food Menu Daily 2 pm – 5pmDinner Service Daily 5 pm – Close
Brunch Service Friday, Saturday & Sunday 10 am – 2 pm
Why: dog-friendly open-air atrium, cabana bar, and patio, great value for money, happy hours seven days a week, weekend brunch, views of the San Jacinto Mountains, a dog menu, specialized beers, wine, and unique craft cocktails.
Blackbook
Where: 315 East Arenas Rd. Palm Springs
When: 12 PM –1 AM (11 PM Sundays) Kitchen closes 1 hour before bar
Why: Its bar and "Little Kitchen" is a hit with locals and visitors alike, including LGBTQ, creating an all-inclusive environment, well-crafted cocktails, mountain views from the patio, more than 450 types of whiskey, as well as craft beers, hard seltzers and spiked kombucha, bar fare, gourmet burgers and Nashville hot chicken.
Rooster and the Pig
Where: 356 S. Indian Canyon Drive, Palm Springs, CA 92262
When: Wednesday to Sunday 5 pm – 9 pm. Closed Monday and Tuesday.
Why: Vietnamese-American cuisine, casual atmosphere, and top-notch food, patrons call the food imaginative and delicious, vegetarian-friendly choices, drink options both alcoholic (such as beer, specialty cocktails, wine, and sake) and nonalcoholic (including Vietnamese iced coffee, jasmine tea, and sodas.
Related: Here's What Makes Grand Central Market Such An International Treat For Foodies
Persimmon Bistro
Where: Situated in the inspiring Meyerman Sculpture Garden at the Palm Springs Art Museum,101 Museum DrivePalm Springs, CA 92262
When: Thursday 12:00 pm – 6:30 pm, Friday 11:00 am – 6:00 pm, Saturday 11:00 am – 6:00 pm, Sunday 11:00 am – 6:00 pm
Why: Expansive wine and California craft beer list, wine tastings are offered on Saturdays and include four wine selections, European coastal cuisine, spend an afternoon browsing modern and contemporary art followed by a bistro meal consisting of wood-fired pizzas, paninis, salads, or artisan cheese boards. Museum admission is not required to visit Persimmon.
Chef Tanya's Kitchen
Where: 706 S. Eugene Road, Palm Springs, CA 92264 and 72695 CA-111 Suite A6 Palm Desert, CA 92260
When: Open 7 Days 11 am – 8 pm
Why: Some of the best gourmet vegan cuisine in the area, great takeaway food, vegan ice cream shop Chef Tanya's Kreamery next door.
El Mirasol Cocina Mexicana
Where: 140 E. Palm Canyon Drive, Palm Springs, CA 92264
When: Closed Monday + Tuesday, Wednesday – Sunday: 11 am-9:30 pm
Why: Mexican regional cuisine and tangy flavorful margaritas, a casual environment with indoor and outdoor seating, crispy mini chorizo tacos or machaca con queso, pollo en mole poblano, chicken in a sauce made with chilies, cocoa, and pumpkin seeds breakfast, second location in Palm Springs, El Mirasol at Los Arboles Hotel, offering morning fare.
Best Things To See And Do In Palm Springs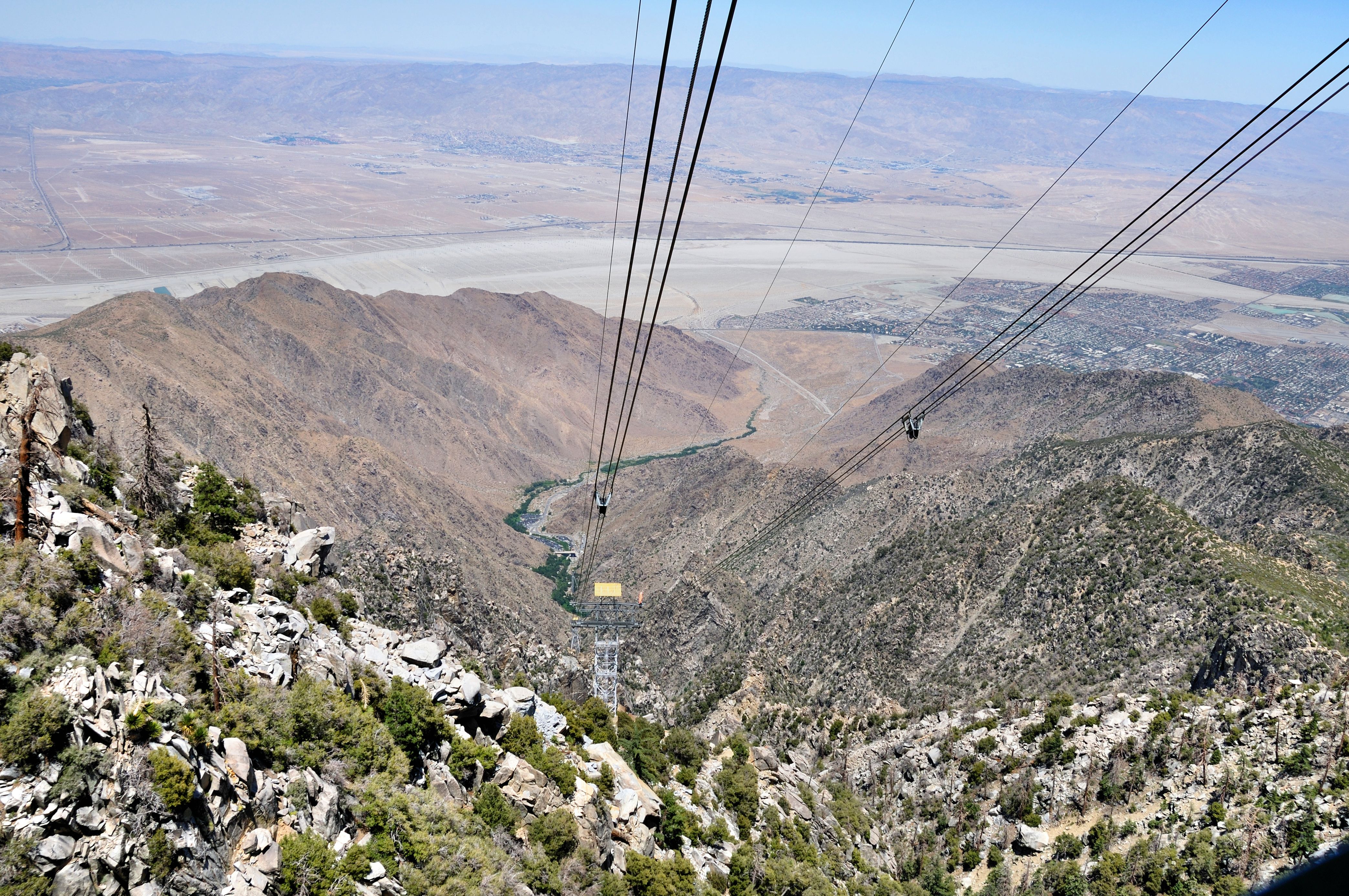 Photo: Denis Blofield. Shutterstock
Visitors are probably going to need more than just a weekend to take in all the sights and activities available in Palm Springs and neighboring cities of the Coachella valley.
The friendly, laid-back atmosphere, year-long sunshine, abundance of attractions for all ages and interests, incredible nightlife as well as the variety of restaurants and cultural events on offer, make it one of the most fascinating and must-see tourist destinations in California, if not the country.
Aerial Tramway
Wandering around downtown, the desert heat can hit hard, so head on over to the Aerial Tramway to take a rotating car up the mountain to cooler temperatures and spectacular birds-eye views of the Coachella Valley.
The tramway was the dream of a young electrical engineer named Francis Crocker. Back in 1935, while sweltering in the midday heat, he looked up at the snow-topped mountain 10,834 feet up and thought how wonderful it would be to cool off up there.
Plans began in 1950, with the novel use of helicopters to build the towers, and (not-so-young) Crocker finally saw his dream come true in 1963.
Once at the top, pop into the restaurant or café or head onto the 50 miles of hiking trails in Mount San Jacinto state park.
Hours
Monday – Friday – 10 am to 8 pm
Saturday, Sunday, and Holidays – 8 am to 8 pm
Cars depart at least every half hour.
Admission
Adults $29.95
Children (ages 3-10) $17.95
Adults $38.00
Children (ages 3-10) $24.50
Moorten Botanical Garden
Photo: Rei Atomei. Shutterstock
This privately-owned arboretum offers all the pleasures of examining and enjoying desert flora without the discomforts of getting lost, bitten by a scorpion, or dying of dehydration.
The 3000 varieties of desert plants, trees, and cacti come in all sizes from all over the world. There are also wonderful collections of rocks, crystals, fossils, and gold mining relics to admire, and small potted cacti are available to purchase.
Before buying, just make sure they can be brought across state lines post-vacation.
Hours
Open Daily from 10 am-4 pm. Closed Wednesdays and opening hours are reduced in summer.
1701 S Palm Canyon Drive, Palm Springs, CA 92264
Admission
$5.00 — Adults and Seniors
$2.00 — Children 15 and Under
Free! — Children Under 5
Book ahead if a guided tour is required.
The Living Zoo and Desert Gardens
If more wildlife is needed in this desert experience, head on over to the Living Zoo and Desert Gardens where there are find dozens of species of animals from all over the world from the Addax to the Yellow-footed Wallaby.
The park offers fun for the whole family with regular events, guided tours, and camps. Take the opportunity to feed a giraffe or wander off on one of the nature trails through The Living Desert's nature preserve and three trail loops.
Hours
Open Daily from October 1 – May 31, 8:00 am – 5:00 pm
Summer hours, Open Daily from June 1 – September 30, 7:00 am – 1:30 pm
Admission
Adults and seniors: $29.95
Children 3-12 $19.95
Under 3 – Free
Air Museum
Photo: Keep Smiling Photography. Shutterstock
While we're on the subject of family-friendly fun, the air museum is a must-see addition with one of the largest collections of aircraft from World War II, the Korean and Vietnam Wars to the present day, in the world.
There are permanent and temporary exhibitions in several hangars where visitors can get up close to living history and enjoy tours from veterans who are happy to share their experiences.
There is a gift shop, a library with computer flight simulators that teach the principles of flight to people of all ages, and a theater where one can watch documentaries and admire model airplanes.
The air museum is open 7 days a week from 10 am-5 pm.
Cabazon Dinosaurs
If driving into Palm Springs from LA along Interstate 10, visitors may wonder why there are dinosaurs roaming the landscape.
Fortunately, they're only replicas, created in 1964 to lure tourists to the nearby Wheel Inn Restaurant. They may even recognize the 65-foot-high Tyrannosaurus Rex and 150-foot-long Brontosaurus from the 1985 film Pee-Wee's Big Adventure.
According to their website, "Mr. Rex, Dinny and their more than 70 dinosaur friends provide perfect picture photo ops for you and your loved ones. Our dinosaur walk features a slew of dinosaurs, a dino dig and fossil panning that kids will enjoy."
Location
50770 Seminole Drive, Cabazon
Hours
Monday through Thursday: 9 am-5 pm
Friday: 9 am-8 pm
Saturday & Sunday: 9 am-8 pm
Tickets
Tickets are only available at the door
Adults $15
Children 3-12 $13
Seniors & Military $11
Canyon Drive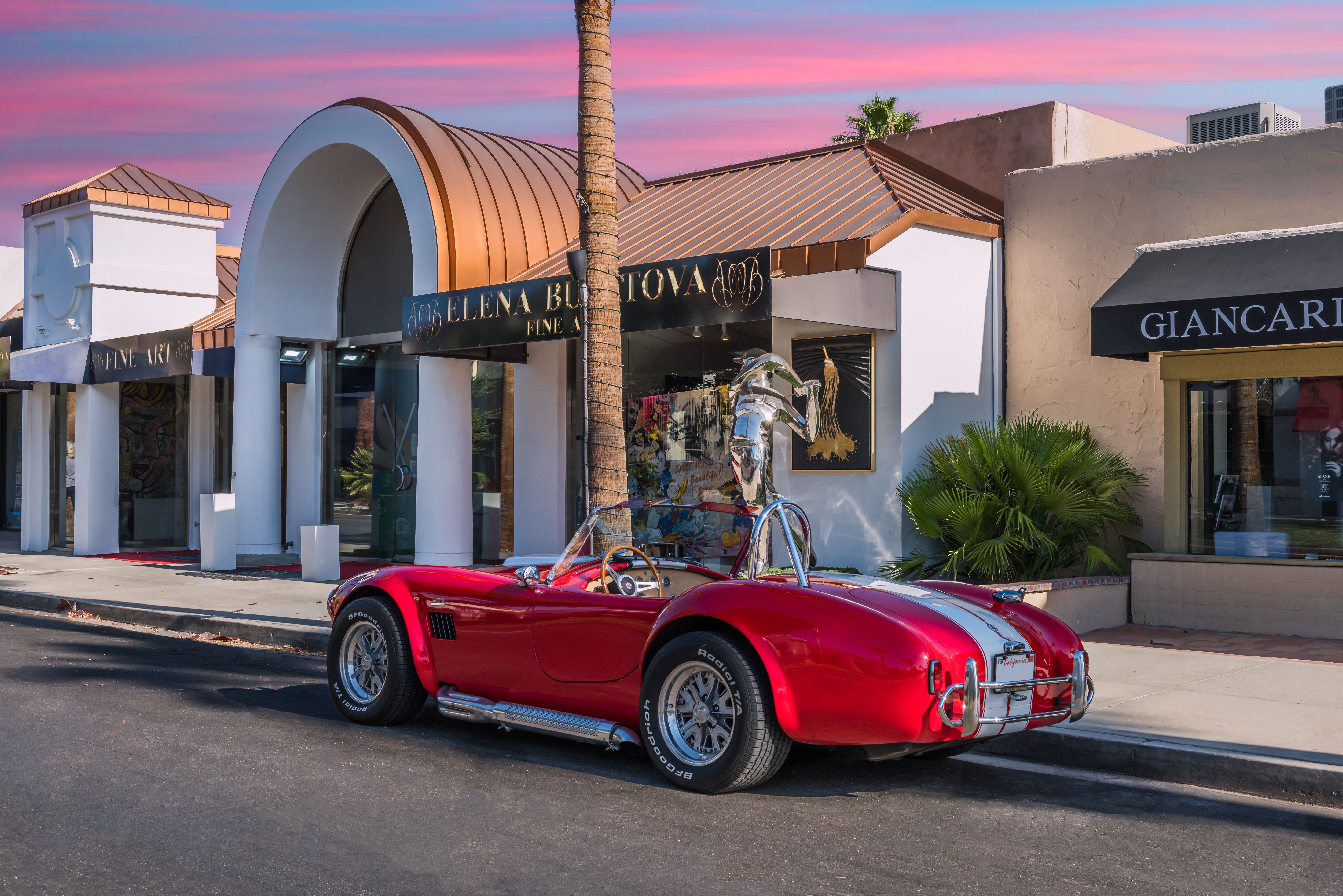 Photo: Kamil Zelezik. Shutterstock
It's easy to spend a good part of the day on Canyon Drive.
From shopping for local products, indulging in an endless sea of eateries, art gallery hopping, celebrity star spotting, solving problems at the escape room, or learning about the Cahuilla Indians at the Agua Caliente Cultural Museum — this famous palm-lined street is a fascinating place to visit night or day.
Thursday nights the street is closed to traffic to accommodate the numerous stalls and booths set up along the street.
El Paseo Shopping District
If shoppers don't find what they're looking for on Canyon Drive, El Paseo shopping district is a mile-long shopping strip in Palm Desert just 25 minutes southeast of Palm Springs.
With more than 300 high-end fashion boutiques, art galleries, restaurants, and jewelers, it is the ultimate shopping experience.
Cabot's Pueblo Museum
A 20-minute drive north to Desert Hot Springs stands Cabot's Pueblo Museum where Cabot Yerxa built his home during the first half of the 20th century.
After finding hot and cold mineral water springs nearby, he built a house with collected material from abandoned cabins, old telephone poles, broken wagons, driftwood from the Salton Sea, and other recycled and found objects.
There are 35 rooms to explore on 4 stories with views over the Coachella Valley.
Hours
The grounds are open from 9:00 a.m. to 4:00 p.m. from Tuesday to Saturday and from 12:00 p.m. – 4:00 p.m. on Sunday with tours at 9:30 a.m., 10:30 a.m., and 11:30 a.m.
October to May: Tuesday-Sunday (closed Monday), 9:00 a.m.-4:00 p.m.
Tour times: 9:30 a.m., 10:30 a.m., 11:30 a.m., 1:30 p.m., 2:30 p.m.
Admission
Museum & Grounds: $13.00 per person or $11.00 per person for Seniors, Active Military, and children ages 6-12
Grounds Only (includes access to Water and Exhibition galleries): $5 per person. The entrance fee also includes access to two rooms: Water and Exhibition Galleries.
Children under 5 years old are free.
Joshua Tree National Park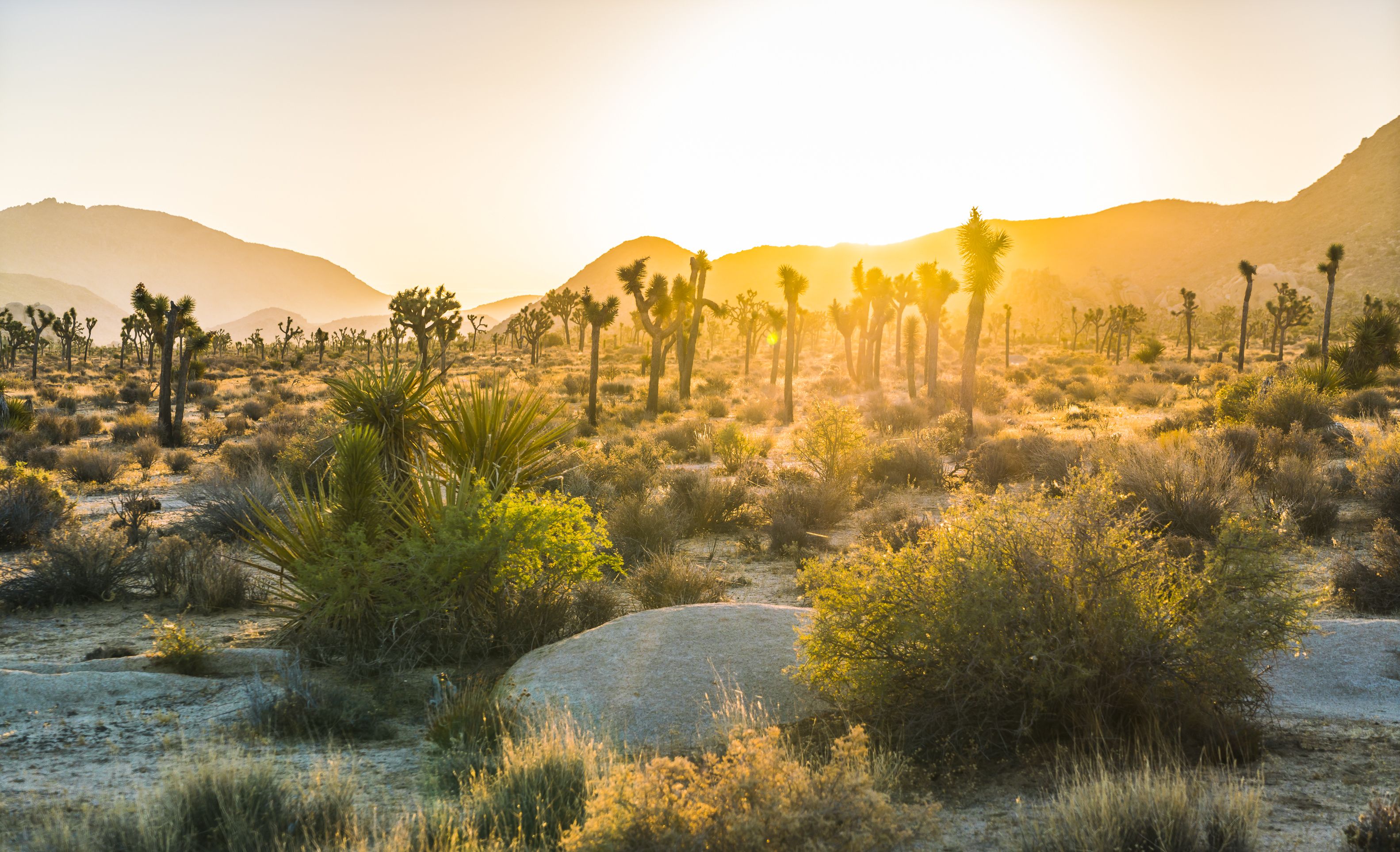 Photo: Checubus. Shutterstock
Continuing east along the CA – 52E highway, spread out under a vast sky, is the Joshua Tree National Park. The park is home to the famous Joshua tree, native to the Mojave Desert.
Larger than the state of Rhode Island, this 671 square mile (1739 square kilometer) park includes the Mojave and Colorado Deserts.
Related: These Are The Best Hikes Through Joshua Tree National Park
Whether it's rock climbing the weather-worn granite boulders, star gazing from a campsite, mountain biking the desert trails, or admiring the glorious sea of wildflowers in spring – it's a stunning place for a unique desert experience.
Pop into the Visitor Center for information on the self-guiding nature trails or join a ranger program to hike to one of the park's five palm oases.
There are day, weekly, annual or lifetime passes available. Check out the website for more information.
Entrance to Joshua Tree and all other national park sites is free on Martin Luther King, Jr. (MLK) Day, 3rd Saturday of April: The first day of National Park Week August 4: Great American Outdoors Act Signing Day, 4th Saturday in September: National Public Lands Day, November 11: Veterans Day
Indian Canyons
About four miles south of downtown Palm Springs stretches the breathtaking ancestral home of the Agua Caliente Band of Cahuilla Indians. Admission will allow access to the Andreas, Murray, and Palm Canyons of waterfalls, streams, rock art, and the Desert Fan Palm which grows up to 49.66 feet tall and 10-20 feet wide.
The Cahuilla Indians built their villages around these cool shady palm groves and used every part of the tree to make clothing, huts, cooking utensils, food, and more.
Now visitors can enjoy more than 60 miles of hiking trails, ranger-led hikes, horseback riding, or simply a quiet spiritual moment of reflection. At the Indian Canyons Trading Post, visitors can pick up hiking maps, food, drinks, and Native American artifacts and books.
Tickets for day hikes can be purchased at the Toll Gate 38520 S. Palm Canyon Drive.
Ranger-led hikes are available from October to June in the Palm and Andreas Canyons.
Prices range from $6 (children) to $12 (adults).
Open from 8 am to 5 pm daily from October 1 to July 4 and weekends only during summer.
Pioneertown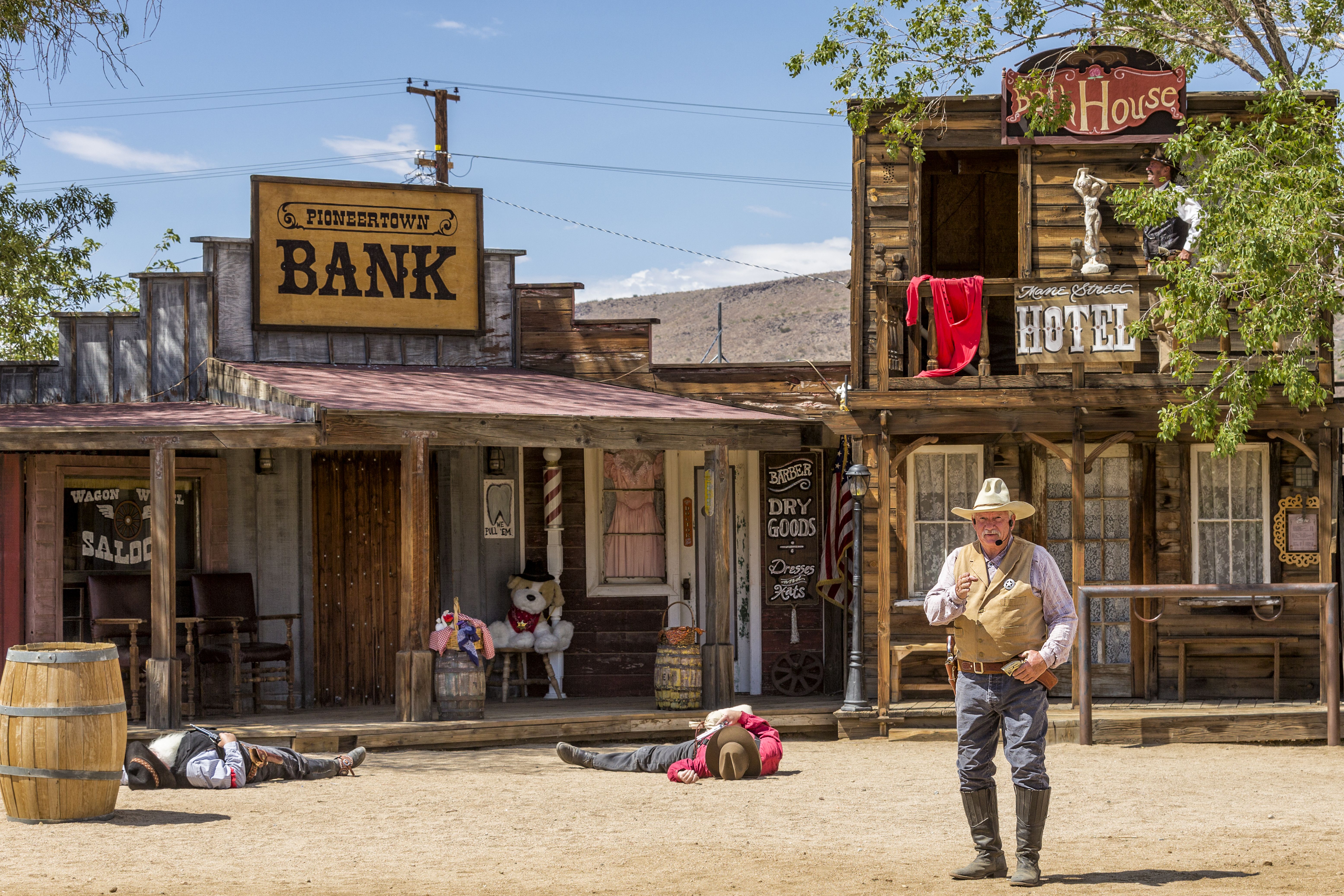 Photo: Ovidiu Hrubaru
For the authentic Wild West experience, Pioneertown, 30 miles north of Palm Springs, is a fun place to visit. Open daily all year round, the best time to go is on the weekends when the place comes alive with activities and possible shoot-outs.
The town was created in 1946 by Hollywood investors who thought a fully functioning 1880s Wild West movie set where people could live and work close to LA would be a good idea. Turns out it was; 50 films and series were shot here during the '40s and '50s.
They built fully functional businesses such as a grocery, motel, saloon, shooting gallery, and newspaper business. These days there are art studios, pottery, soap shops, saddleries, and restaurants, among others.
Pioneertown continues to be a popular place to film and makes an excellent day trip, or for those who prefer to stay awhile, a campsite and old-style ranches and motels are available. Plus, admission is free!
Palm Desert Aquatic Center
OK, hiking, shopping, and sightseeing is done – now it's time for some refreshing fun at the Palm Desert Aquatic Center. Three pools, multiple slides, and diving boards for the more adventurous — perfect for the whole family.
Palm Desert Aquatic Center, 73751 Magnesia Falls Drive, Palm Desert, CA 92260
Related: 10 Small Towns In Southern California Offering More Than Sun, Sand, & Surf
McCallum Theatre
For theater, music, and dance performances, don't forget to visit the McCallum Theatre on Fred Waring Drive, Palm Desert.
Famous names from Tony Bennet, Harry Connick Jr, Kenny Loggins to Barry Manilow and Willie Nelson, just to name a few have all performed here, and the theater continues to draw some of the best names in the business.
Open from October to June.
Modernism Museum
The Coachella Valley became a popular spot for the Hollywood elite around the middle of the 20th century — it was a get-away that was close enough in case they were called back by the studios who had them on pretty short leashes.
These days visitors can walk or drive around and admire the houses, hotels, and other mid-century Modernist architecture. Visit the Modernism Museum, join a tour and be shown where the famous stars lived, or pick up a map at the Visitor Center for a self-guided tour.
If visiting in February during Modernism Week, or in October, during Modernism Week's Fall Preview, it is a perfect time to learn more about mid-century architecture, design, and culture with an array of events to choose from.
Palm Springs Art Museum
For art lovers, head over to the Palm Springs Art Museum situated at 101 N Museum Drive, Palm Springs — an art, natural science, and performing art institution for Palm Springs and the Coachella Valley.
Coachella Valley Music and Arts Festival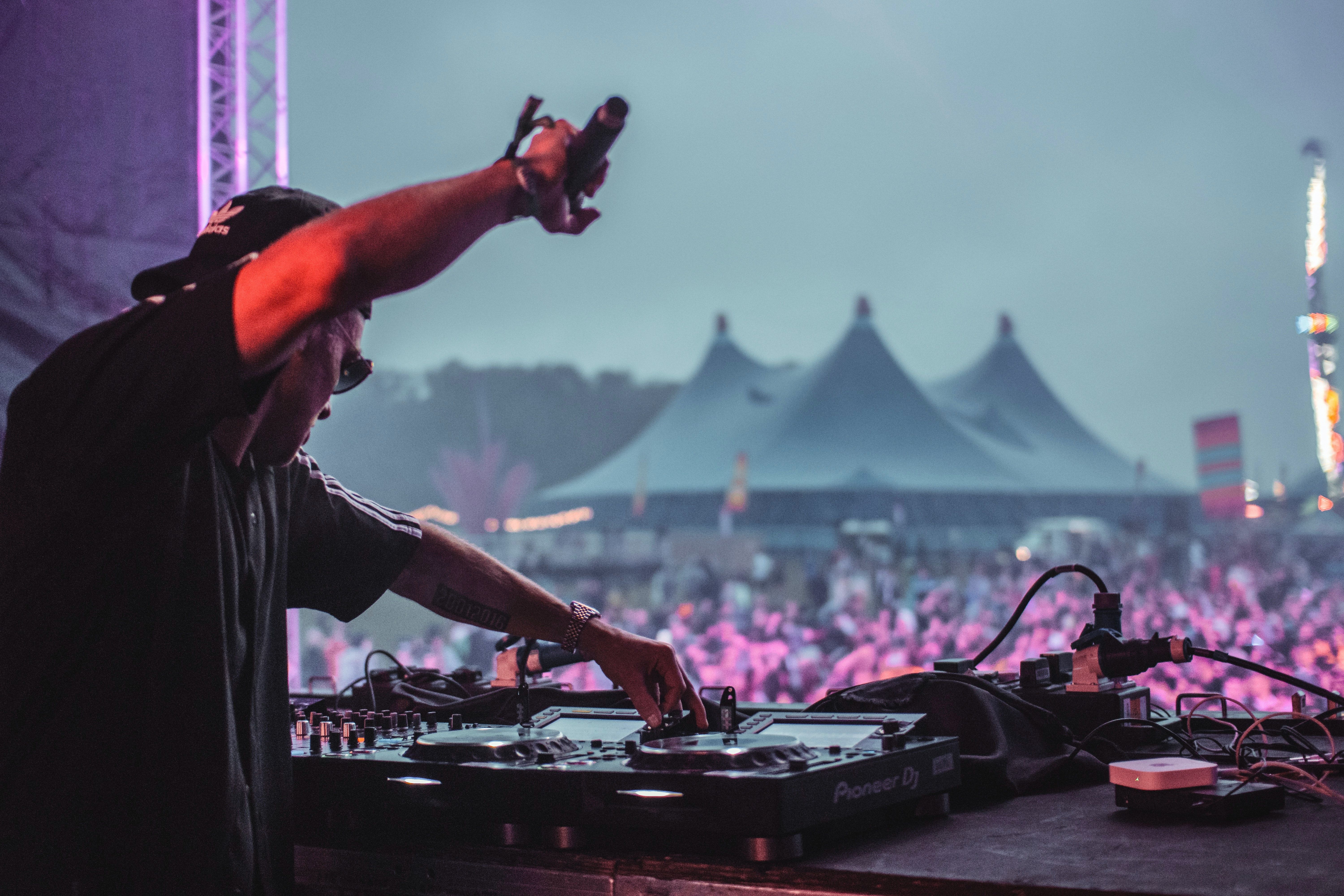 Photo: Arthur Edelman. Unsplash
The Coachella Valley Music and Arts Festival is held every year at the Empire Polo Club over two consecutive 3-day weekends in April.
Started in the late 1990s, it is one of the best-known festivals in the world and attracts artists from all over the world with a variety of music genres, art installations, and sculptures, not to mention plenty of celebrities.
Be sure to purchase passes early
On-site accommodation includes camping in the car, a tent, or a lodge at Lake Eldorado.
How To Spend A Perfect Day In The Coachella Valley
Nestled between the desert hills of the extensive Joshua Tree National Park to the east and the San Bernadino, San Gorgonio, and San Jacinto mountains to the north and west, the Coachella Valley is a true oasis of life and activity.
Choosing how to spend a perfect day comes down to one's interests; whether it's a morning of golf at one of the many golf courses, followed by a long lunch and an afternoon siesta by the pool or signing up to a driving tour, hiking and biking during the day and partying all night – by the end of their stay the visitor may just need another vacation to recover!
FAQ
Q: Is Palm Springs in Arizona or California?
Palm Springs is located in Riverside County in the Coachella Valley, California.
Q: What did the native Americans call Palm Springs?
The Cahuilla Indian name for Palm Springs was Se-Khi (boiling water) for the natural hot springs in the area.
Q: How cold does it get in winter in Palm Springs?
The temperatures in Palm Springs range between the low 70s degrees F to the low 80s degrees F (20 – 27 degrees C) from November to March which makes it an ideal time for hiking and biking.