Located on the West Coast in California, Orange County, also known as OC, is a relaxing and fun getaway for travelers looking to surf, enjoy beach life, and feel the rush of visiting Disneyland.
The 40 miles long coastline of OC is covered with several popular beaches and offers a scenic and authentic beach experience, travelers have been inspired to visit this part of the world owing to the rich sunshine that OC is showered with, unique culture, well-preserved history and art, beautiful beaches, and entertainment centers.
Best Time To Visit The Orange County
Sunny Weather, Orange County
Orange County is blessed with favorable weather all year round and tourists can enjoy the best of OC throughout the year. However, the summer season is the best time to visit OC somewhere between May to September when the weather is sunny and travelers can spend longer time outside.
Schools are on summer holidays so Disneyland and beach cities are mostly crowded (and expensive). The holiday season is again crowded when tourists flock to OC to enjoy.
Related: Orange County, FL Vs. Orange Country, CA: Which One Wins?
Travelers can avoid the crowd, and get good deals on hotels and entertainment parks if they plan their travel during March-May or September-October.
According to Disneyland, the shortest queue at park attractions is from January-February (excluding Presidents' Day weekend).
What To Know When Visiting
Laguna Beach, Orange County
Founded on March 11, 1889, the name Orange County comes from the main crop at that time — the Orange. The County situated on the Pacific coast has a vast coastline and includes famous coastal cities like Seal Beach, Huntington Beach, Newport Beach, Laguna Beach, Dana Point, and San Clemente.
The major cities of OC include Anaheim, Santa Ana, and Irvine.
Authentic OC life is just as exciting and fun as its amusement parks, with its vibrant urban core, casual beach cities, and a vast collection of natural treasures, OC inspires travelers to come to play outdoors.
Travelers can spend time swimming, sailing, relaxing, watching surfers, or learning to surf at various beach towns in OC. Known for being one of the best surfing destinations, Huntington Beach in OC is known as the Surf City USA, it hosts the US Open of Surfing every summer.
Follow the Orange County Register to stay at the top of local news, cultural events, and various restaurants option in the county. \
Explore SoCalPulse for awesome ideas of things to do in OC.
Best Way To Get Around Orange County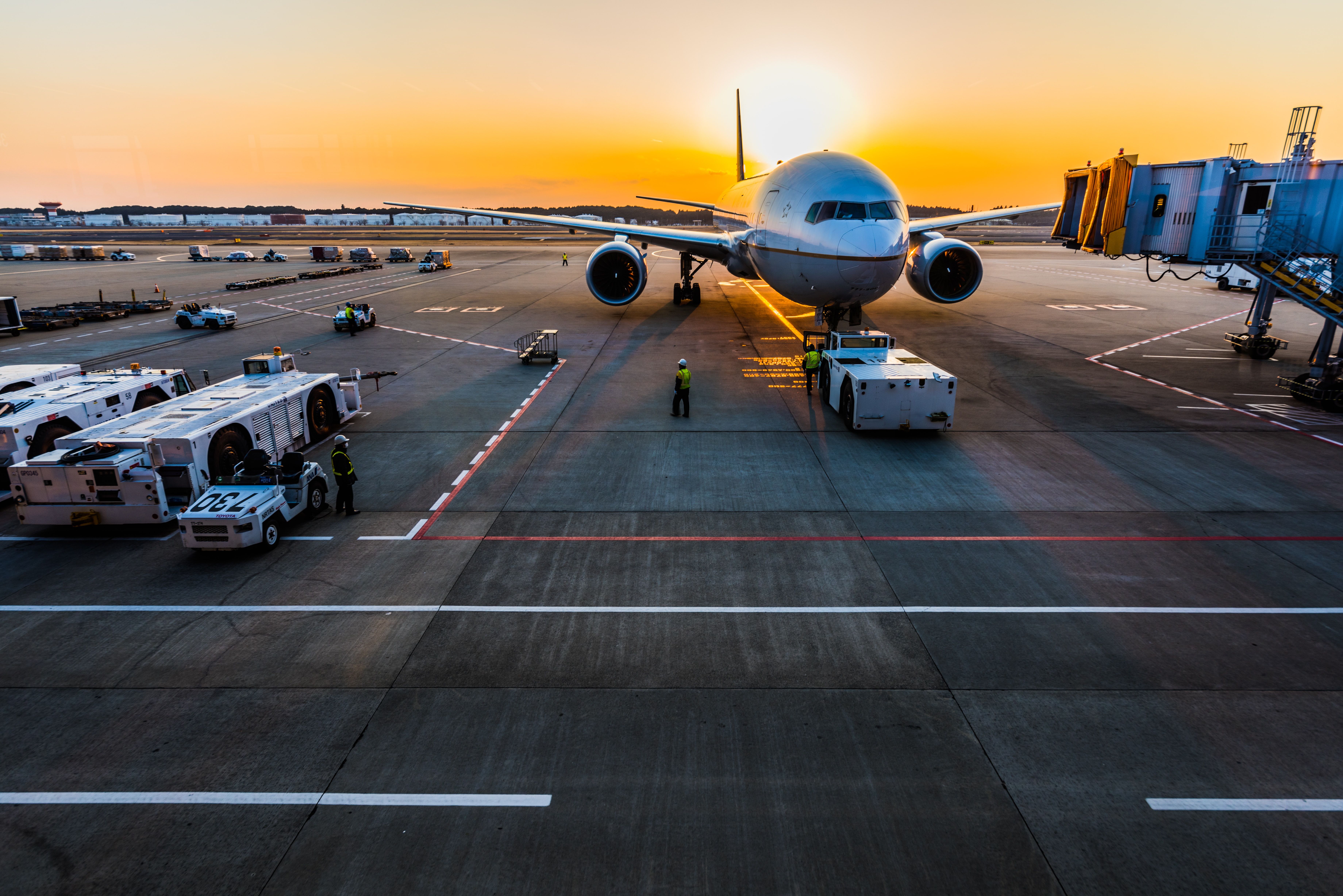 Airport, Orange County
Orange County is well-connected with rest of the North America via air travel. The International airport, John Wayne Airport, is served by approx. nine carriers flying non-stop flights from across twenty cities in North America. Travelers can also get down at the extremely well-connected and manageable Long Beach Airport, or the famous Los Angeles airport (LAX), which is as also very convenient, and less than an hour by car drive to Anaheim or Huntington Beach.
As a significant part of the Los Angeles metropolitan area, Orange County cities have excellent public transport, the cities are also served by Uber, Lyft, and various local taxi companies.
Based on the requirement and budget travelers can choose either public or private transport, however, it is recommended to rent a car for exploring several different destinations in the beautiful County.
Related: 10 Crazy Affordable (But Scenic) West Coast Road Trips
Where To Stay In Orange County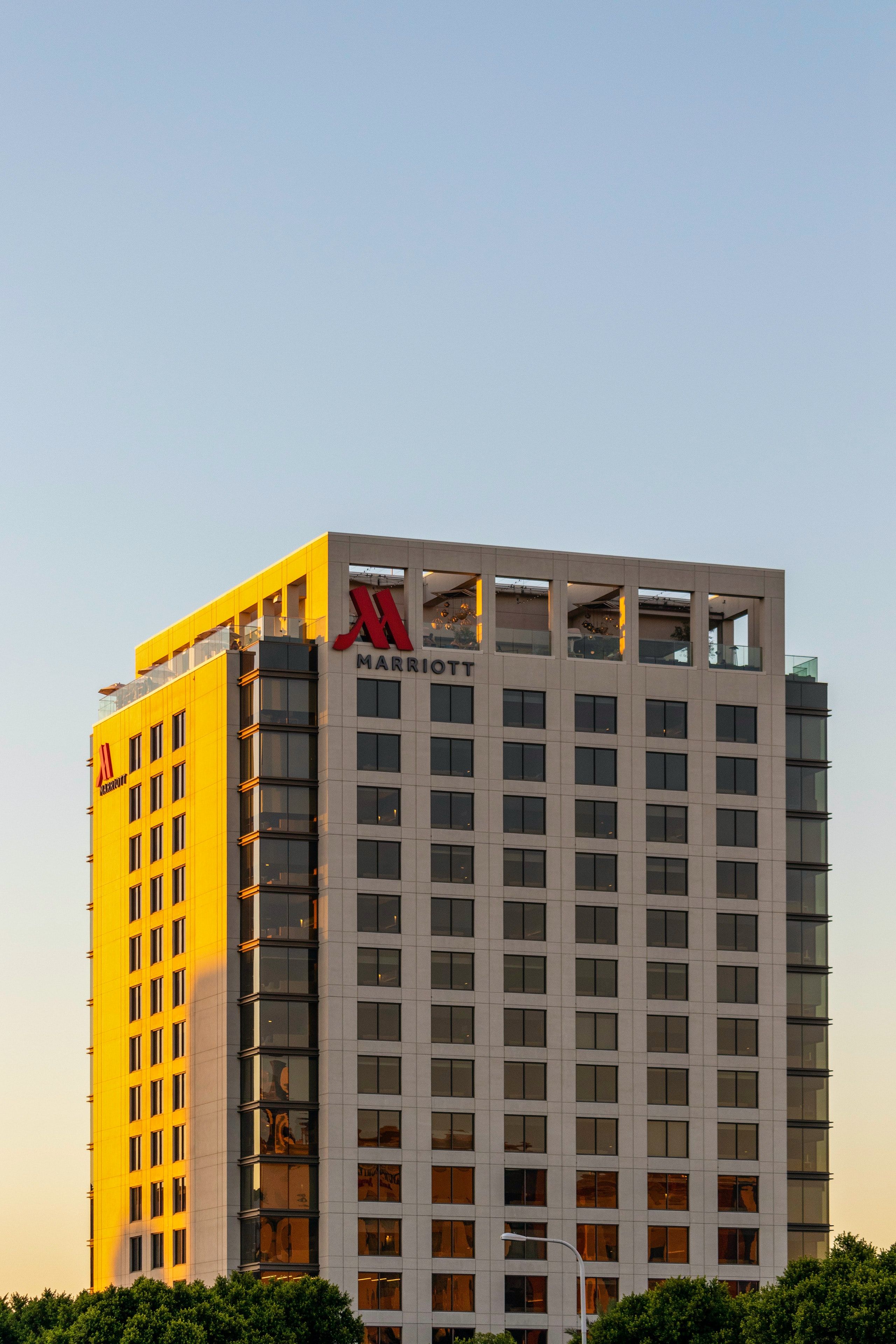 Marriott, Irvine, Orange County
Blessed with an almost perfect climate year around with a lot of sunshine makes Orange County a highly preferred tourist destination. OC is also home to top luxury hotels and spa centers, along with a growing number of Airbnb properties in the area.
Depending on the need and type of vacation the travelers are planning, they can choose to stay at the city center and enjoy the theme parks thereby avoiding grueling traffic, or stay in the Anaheim area which is near Amtrak and Metrolink trains that connect to other regions in the County.
If the travel vibe is mostly laid back, sunbathing and surfing, choose a stay near one of the beautiful beaches.
JW Marriott Anaheim
Location – Best hotel adjacent to the Disneyland
Amenities – Fairly a new hotel near ARTIC train station, and Anaheim GardenWalk Mall. The hotel boasts a rooftop bar, a walkable garden, and a wellness center, along with other top amenities to make travelers' stay comfortable.
Price – $$$
Doubletree Suites by Hilton Anaheim Resort
Location – Anaheim Resort district, closer to the Disneyland
Amenities – Served by Anaheim Resort Transit (ART) shuttles, within walking distance from various restaurants and shops, rooms are large, and they offer paid parking.
Price – $$
Avenue of the Arts Costa Mesa, a Tribute Portfolio Hotel
Location – One of the best-styled hotels, situated near OC's iconic South Coast luxury mega-mall
Amenities – The hotel has an amazing vibe, the rooms are designed keeping art in mind. Travelers can find a lot of eateries nearby.
Price – $$-$$$
Renaissance Newport Beach
Location – Close to John Wayne Airport
Amenities – Rooms are bright and colorful with a beach vibe, and the hotel has a pool and fitness center for guests.
Price – $$-$$$
Montage Laguna Beach
Location – Laguna Beach
Amenities – One of the best luxury hotels with a breathtaking scenic oceanfront location, the rooms are elegant and luxurious, and besides all the world-class amenities, the hotel also offers limo/town car service.
Price – $$$$
Newport Beach Hotel
Location – Oceanfront Blvd, Newport Beach
Amenities – Beach-chic style hotel, offering rooms done in clean whites and pastel blues, equipped with spa tubs and ocean views. The hotel also has a wine bar and offers paid parking.
Price – $$-$$$
Knott's Berry Farm Hotel
Location – Near Knott's Berry Farm Amusement Park
Amenities – This hotel offers spacious rooms with free Wi-Fi and a free shuttle service to Disneyland. The rooms are warmly decorated and come with safe deposit boxes and AC. Common amenities include an outdoor pool, gym, hot tub, and a small playground.
Price – $-$$
Crystal Cove Beach Cottages
Location – Situated right on Newport Beach
Amenities – One-of-a-kind stay, the hotel offers close to 2 dozen preserved cottages ranging from sleeping acclimation for 2 to 8 people. The rooms have an ocean view and come with refrigerator, microwave, and Kitchenette
Price – $- $$$
Surf & Sand Resort
Location – Laguna Beach
Amenities – Located right on the Laguna beachfront, with up-to-date rooms, seaside balconies, and a generation of hospitality experience. The hotel is equipped with a full-service spa, and travelers can avail paid service from staff to set up chairs and towels by the beach or pool.
Price – $$$ – $$$$
Related: These Laguna Beach Hotels Have The Best Views Along The Coast
Where To Eat In Orange County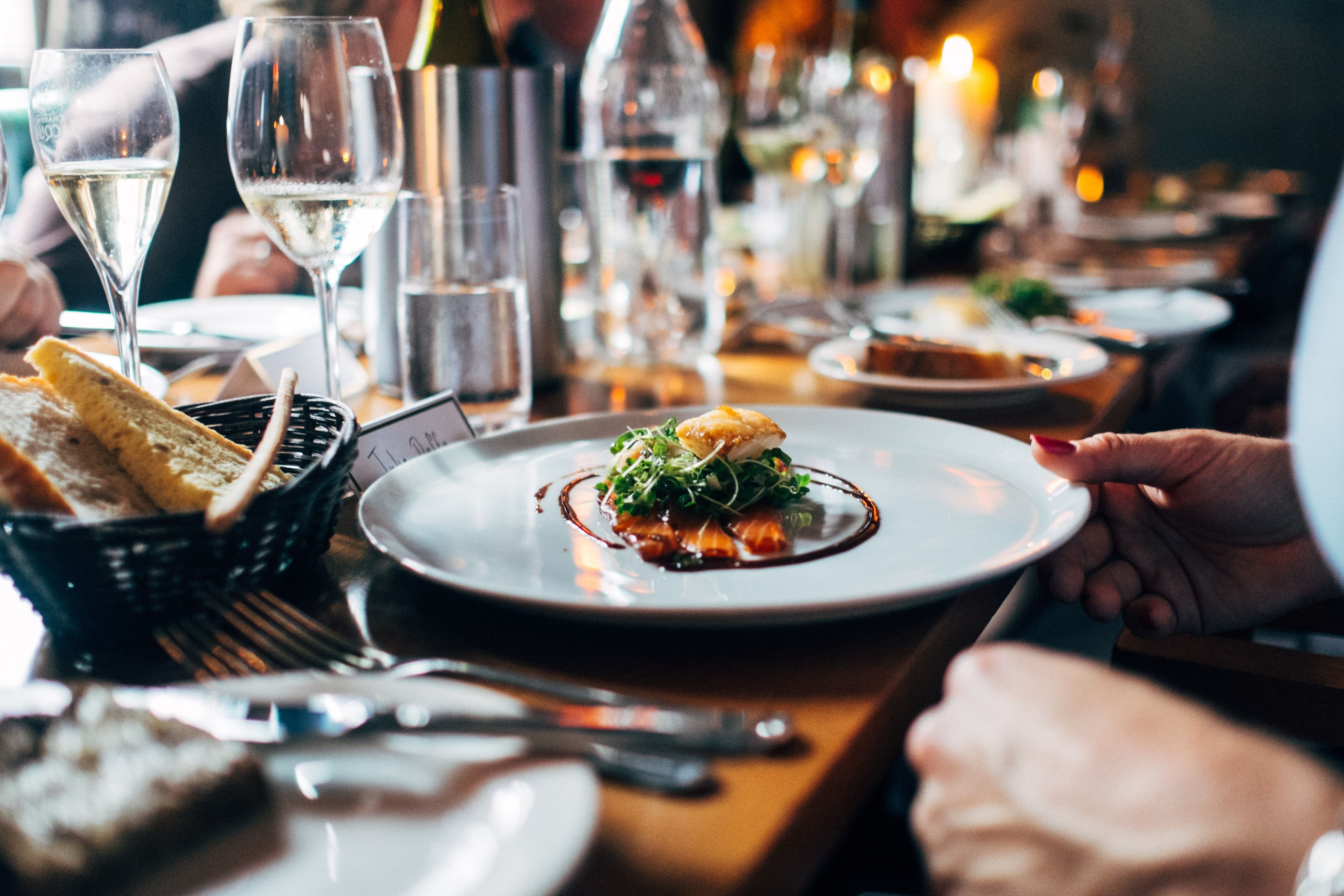 Restaurant, Orange County
Orange County has access to the vast produce from farms and orchards of California, and a thriving restaurant and food joints to cater to the growing population and visiting tourists. OC's restaurants serve a very wide variety of cuisine right from Sushi and dumplings to Latin cuisine.
Terrace by Mix Mix
Located at South Coast Plaza, TERRACE by Mix Mix is a beautiful dining restaurant that focuses on well-priced small plates. The cuisine is inspired by chef Ross Pangilinan's style; the chef has vast experience working with Michelin-starred restaurants. The cuisine here is influenced by French, Italian, and modern Filipino flavors.
Antonello Ristorante
Travelers can expect the best of Italian cuisine at this restaurant. The place is a mainstay at South Coast Plaza thanks to owner and chef Antonio Cagnolo. With a romantic ambiance and a stellar wine list, travelers can expect to taste the famous mouth-watering pasta and other famous Italian dishes at this place.
The Vox Kitchen
Located in Fountain Valley, Orange County, the restaurant offers comfort Asian food and some Asian – Latin fusion options. Must-try dishes here include garlic noodles and crab congee. It is a nice place for lunch and dinner.
The Cut Handcrafted Burgers
Located in Irvin, Orange County, The Cut is famous for its quality and fresh food. Must-try foods here include handcrafted burgers, sandwiches, and weekend brunches. The restaurant also offers exciting Craft Beer, Wine, and Craft Cocktails that are worth trying. It is a nice place for lunch and dinner.
Carmelita's Kitchen de Mexico
Located on Laguna Beach, this Mexican restaurant is a local favorite. Don't forget to order queso fundido and slow-braised pork carnitas, and do try out ceviche and seafood enchiladas. The place is famous for margaritas and has an exotic menu of signature margaritas.
LilyPopp Cafe
Located in Anaheim, LilyPopp is known for the town's best fresh baked bagels and bagel sandwiches. Don't forget to order the Angel bagel when visiting this food place.
Tim Is Making Great Coffee
Located in the city of San Juan Capistrano, Orange County, this restaurant is famous for its breakfast, especially the sandwiches, and obviously aromatic and delicious Coffee. Travelers can try the Hawaiian breakfast when visiting this place.
The Deli Station
Located in Santa Ana, Orange County, this breakfast restaurant serves some of the best BBQ brisket and sausage sandwiches. Travelers vouch for the tasty turkey sandwiches and Philly cheese steak fries that this place offers.
Khan Saab Desi Craft Kitchen
Located in Fullerton, Orange County, this Michelin-anointed halal restaurant combines the cuisine of India, Afghanistan, and Pakistan to provide some of the best chicken dishes that California has to offer. Do try the pani puri with tamarind water, mint, onion, and potato when visiting this place.
Things To Do In Orange County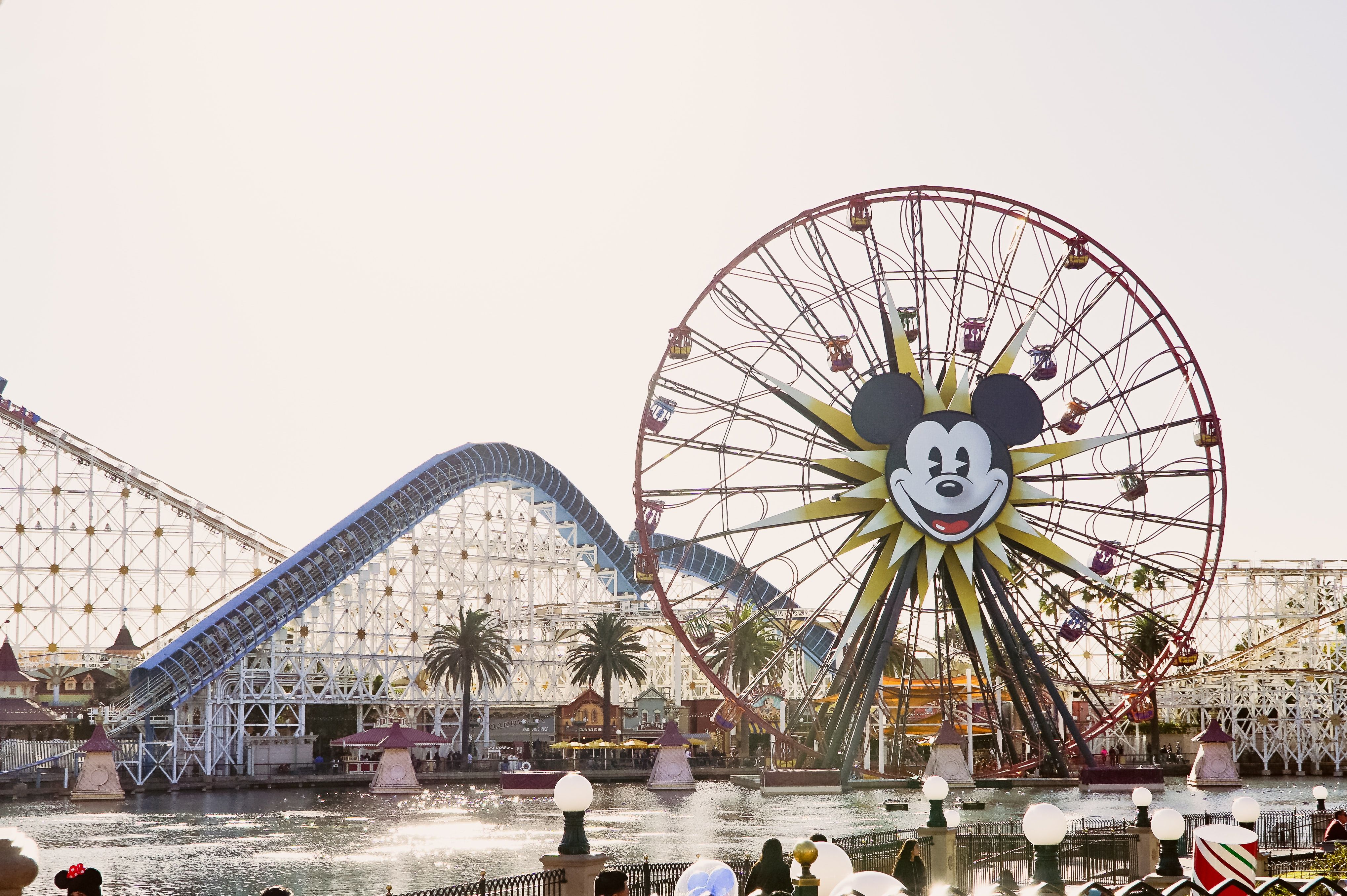 Disneyland Park, Anaheim, United States
Orange County is the entertainment center of California, the rich art, history, and culture, combined with some of the best beaches and favorable weather all year round make OC a busy tourist hub.
The County is known for its miles of sandy beaches, surfing, and world-famous amusement parks.
From a nice family getaway to beach sports and laid-back adventures, OC has a lot to offer. Here is a list of top things to do when in this beautiful County
Get your heart racing at Disneyland
Located in Anaheim, Orange County, this entertainment park has been called the happiest place on Earth for various reasons. There are actually two parks: Disneyland Park: The first park that opened in 1955, and Disney California Adventure which was inaugurated in 2001 and is themed around the history and culture of California.
Disneyland Park is a delight for all ages. The Classic rides, haunted Mansion, and Disney characters roaming around appeal equally to kids and adults.
Related: 8 Things You Can Expect At Disneyland In 2023
Capture the best of Nature at Laguna Beach
Start the exploration of this beach from Crystal State Park which is a 3-mile-long beach overlooked by a rocky cliff. Tourists can enjoy the scenic beauty, peace, and happiness in nature while walking on the long stretch of sand.
Nearby is a small historic district with beautiful cottages. When the tide is low travelers can head to 1000 steps beach, or walk to the famous Three Arch Bay Beach to witness the mesmerizing beauty of triple arches stacks.
Related: Thousand Steps Beach: How To Get To Laguna's Hidden Pools
Stroll On The Streets of Old Towne Orange
Old Towne is the 'vintage' district of OC, it covers about one square mile around Plaza Square Park and is approx. 7 miles from Disneyland. The street of Old Towne is filled with historic buildings.
The district offers one of a kind experience with casual bars and restaurants lining up the street, accompanied by antique shops, beautiful eateries, and tearooms, all of which are crowded during the annual Orange International Street Fair.
Visit The Historic District of San Juan Capistrano
Mission San Juan Capistrano is called the 'Jewel of the California Mission', the historic town hosts some rare and precious artifacts, treasures, and paintings. Partially destroyed in an earthquake, the Serra Chapel and Great Stone Church provides the glimpse beauty and detailing of the original structure.
Explore The Museums at Santa Ana
Santa Ana is the second most populous city and the county seat of the OC. It is a home to vibrant evening scene and art community.
Discovery Science Centre: Designed in form of a giant cube, this museum works as a curiosity ignition for children where they can launch dummy missiles, conduct space missions, take a helicopter tour, and do many other things
Lyon Air Museum: This is a treat for any aviation fan, it hosts Antique airplanes, antique cars, and military vehicles
Bowers Museum: The museum has a huge collection of over 100,000 artifacts of Mesoamerican, Pre-Columbian, African, and Native American origin.
Don't Miss The Sunny Surfing Beaches
Orange County has a long coastline filled with some of the best beaches in the whole of North America. Experience authentic laid-back beach vibes, watch the surfers, of even better learn how to surf yourself at beaches to the north of Laguna Beach like Huntington Beach, also called the 'Surf City', or New Port Beach which has various clubs for a luxury holiday.
The Wedge and Trestles Beach are other great beaches that surfers love.
Related: 10 Beaches Near Anaheim That Are Perfect To Visit Year-Round
Get Your Adrenaline Running at Knott's Berry Farm
A huge 57-acre theme park located in Buena Park, California, Knott's Berry Farm is one of the top visited theme parks in the US.
The park boasts first-class roller coasters, various interactive experiences and stage shows, finger-licking good food, and family-friendly fun featuring Snoopy and the Peanuts Gang.
Shop at California's Most Loved South Coast Plaza and the SoBeCa District
Travelers love shopping at this Costa Mesa Plaza, which has over 250 boutiques and eateries. Shoppers can find the best and well-known designers here like Alexander McQueen and Zegna.
Head on to SoBeCa District for an even more extensive shopping experience, check out the Mitsuwa Marketplace, The Lab Anti-Mall and the Camp for shopping, eating, and exploration.
Best Neighborhoods In The OC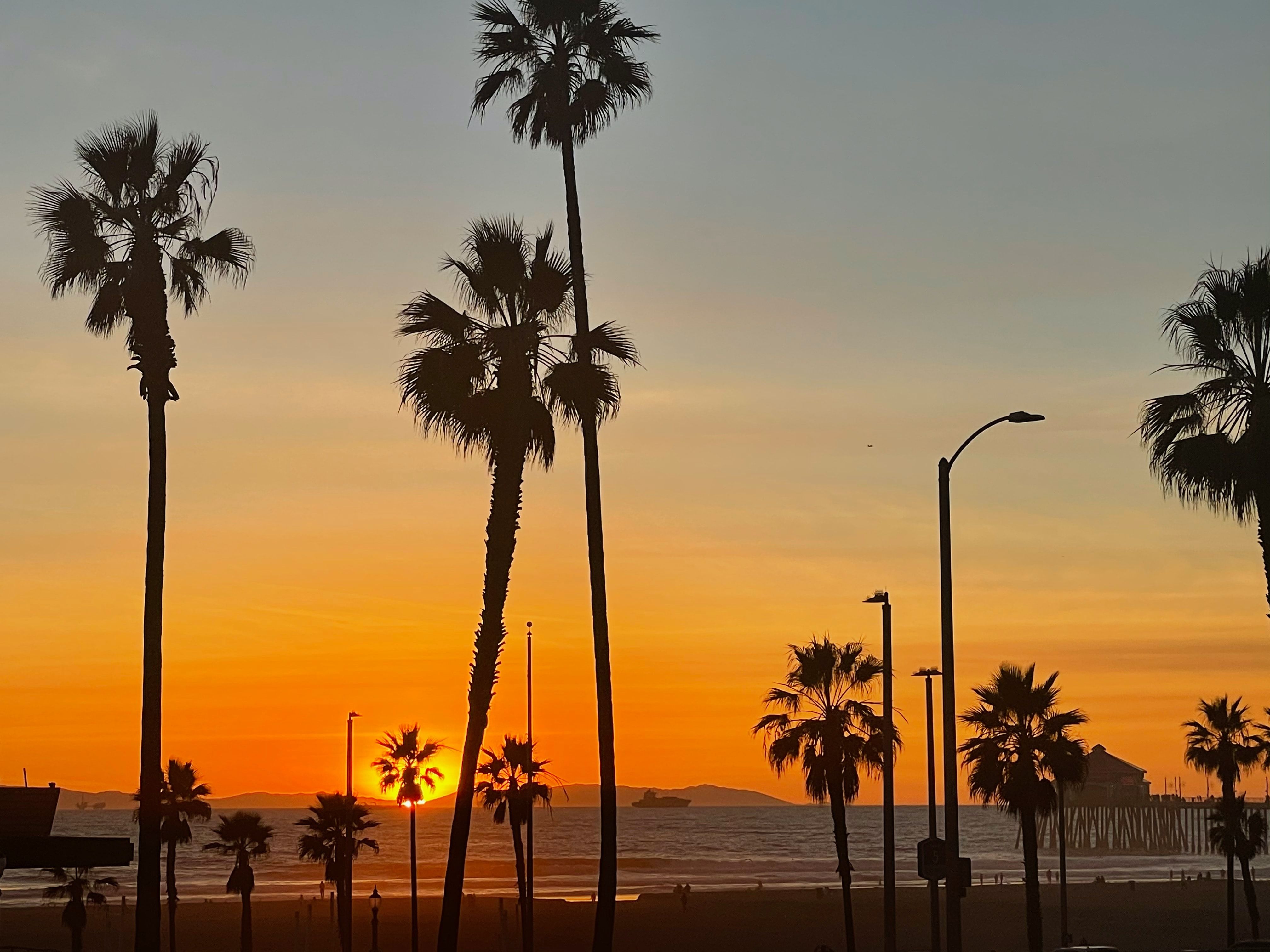 Huntington Beach, Orange County 
From beaches to amusement parks to downtown markets, the OC offers some of the best neighborhoods for travelers to unwind, and pamper themselves while witnessing some of the best nature, history, art, and culture.
Anaheim
California Adventure Park, Disneyland Drive, Anaheim, CA, USA
Anaheim is the home to the famous Disneyland and Disney's California Adventure Park.
Besides the parks, the city boasts of its pro sports teams and arenas. The Honda Center is the home ground for the Anaheim Ducks hockey team, and Angel Stadium is the home field of the Los Angeles Angels baseball team.
Related: 10 Things Anaheim Is Known For Besides Disneyland
Laguna Beach
This seaside town is a landscape marvel, filled with artists, painters, and photographers, who drive inspiration by divine sunshine and the beautiful coastline of tidal pools and coves. The town offers more than 100 restaurants, beautiful hotels, and galleries for visitors to explore.
Newport Beach
Located between Laguna Beach and Huntington Beach, Newport Beach is an urban Beach city and boasts of OC's famous shopping destination: Fashion Island. Ideal for harborside strolling and exploring various waterfront restaurants this town has to offer.
Huntington Beach
Huntington Beach is a surfer's heaven! Located at the northern end of the County's coast, the consistent wave at this beach attracts a lot of surfers to enjoy wave riding. The city offers a long ocean side strand to stroll, and its Bolsa Chica Wetlands attract birdwatchers from across the globe to spot some 390 different bird species.
Irvine
Irvine is the college town of OC and is one of the largest cities in the OC. The famous University of California campus attracts students from across the globe to pursue their dream education. The restaurants here are famous for delicious Asian food. Travelers can get a one-of-a-kind experience on a hot-air balloon at the city's Great Park.
How To Spend A Perfect Day In Orange County
Newport Beach, Orange County
Travelers can start their day with any of the beach towns along the Pacific Coast based on their interest, choose Huntington Beach for surfing, Laguna Beach for its beautiful landscape, coastline, art, and culture, and Newport Beach for a luxury beach stay.
Related: 10 Of The Best Days Of The Year To Visit Disneyland
Families must include a visit to Anaheim for the famous Disneyland and Knott's Berry Farm. Shop at California's most loved South Coast Plaza and the SoBeCa District, and eat at some of the best American restaurants located in OC.
For travelers interested in Heritage and history, a stroll down the streets of Old Towne Orange, and an exploration of Mission San Juan Capistrano, famous for its swallows, and the Richard Nixon Library is much recommended.
FAQ
Q: What makes Orange County a popular tourist destination?
Orange County has some of the most beautiful beaches ideal for surfing and casual holidays. It is also the home to the beloved Disneyland and California Adventure theme parks.
Q: Which is the best place for surfing in the Orange County?
Huntington Beach in Orange County is famous for surfing (but also offers plenty of bars to hop) because of the consistent wave at the beach, this place is also called Surf City.
Q: When is the best time to visit Disneyland in Orange County?
The theme park is in full swing during the summer holidays, but this is also the time when it is very crowded, choose March to May or September to October to avoid the crowd and get a good deal in the park and nearby hotels. Try to stay nearby for the best experience at Disney.