Straddling the Pacific Ocean on the west coast of California, the city of Newport Beach in Orange County is a picturesque holiday destination with lots of benefits for both first-time and repeat vacationers. For starters, it is less crowded than Los Angeles and San Diego and offers similar, if not more, attractions for the vacationer seeking the usual experiences of a coastal city.
A highly underrated West Coast vacation destination, Newport Beach is made up of eight, mostly man-made islands, each with a fascinating history. Facilities supporting different, water-sports activities are offered by several private agencies on these islands.
In addition, Newport Harbor, once used for shipbuilding and large-scale fishing, is now a top spot for water-based recreational activities. From scenic nature reserves and cliffs overlooking the ocean to magnificent residential houses, Newport Beach offers diverse attractions and a laid-back ambiance difficult to find in many destinations.
Best Time To Visit Newport Beach
Summertime in Newport Beach, CA
With a mild, semi-arid climate, the beauty of Newport Beach rests on the fact that summer highs and winter lows are moderated by breezes from the Pacific Ocean.
For many vacationers, the summer months of July to September are the best times to visit Newport Beach. Rainy days are fewer, unlike the period between May to June, and the weather is pleasantly warm.
However, one may expect to pay a little bit more in service expenses because of the influx of vacationers at this time.
Where To Eat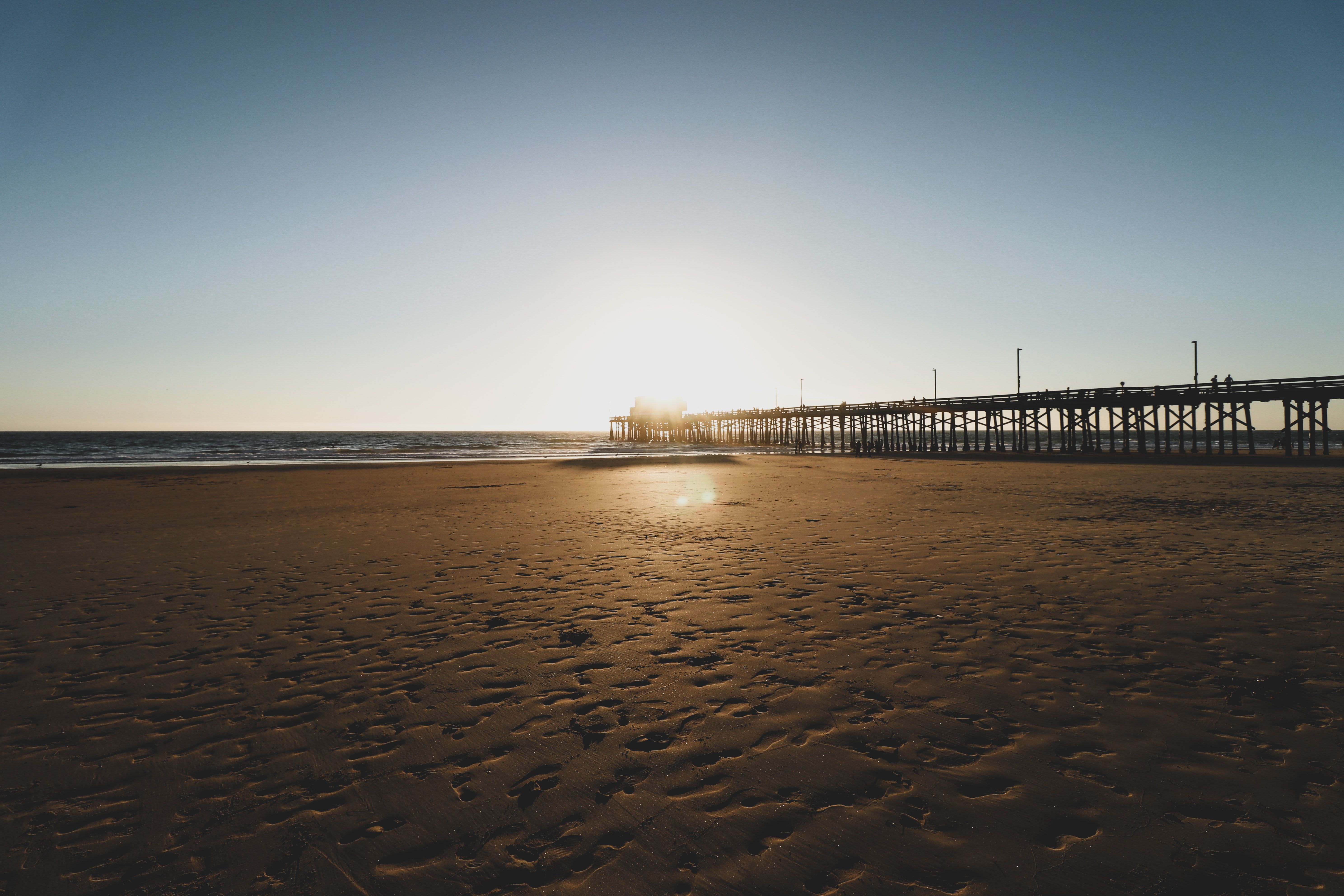 Sunset on the Newport Beach Pier

 
From fast-food outlets offering to-go options to upscale, exotic, ocean-front dining locations, there's everything to suit every need and palate in Newport Beach.
Beachcomber Café
A restaurant serving American dishes for breakfast, lunch, and dinner while offering a front-place view of the ocean. The ambiance is casual and laid back, and the range of drinks on the menu is impressive. It is an ideal eatery to refresh visitors interested in exploring Crystal Cove State Park.
Related: 10 American Restaurant Chains That Are Now Defunct (10 That Are On Their Last Leg)
SOL Mexican Cocina
The SOL Cocina is an eatery serving Mexican cuisine and drinks in Newport Beach. The restaurant specializes in lunch and dinner, with brunch available on Saturdays and Sundays starting from 10:00 am to 3:00 pm.
If they're lucky, travelers can catch live music entertainment at the Taco and Tequila Tuesday events which are held every Tuesday from 3:00 pm.
Ruby's Diner
Offers a convenient take-out service of American cuisines. The outlet can get busy during peak times, mostly because of its location on the Balboa Pier.
Nevertheless, its location allows the clientele to enjoy an awesome view of the pier as shakes, salads, or burgers are prepared. The eatery serves breakfast, lunch, and dinner.
Darya
The eatery serves Persian dishes in Santa Ana and is open for lunch from 11:30 am on weekdays. It opens at 12:00 pm on Saturday and Sunday and offers a classy ambiance for internal dining.
Top Things To Do In Newport Beach
There are plenty of activities that one can engage in with a visit to Newport Beach.
Water Sports Activities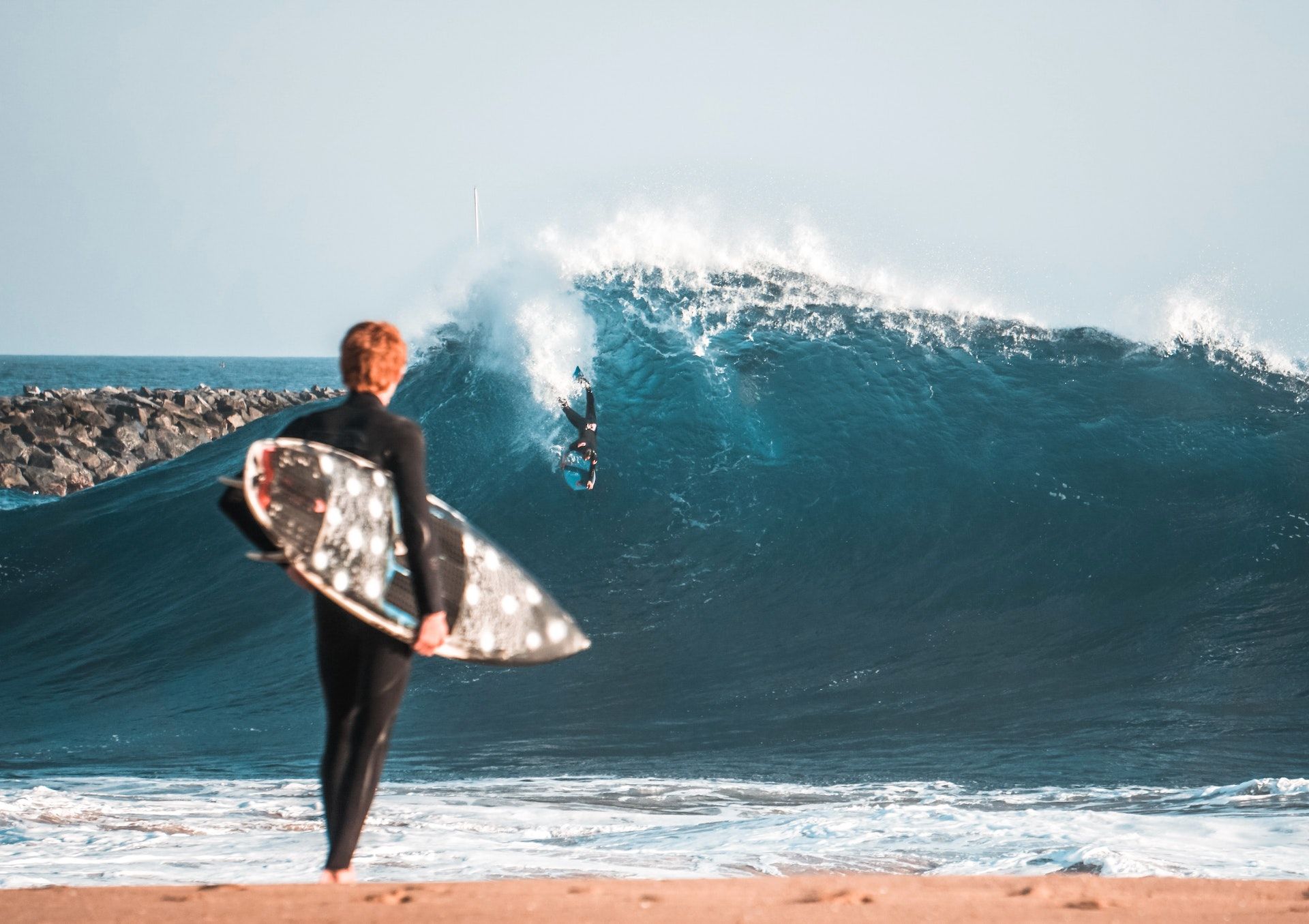 Water sports on one of the beaches in Newport Beach
With its oceanfront advantage, a number of people throng Newport Beach for the exhilaration that comes with water sports activities. The beach is rife with facilities and equipment supportive of kayaking, water surfing, canoeing, boat riding, and sport fishing.
One can conveniently rent kayaks, boats, hydro bikes, and paddle boards, with most agencies offering twice-daily tours; starting early morning and then later on in the mid-morning.
Some agencies offer water sporting lessons, but with the crowding during the summer months, it is advisable to book well in advance.
Whale and Dolphin Watching
A unique, cruising experience taking revelers into the waters for whale and dolphin watching. Visitors can choose to get the experience on semi-submarines or glass-floor boats modeled for this purpose. Sightings of sea lions, sunfish, and seals are also pretty common.
Water and Land Excursions
Water-based excursions offer the chance to appreciate the beauty of the Pacific Ocean, the luxury yachts dotting the coastline of Newport Beach, and the picturesque homes visible from the water.
On the other hand, attractions like Heisler Park, Newport Beach Ecological Park, Civic Center Park, and Crystal Cove State Park offer a striking view of the terrestrial landscape.
Whether on land or water, packages for private tours are varied, with additional services including narrations, stop-overs for photo moments, and evening cruises where dinners are served aboard water vessels.
These excursions are not limited to summer months, and are accessible during other seasons, especially in spring.
What To Know When Visiting
The state of California is known for being a top holiday destination, with its scenic coastline and sandy, sun-kissed beaches. While it does not attract as many visitors as San Francisco, Los Angeles, or San Diego, Newport Beach in Orange County has steadily carved a reputation as a much sought-after, laid-back travel destination.
Here are a few random things to know before visiting this Californian haven:
The beach is made up of eight, small, mostly man-made islands: Balboa, Newport, Bay, Collins, Little Balboa, and Harbor Islands, as well as Lido and Linda Isles
Newport Harbor is currently used as a recreational spot, with facilities available for water sports activities like boat riding, kayaking, water surfing, and paddle boarding
The eight islands have many similarities, but they operate on different by-laws. For instance, Bay Island strictly controls the use of cars and is mostly accessed using golf carts
Blue whales can be easily sighted in summer and fall, whereas gray whales are easier to sight in winter
Parking is difficult to snag in the busy summer months, and accommodations are expensive close to the oceanfront
Best Ways To Get Around
Ferry crossing Balboa Island, Newport Beach, CA
This depends on a visitor's destination and where they are coming from. Ferries are a convenient means of transportation, especially between Balboa Island and Balboa Peninsula.
Ferries provide a direct connection between the two locations, lessening the travel time and providing the additional perk of scenic views along the way.
To get around on land, an easy means of transportation would be by cabs, including ride-hailing taxis. These alleviate worries about parking. Hotel shuttle services are also handy when moving between different locations in Newport Beach.
Related: Orange County, FL Vs. Orange Country, CA: Which One Wins?
For fitness enthusiasts, bikes provide another option for movement within Newport Beach, and fortunately, there are rental services offering e-bikes for varied durations. Boat rentals could also come in handy in this regard, as well as for cruising for sightseeing.
Orange County buses also cover certain routes, but the waiting times may be long.
On Bay Island, there are fewer transportation options since the use of cars is strictly controlled. Golf carts are widely used. Balboa Island routinely launches a trolley in the summer months to ferry vacationers to popular attractions on the island.
Where To Stay
Newport offers a variety of accommodation options for singles, groups, or families of travelers.
Bay Shores Peninsula Hotel
The 2-star hotel is quite vintage and is located a short distance from the Balboa Peninsula, making it an unmissable landmark in the area.
Compared to other accommodation options, it is ideal for budget travelers. The ocean-view deck at the rooftop allows for spectacular views of the surrounding beach area.
Address: 1800 W. Balboa Blvd, Newport Beach, CA 926
Amenities: Wi-Fi, laundry facilities, beach accessories like chairs and towels, a library of movies, free newspapers
Holiday Inn Express
Located along the Mariner's Mile, the hotel offers easy proximity to attractions such as Crystal Cove Park, Fashion Island, and the Balboa Peninsula. It is also close to Hoag Hospital.
Address: 2300 West Coast Highway, Newport Beach, CA, 92663
Amenities: swimming pool, Wi-Fi, service animals are allowed, fitness center, parking, and breakfast
Renaissance Newport Beach Hotel
The 4-star hotel is close to the John Wayne Orange County Airport, offering easy travel into and out of Newport Beach. One is able to get loyalty points with their stays as well as additional service packages.
For revelers looking to do some local shopping, Fashion Island is a short distance from the accommodation.
Address: 4500 MacArthur Blvd, Newport Beach, CA, 92660
Amenities: Wi-Fi, spa, fitness, hot tub, convenience store, room service, outdoor pool, meeting spaces
Related: 15 Things To Know Before Booking Excursions When Staying At All-Inclusive Resorts
The Resort at Pelican Hill
The resort is an Italian-style luxury accommodation with bungalows and villas for the convenience and privacy of guests traveling in groups or as families. It is in close proximity to the Crystal Cove Beach area, Crystal Cove Historic District, and Newport Harbor, where a multitude of activities can be enjoyed.
In addition, the resort itself offers several, in-house, fun activities on lazy days when guests wish to stay within. These include golf getaways and a number of ball games.
Address: 22701 Pelican Hill Road South, Newport Coast, CA 92657
Amenities: golf, spa, pool, clubhouse with fitness center, private terraces, newsstand, high-speed internet, overnight parking
Hyatt Regency Newport Beach
The hotel is nestled in palm trees and striking greenery and is right next to the Newport Bay Ecological Reserve. One can take a stroll over the bridge that leads to Balboa Island, appreciate the tropical scenery, and explore the shops located along Marine Avenue.
The hotel is also close to trails which can be explored on excursions, with bicycles available for rent from the hotel.
Address: 1107 Jamboree Rd, Newport Beach, CA, 92660
Amenities: Wi-Fi, executive golf course, tennis and volleyball equipment, on-site restaurant, room service, fitness center, business services, and concierge
Newport Beach's Best Neighborhoods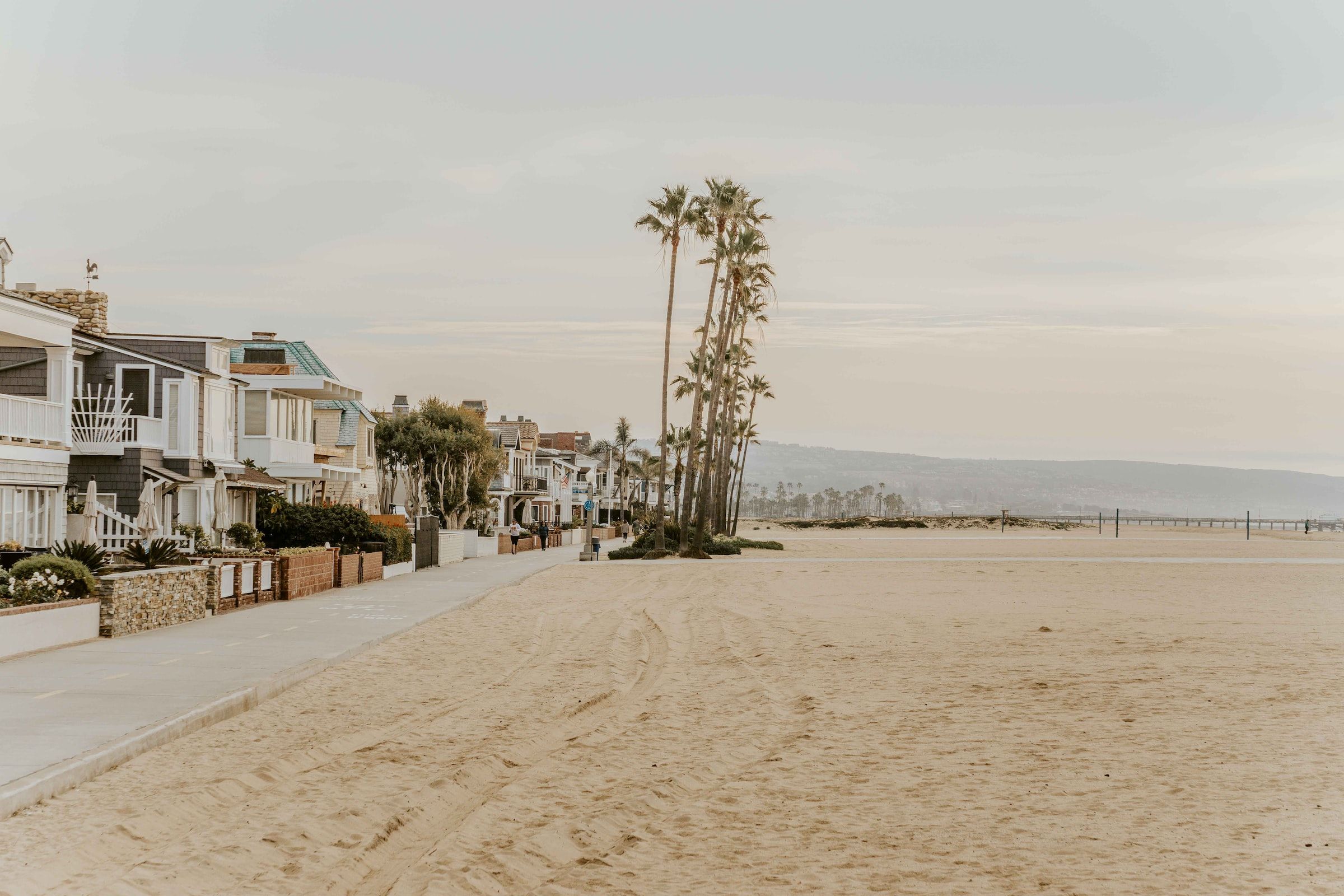 A beach-side neighborhood in Newport Beach, CA
Most of the residential areas in Newport Beach are upscale, gated communities, with varying amenities provided for residents.
Bay Island
Located just close to the Balboa Peninsula, this is one of the priciest neighborhoods in Newport Beach. The small island hosts a small community of fewer than 30 homes with scenic views of the ocean and small, private beaches.
Big Canyon
With the proximity of the Big Canyon Country Club and its expansive, 18-hole golf course, this neighborhood is among the most exclusive in the Newport Beach area. It also has well-equipped schools and shopping districts and is one of the safest neighborhoods in Newport Beach.
Corona Del Mar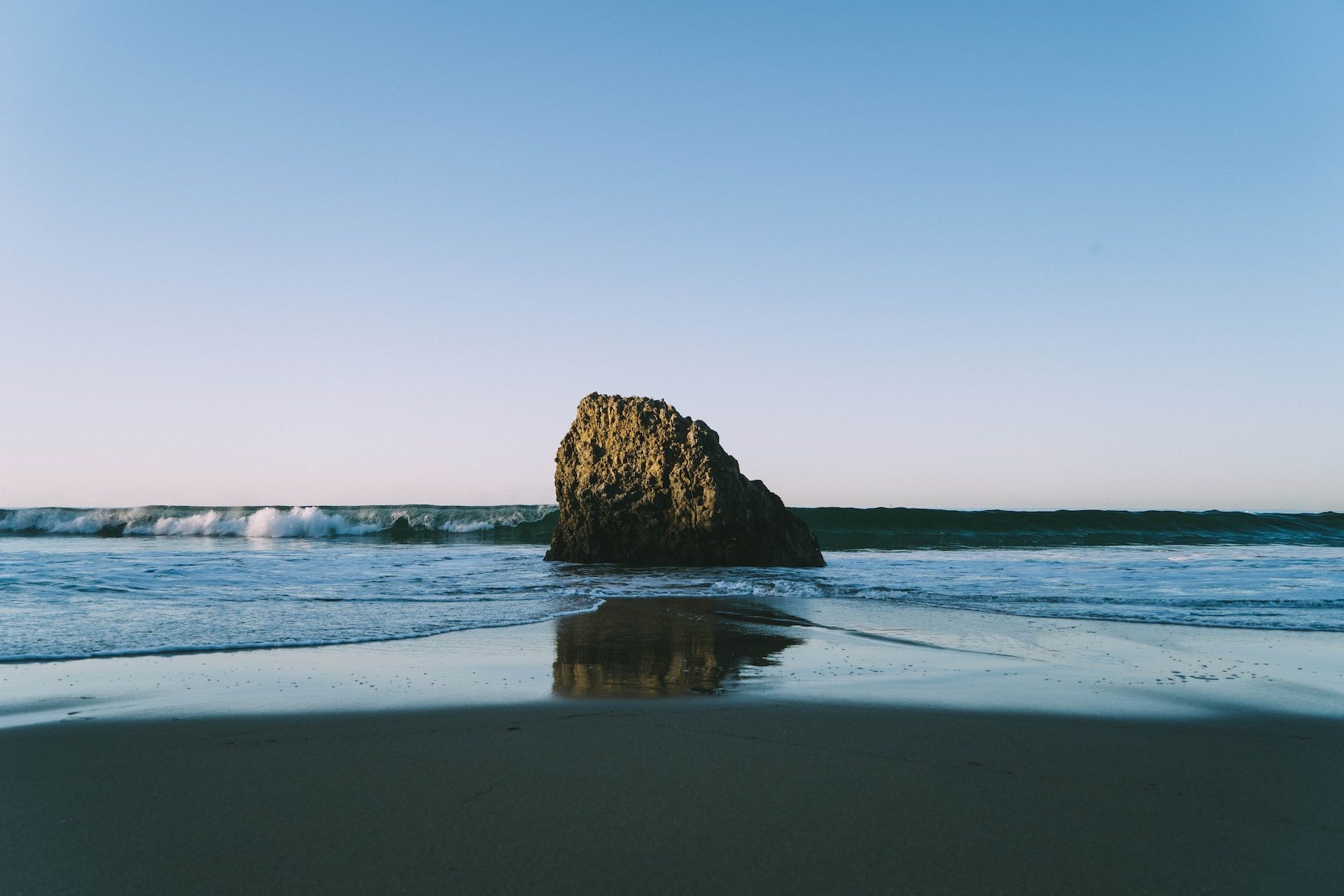 A beach-side view of Corona Del Mar
Is among the widely known neighborhoods to the south of Newport Beach, and is dotted by luxury homes, mostly condos. 4-bed homes cost as much as $10,000,000 or more, though smaller, 2-bed residences can go for $2,000,000 or slightly less.
The location has two state beaches, with the largest one, the Big Corona Beach, extending over about half a mile.
Balboa Island
The man-made island is home to many, vintage beach homes, and is known for an extensive boardwalk surrounding much of its perimeter.
A good number of the homes are second-home vacation properties that are seasonally habited, mostly over the summer months. The average rental price is $3,800.
How To Spend A Perfect Day In Newport Beach

Boats in Balboa Island, Newport Beach, CA
The perfect day in Newport Beach is best determined by a visitor's interests, as there are several fun activities to do and nice places to see. For an adrenalin junkie, make a reservation early enough for a kayaking or paddleboarding expedition.
Early morning bookings are ideal, as the beaches are still not at capacity. After a few hours on the water, relax at a beachside restaurant and refresh with tasty meals while hydrating.
Related: 10 Top Neighborhoods In LA To Make The Most Of Your Visit
A stroll around the beach or any of the nature parks (Heisler Park or Crystal Cove State Park are good options) would be a great way to spend the afternoon. Swap the afternoon stroll with a visit to the Balboa Fun Zone if accompanied by young children.
Cap off the day with an evening, cruise dinner aboard a luxurious yacht.
FAQ
Q: Is Newport Beach a Fun Place to Vacay?
Absolutely! This laid-back destination in Orange County has some of the most beautiful beaches in California. Furthermore, it is not as crowded as Los Angeles or San Francisco. With proper planning, the Californian haven can give vacationers some beautiful memories to keep for a lifetime.
Q: Can beachgoers barbeque on the beaches of Newport Beach?
Yes. However, the city does not permit bringing along private, portable ovens. One has to make use of the public barbeque facilities provided near the beaches at Corona del Mar State Beach as well as the Balboa Pier.
Q: Are there many options for getting around in Newport Beach?
Yes. Taxis, hotel shuttle services, seasonal trolleys, and boat and bike rentals are some cost-effective ways to go around the city. Bay Island discourages the use of cars on the streets and therefore, golf carts are very common there.