The marketing tactics that worked yesterday won't help you succeed tomorrow. Discover what's changed – and how Cashrewards can help you adapt.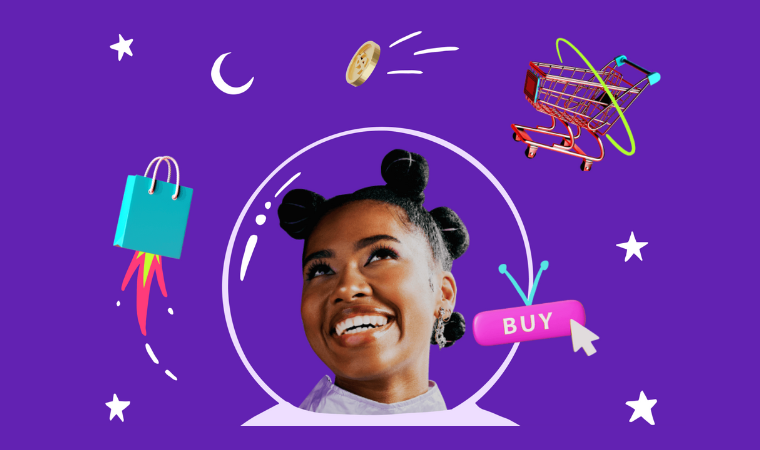 Once upon a time, in the olden days of 2017, there was a marketing manager. This hard-working manager had a handle on their marketing strategy: they invested in display ads, tracked audiences with cookies and focused on the customer experience. 
Flash forward to 2022 and this marketer found themselves in a strange new land. Amid a pandemic, inflation, and the rising cost of living, everything looked different. Online shopping no longer supplemented brick-and-mortar, it was, in many cases, superseding it. Price comparison was de rigueur. And lettuces were $10. 
Over the past decade, retail marketing has developed at a dizzying pace. Marketers have had to adapt to the rise of social media, the proliferation of martech, the acceleration of e-commerce and the gradual demise of cookies. It's no wonder today's marketing landscape can seem virtually unrecognisable compared to a decade ago.
"This is why it's imperative that marketers constantly update and fine-tune their strategy," says Elise Krucler, B2B Marketing Manager from Cashrewards. 
"What worked yesterday won't work tomorrow. Retail marketing is changing. And with rising costs and marketing budgets reduced, marketers are expected to do more with less." 
One proven fix? Cashrewards.  
Introducing Cashrewards
Cashrewards is Australia's largest cash back programme, with more than 1.4 million members and more than 2000 partners, including Apple, Myer, Liquorland and Target.
Cashrewards works with brands to create a cash back offer for that brand, and then promotes that offer to its network of more than 1.4 million shoppers. These customers have joined Cashrewards to benefit from cashback rewards and exclusive offers . Cashrewards' bespoke cash back offers drive customer acquisition and revenue for the brand. 
Cashrewards has just released the findings of a commissioned Forrester Consulting Total Economic Impact™ (TEI) study that confirmed that using Cashrewards in the marketing chain can deliver significant returns while offering 'near-zero' risk to retailers. 
Forrester, a global market research firm, interviewed four leading retail brands and aggregated their experiences with Cashrewards into that of a single, composite organisation. It found that Cashrewards delivered a 14:1 return on ad spend (ROAS). 
Marketers adapt
The study acknowledged that conditions are currently challenging for marketers. "As consumers shift their consumption behaviour to digital, there is a confluence of factors that make sales more difficult for marketing," noted the study. 
However, the study found that Cashrewards addresses many of these difficulties.
Combat wasted ad spend
A growing challenge for marketers is wasted ad spend, and in 2021, it's estimated that brands lost hundreds of millions in digital advertising that didn't result in conversions.
Cashrewards' pay-on-performance model offers a solution to wasted ad spend because brands only pay when a conversion occurs. 
The Forrester study confirmed that Cashrewards delivers "near-zero risk and benefit from a guaranteed return on their marketing investment". In interviews with the four brands that partner with Cashrewards, Forrester found that all four had previously worked with traditional and digital marketing partners with "limited success". These marketing programs "did not have a strong owned audience or did not exist at the moment of consideration." The brands also found it difficult to reliably track performance.
In comparison, Cashrewards delivered a 14:1 return on advertising spend (ROAS) and 514 percent return on investment (ROI). 
Reach new customers
Although social media has been a game-changer for brands, rising acquisition costs have become a growing challenge.
However, Cashrewards provides a fresh, new way to reach potential customers.
With more than one million Australians on its membership base, Cashrewards offers brands a new channel to reach customers. When brands work with Cashrewards they can draw upon Cashrewards' in-house agency, which offers designers, writers and videographers to create bespoke campaigns, which can then be amplified across a range of channels, including Cashrewards' owned audience.
"Partners can think of us as an extra wing to their marketing team, and we'll do the hard yards for brands," says Sally Marsden, Head of B2B Marketing for Cashrewards, "Our offering is an effective way to build loyalty and continuously drive conversions in the sales funnel."
An omnichannel solution
Retail is no longer confined to brick-and-mortar stores or even simply e-commerce.
"The shopping journey is no longer linear," says Marsden, noting that this can make it difficult for marketers to track and measure performance.
However, Cashrewards operates both online and in-store. "[It] allows both traditional brick-and-mortar and online businesses to increase awareness, as well as grow sales with existing, net-new, and lapsed customers – thereby driving overall customer loyalty to brands," the Forrester study found.
Reach sophisticated consumers.  
Cashrewards is also perfectly positioned to appeal to savvy shoppers and price-sensitive consumers.
Today, up to 90 per cent of consumers identify themselves as 'value conscious', according to research from the Boston Consulting Group (BCG), while Cashrewards' own research has found that 80 per cent of Millennials compare to get the best value and 73 per cent go out of the way in search of a bargain. 
"We are living in the era of a savvy, value-conscious shopper who knows how to thoroughly research their options before making a purchase," says Cashrewards CMO Nicole Bardsley, "With Australian confidence levels dropping and the increasing worries about the cost of living, Aussie shoppers will become even more offer and savings focussed."
As well as enabling retailers to reach these customers, Cashrewards also offers retailers a simple, client-centric service that delivers a "surprise-and-delight" moment that drives brand loyalty.
Read the full Total Economic Impact™ of Cashrewards study here.
The e-commerce landscape is changing. With a Power Retail Switched On membership, you get access to current e-commerce revenue and forecasting, traffic levels, average conversion rate, payment preferences and more!