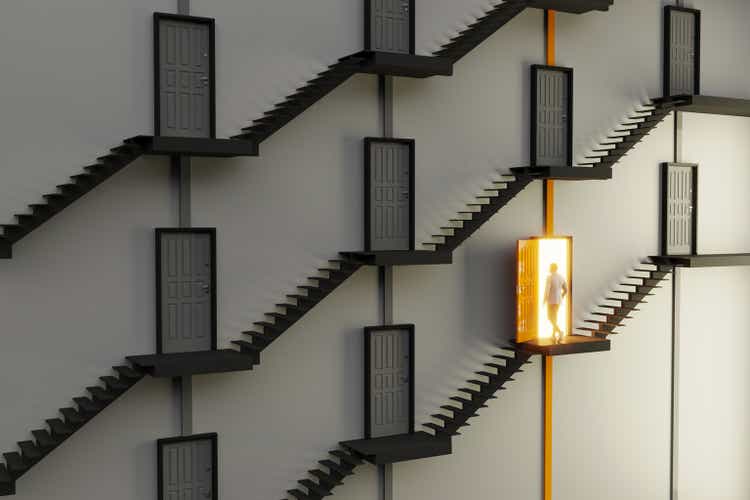 I am glad that TG Therapeutics, Inc. (NASDAQ:TGTX) finally turned around, after giving a lot of investors the scare of their lives. Briumvi (ublituximab) got approved for relapsing/remitting multiple sclerosis, or RRMS, and has already been launched in the U.S. market, at a price point of $59K per year or ~9.8K per vial, against an analyst expectation of a $71k price tag per year. That's a roughly 15% discount to the expectations, and around 20% discount to Ocrevus' annual list price of approximately $75k.
I purchased TG Therapeutics, Inc. on December 3, 2020, at around $27.75 and the stock jumped to $50+ in less than a month. That was most propitious, and I sold out my entire holding. I re-entered on March 1, 2021, taking a small position at around $40 – and what a terrible ride that has been. 2021 was a terrible year for TGTX, as was the first half of 2022. After making losses all through the year, I was pretty despondent, but managed to double down and bring my average cost to near $15, making major buys below $10. I am just now feeling brave enough to write about TGTX because it has just started turning green.
Why did this happen? If I analyze it closely, I can see nothing but bad luck here. TG Therapeutics, Inc. has an approved drug, and one more approaching approval when I bought it that second time. The approved drug also had an upcoming label expansion. While TGTX wasn't exactly wallowing in liquid cash at that time, they did have enough – and they were then a $6bn company with a promising future. And more importantly, I had just scored a 100% profit in less than a month – everything told me it could well be repeated in less than a year.
I will say one thing about my investment in TGTX though – I had extreme conviction in ublituximab, even when the stock was down to below $4. I knew they would succeed – as a medicine – and my conviction did not waver. I just wish I had enough conviction in the price action to have bought around a million shares at $3.48! That, I didn't – who am I kidding, I didn't have the funds anyway.
So now that it is finally turning green, my dilemma is: what should I do with TG Therapeutics, Inc.? On average, taking my entire TGTX investment from the beginning, I think I am up about 30%, but I am up just 25 cents on the dollar – approximately – in the current investment period. Should I hold, should I double down, should I exit?
Briumvi is up against Roche's (OTCQX:RHHBY) ocrevus (ocrelizumab, approved in 2017) and Novartis' (NVS) Kesimpta (ofatumumab, approved in 2020). Ocrevus made ~$6bn for Roche last year. I have discussed – ad infinitum et nauseam – why briumvi is a superior medicine. Both are anti-cd20 drugs, but briumvi has a 1 hour infusion time against ocrevus' 2 hours. Here's what Barbora Salcman, Neurology Analyst at GlobalData, says:
Briumvi … can be administered as a one-hour infusion only two times per year following the starting dose, decreasing the patients' time spent receiving treatment, while Ocrevus infusions need to be administered two times per year for two hours after a starting dose. In contrast, Kesimpta can be administered at home with an injector pen every four weeks.
Thus, the time is not huge between briumvi and ocrevus. Ocrevus used to take 4 hours earlier, but a newer version takes only 2. The argument of reduced hospital time leading to a lower risk of infection does not arise either, because first, what is one hour compared to two? And two, Kesimta can be taken at home, and while it needs to be taken 12 times and has its own set of issues, it, at least, completely removes the risk of hospital-related infection in this vulnerable patient population.
GlobalData, however, says that briumvi may appeal more to new MS patients who have not been used to ocrevus because of its lower infusion time. Busy hospitals may also prefer a higher throughout which will enable them to administer the drug to more patients. However, weaning away existing patients may be a difficult task.
Ubli has never been directly compared with ocrevus, its direct competitor. The strategic reasons for this are obvious; from the point of view of the company, it would have been a dangerous step to have compared it with such a powerful rival. Instead, it was compared with aubagio in clinical trials, which is a much older and less powerful rival. Ubli has soundly beat aubagio in a clinical trial. However, ocrelizumab has not directly been compared to terflunomide (aubagio) in a clinical trial. So it becomes difficult to compare the two rivals. Of course, both have been compared with placebos, so a cross-trial comparison through the placebo link is possible. However, such a comparison, without taking into account patient baseline characteristics, trial design – even the weather on that day – is not a solid, scientific way of comparing two drugs. Ubli has however, consistently, beat ocrelizumab on both the annualized relapse rate or ARR, and the percentage that is relapse free. That should count for something.
Another differentiating factor is safety: as I noted earlier, Ocrevus approval has warnings for malignancy, infection, and infusion site reactions which could be fatal. Ubli has a relatively better safety profile, however real world situations may change that. As I noted earlier, not using its true rivals in the trials "..will not significantly impact the approval, but it would have been better for commercialization had ublituximab been compared with these other drugs."
In my opinion, it all depends on marketing – which depends on money power – which the two Swiss big pharma giants certainly have in more quantities than tiny TGTX. Therefore, the only way out are two – one, a much reduced pricing – 20% may not cut it; and two, a big pharma collaboration or buyout – TGTX alone may not cut it.
Markets take time to stabilize. When TGTX was down but there was strong approval potential, markets took their own sweet time. So, despite being right scientifically, I did not make a profit. This time, after approval, the stock has more than doubled in a month. Market will take time to stabilize. Eventually, though, the market will recognize what we suspected all along – that TGTX is a package, and ubli is good for patients, but with half a leg now to stand on, TGTX may not excel.
"Excel" is a relative term, and one I needn't bother with for my specific problem, which is this: I am holding on to TGTX shares at an average acquisition cost of $15. The stock is trading at $15.25 right now, after almost a year of staying below $15. Should I sell?
I believe TG Therapeutics, Inc. stock will rise from here once the company brings in some revenue. Exactly how much is difficult to say right now, but $20 is a nice glass ceiling which a small pharma with a good product should be able to break. I think I will hold on to my TG Therapeutics, Inc. shares for another quarter, and at least $20, before I make a decision.
Editor's Note: This article discusses one or more securities that do not trade on a major U.S. exchange. Please be aware of the risks associated with these stocks.