WAUKESHA, Wis. – An SUV crashed into a Waukesha food pantry Tuesday, Jan. 17.
There was glass everywhere – even on the food – inside Friends with Food near Grandview and Summit. The cleanup is taking hours.
Since opening in March 2020, the women behind Friends with Food have been working nonstop.
SIGN UP TODAY: Get daily headlines, breaking news emails from FOX6 News
"It's growing. We're getting 48 new families each week," said Executive Director Rochelle Gamauf.
Gamauf said too many people are going hungry, and she's on a mission to feed those in need. The crash increased her workload in an unexpected way.
Waukesha police said an elderly woman crashed into the storefront. The force was so strong, a shard of glass flew across the room and pierced a wall like a dagger. Chunks of glass punctured canned food, too, causing it to spill all over the floor. 
"Just making sure everything is fine – probably wipe down every can," said Gamauf.
FREE DOWNLOAD: Get breaking news alerts in the FOX6 News app for iOS or Android.
Director of Operations Angelica Graef spent hours clearing the driveway. She said her kids are helping out because the pantry needs to reopen Thursday; more than 100 families will show up expecting meals.
"First and foremost, I'm glad everybody is OK," said Graef. "All of it is going to have to be replaced."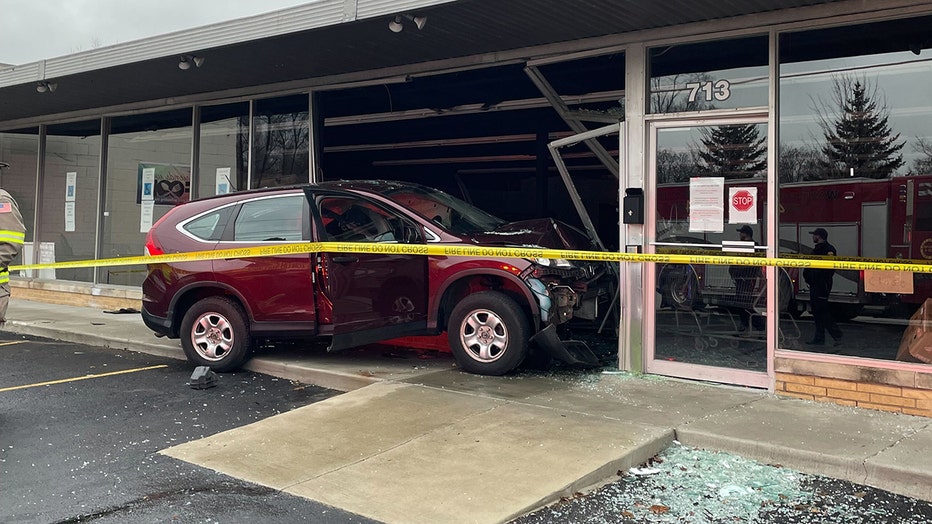 SUV crashes into Waukesha food pantry (Courtesy: Friends with Food)
For now, organizers are focused on what was spared. Friends with Food should be able to reopen Thursday.
"God wanted us to serve, and he kept one door for us to remain open here," Gamauf said.
Police are still investigating how the crash happened. A spokesman said the driver will be cited for a moving violation and for not having a license. She will also be issued a "driver's retest."