"While this isn't specifically a municipal issue and the City of Ottawa can't solve this problem alone, the mayor can show leadership in implementing a strategy for this high-needs area."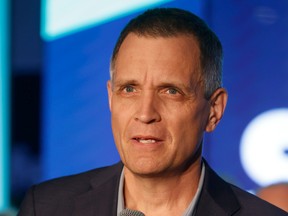 Article content
Mayoral candidate Mark Sutcliffe has vowed to build to a recruitment strategy to attract more family doctors to Ottawa and address the critical shortage of front-line health-care professionals.
Article content
"Many residents I've spoken with have brought up their frustration in finding a family doctor," Sutcliffe said in a news release Monday.
Article content
"While this isn't specifically a municipal issue and the City of Ottawa can't solve this problem alone, the mayor can show leadership in implementing a strategy for this high-needs area to recruit family physicians to our city."
Such a strategy, he said, would bring together local universities, hospitals, Ottawa Public Health and other levels of government. It's also critical, he said, that the mayor work to ensure Ottawa is a safe, reliable and affordable city that can attract new doctors.
Other municipalities, such as Kingston, have developed and implemented physician recruitment strategies with success, he said. Kingston has recently attracted nine new doctors to the city.
Article content
Meanwhile, Windsor and Hastings County, he said, have worked with local universities to support family medicine and psychiatry residency programs with the aim of retaining graduates in the area.
"We are already so fortunate to have world-class medical schools and hospitals in our city," said Sutcliffe. "That is a huge advantage in our ability to recruit and retain more family physicians. We owe it to residents in Ottawa to pull our weight in trying to help them access primary care."
As of March 2020, 1.8 million Ontario residents did not have a primary care physician or a family doctor, according to Ottawa family physician and researcher Dr. Kamila Premji, who is a member of the provincial Primary Care Advisory Committee.
Article content
That situation has only worsened since then as many family doctors have opted to retire during the COVID-19 pandemic.
Recent research from INSPIRE (Innovations Strengthening Primary Health Care Through Research) found that one out of five Ontario residents could be without a primary health provider within three years.
Earlier this month, Citizen health reporter Elizabeth Payne told the story of Leah Raby, a three-month-old with kidney issues who does not have a family doctor to oversee her care. Her parents called dozens of doctors' offices in an attempt to find a doctor, without success.
Mayoral candidate Mark Sutcliffe releases spending plan, vows to limit property tax hikes to between 2 and 2.5 per cent for first two years

French skills vary among mayoral frontrunners, but all have something to say for francophones