PRIMGHAR—South O'Brien Elementary has rebooted its classroom tech for this academic year including new devices for every student.
Kindergartners and first-graders at the primary school in Primghar have their own tablets for lessons at school and homework. Students in grades 2-6 log in with laptops. That's about 300 total screens.
Principal Michael Morran said the one-to-one approach is becoming all but necessary in the modern classroom. He said the school is supported by Future Ready Iowa, a program that ultimately aims to have 70 percent of Iowans achieve education after high school.
"It's an initiative we are starting. Our first step with our kids with Future Ready is making sure they know how to utilize their technology devices," Morran said.
The South O'Brien School District also bought new interactive whiteboards for each of the elementary's 17 classrooms. The school board approved the $68,900 purchase in February.
The boards combine the standard uses of whiteboard with a touchscreen. The digital hookup also allows for more interaction and screen sharing with students without fumbling with a projector.
The school had Smart Boards before, but they were old and starting to malfunction.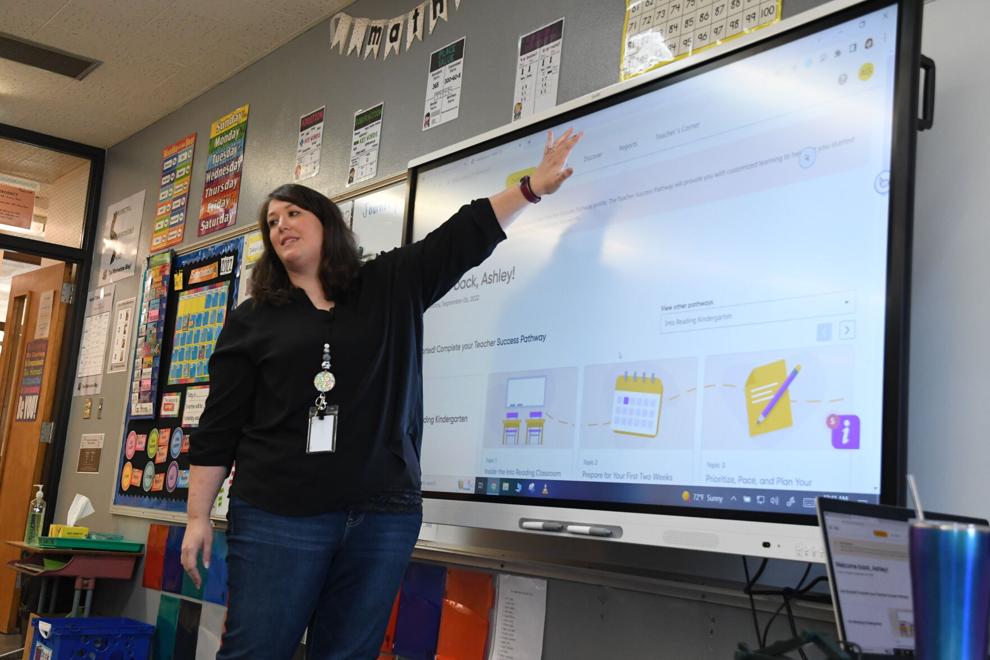 "Everything from the visuals to the speed, it's a great tool for us to utilize for teachers. It's basically like you have your laptop on the board up there," Morran said.
The new technology already has made an impact a few weeks into the school year for second-grade teacher Ashley Gloden.
She hopes her students have a decent foundation by the end of the year. If young learners can get familiar around keyboards and web browsers and other essential parts of computer work, Gloden said, they will be better prepared for advanced learning in the years ahead.
"This is their first time with laptops, so it's a lot of 'Here's how you sign in,' 'Here's your password,' "Here's where the keys are located,'" Gloden said.
She said those rudimentary skills are helpful just like the digital math and reading exercises. Her lesson plans for the year include dedicated typing lessons so her 6- and 7-year-olds can get a better grasp for working with their laptops.
"They'll get better. They're getting better already," she said.
Gloden said the one-to-one devices are especially useful in that area. In years past, each room just had a few laptops to share between the students, meaning they could only be used in small groups modules. Now, teachers can orchestrate lessons in­­volving the whole class.
The new digital whiteboard also is a bonus, she said. Gloden is excited to get creative with the classroom screen as the year progresses.
"It's nice because I can have it through my computer, I can screen share, the kids can screen share. It's a lot more touch-activated where kids can come up and touch things too. A lot of our programs, our phonics, our reading, our math, they all have things where they can do more."
Gloden echoed Morran's focus on 21st century skills. She recalled the beginner computer classes she took as a teenager. She said starting a formal introduction earlier is beneficial for her students.
"Technology is not going away," Gloden said. "All of our curriculum now has online components. Even for us as teachers, a lot of it is all online. Knowing how to use it is im­­portant."
Tuesday's lesson included a reading comprehension test. Unlike their first-grade lessons, Gloden's students could not choose to have the computer read the questions to them.
The teacher said it was an age-appropriate challenge, something with which her pupils agreed.
"It's hard, but it's not too hard. I like it," said second-grader Milan Harms.
Hudson Hofmeyer, the classmate sitting in front of Harms, turned around.
"Sometimes we have to do hard stuff and sometimes we have easy stuff, but that's good," Hofmeyer said.
Regardless of difficulty, as Gloden noted, the tech is here to stay.
South O'Brien Elementary's move to devices for all comes alongside nearby districts doing the same. George-Little Rock Elementary made the one-to-one jump last year, getting 400 laptops for the students.
It is the same thing for the next-generation whiteboards. The Central Lyon School District got new ones for its 7-12 classrooms this year after refitting the younger grades in 2021.
Morran called the investment in new technology an easy decision for his school. He singled out South O'Brien's technology director Heath Reichle for helping spearhead the process. The principal said the tools will pay off by giving students exposure to a varied learning background earlier in their development.
"We're focusing so much on higher order thinking, which is one of our priorities that we have at South O'Brien Elementary. This is something we were moving with before COVID kind of stalled us, but we're really moving into meeting all the students, from our students whose achievement levels may be lower to our highest-level achieving students in the classroom," Morran said.
"We're trying to meet the students' needs, the diverse needs that they have."