Queen Elizabeth II's family has arrived in Scotland to be by her side as doctors expressed "concern" for her health.
Buckingham Palace said the 96-year-old monarch "remains comfortable and at Balmoral," the Scottish castle where she traditionally spends her summer holidays.
Meanwhile, Prince Charles, Camilla, Duchess of Cornwall, and Prince William traveled toScotland to be with Elizabeth at Balmoral.
An airplane carrying Prince William and other royals was seen landing at the airport in Aberdeen around 4 p.m. BST.
The Queen's daughter, Princess Anne, was already in Balmoral. Her other two sons, Prince Andrew and Prince Edward, along with his wife Sophie, Countess of Wessex, arrived with Prince William.
Prince Harry and Meghan Markle—who were due at the WellChild Awards on the evening of Thursday, September 8—were also due to head to Balmoral.
A spokesperson told Newsweek: "The Duke and Duchess of Sussex will be traveling to Scotland."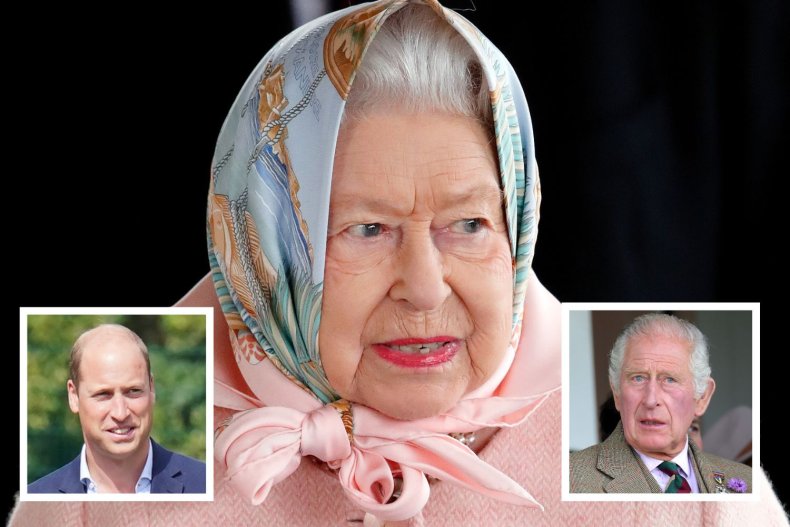 On Thursday, Buckingham Palace released a statement that read: "Following further evaluation this morning, The Queen's doctors are concerned for Her Majesty's health and have recommended she remain under medical supervision. The Queen remains comfortable and at Balmoral."
It is a rare public statement from the palace, which normally tries to play down health concerns and keep details secret out of respect for the queen's privacy.
Experts told Newsweek the fact this information had been revealed underscored the seriousness of the scare, while new Prime Minister Liz Truss further emphasized the fears by saying Britain would be "deeply concerned" at the news.
"The whole country will be deeply concerned by the news from Buckingham Palace this lunchtime," Truss said. "My thoughts—and the thoughts of people across our United Kingdom—are with Her Majesty The Queen and her family at this time."
Meanwhile, worried Brits gathered outside Buckingham Palace as the BBC suspended normal programming until 6 p.m. U.K. time (1 p.m. ET).
The government, news outlets, local councils and other public-facing companies were preparing themselves for updates after years in which planning for the end of the queen's reign has been purely hypothetical.
There was, however, no confirmation of how serious Elizabeth's health actually is—only that there are concerns from doctors, who do not want to leave her side, and the palace is not inclined to play the situation down.
Archbishop of Canterbury Justin Welby said: "My prayers, and the prayers of people across the @churchofengland and the nation, are with Her Majesty The Queen today. May God's presence strengthen and comfort Her Majesty, her family, and those who are caring for her at Balmoral."
Update 9/8/22, 12:04 p.m. ET: This article was updated to reflect that an airplane carrying Prince William, Prince Andrew, Prince Edward, and Sophie, Countess of Wessex, had arrived in Scotland.