Phoebe Tatham

Salma Hayek looked radiant in her latest social media post, ditching her flawless red carpet beauty looks for a more au naturel appearance.

Salma Hayek looked sensational in a makeup-free video as she celebrated two very special birthdays over the weekend.
Taking to Instagram, the Mexican-born actress, 56, delighted fans with a surprising clip of herself trying to get up close and personal with a handful of playful raccoons.
WATCH: Salma Hayek's Family Life
In the stunning video, Salma could be seen rocking a perfectly natural look which did well to accentuate her beautiful features.
The Frida star wore her chocolate curls down loose around her shoulders and finished off her understated look with a pair of stylish glasses. Swapping her typically glamorous red carpet glamour for something more cosy, Salma slipped into a violet-hued cotton top and a navy cardigan.
As for accessories, the mother-of-one elevated her getup with a pair of coordinating gold necklaces and delicate bracelets.
MORE: Salma Hayek steals the show in sheer corset gown with a twist
DISCOVER: Salma Hayek's transformation has to be seen to be believed
In the hilarious clip, Salma was filmed as she fed two raccoons with leftover pizza slices. In conversation with a friend, the actress said: "Don't be greedy, give him [the raccoon] some pizza." Elsewhere, the celeb filmed herself enthusiastically shouting: "Amigo Raccoon… There you go, take your pizza."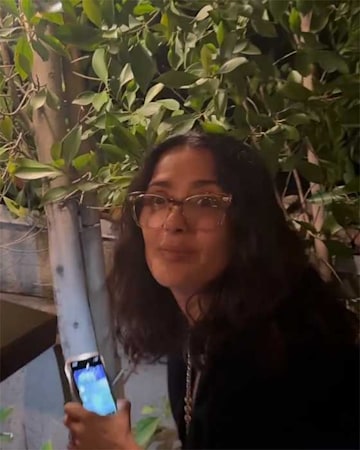 Salma appeared in high spirits
Paying tribute to her close pals, Salma captioned her post: "When you are celebrating [party emoji] your dear friends birthdays [cake emoji] and the raccoons [steal] the night Happy birthday @heather_parry [heart emojis] you rock!!! Happy birthday Balthazar."
MORE: Salma Hayek shocks fans with her fearlessness as she takes on daunting challenge
Fans and friends raced to weigh in on the post, with one writing: "Oww this is so adorable," whilst a second remarked: "Only woman I know that can make the word 'raccoon' sound sexy."
"I seriously love how much you love animals," chimed a third, and a fourth added: "You are so so sweet Salma," followed by a red heart emoji.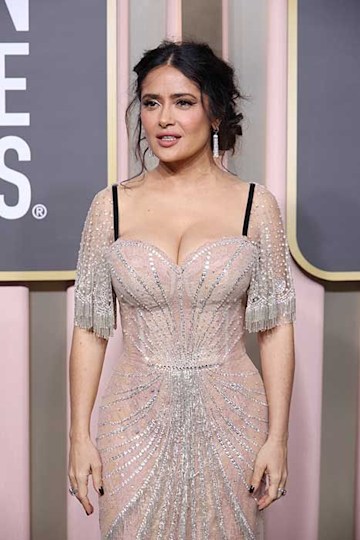 The actress dazzled in sequins
Salma's atypical night out comes after the brunette beauty turned heads on the red carpet at the 80th Golden Globes.
Salma graced the scene in an exquisite cocktail gown by Gucci that featured a corseted bodice, wispy layers of semi-sheer fabric, an all-over sheathing of glitter, a 1920s flapper silhouette, art-deco fringing and a spider-web design crafted from silver beaded detailing.
The star completed her Gatsby-esque attire by wearing her raven tresses tied back in a loose yet elegantly coiffed updo and opted for a dark makeup palette to highlight her naturally defined features.
Read more HELLO! US stories here
Like this story? Sign up to our newsletter to get other stories like this delivered straight to your inbox.