A Russian state television presenter has said that the war in Ukraine is entering a "holy war mode."
Speaking on the state Rossiya-1 channel, presenter Vladimir Solovyov made the claims after saying Moscow was "moving from a special military operation mode to a completely different mode."
In a clip posted to Twitter, the state television anchor said Russia is "up against 50 countries that are united by Satanism," according to a translation.
Terms such as "holy war" and linking Satanism to the Russian invasion of Ukraine have frequently appeared in Russian discourse around the war.
Solovyov, a known ally of Russian President Vladimir Putin, has previously said Russia was engaged in a "holy war" against "Satanism."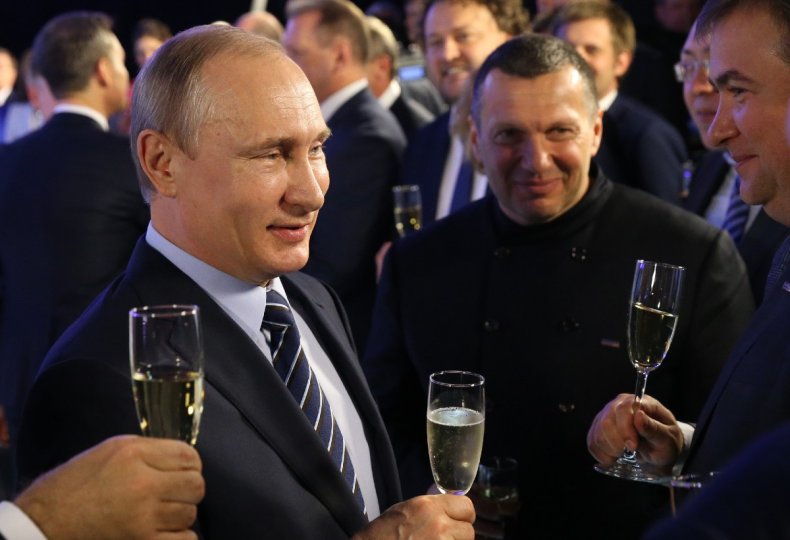 "We are fighting against Satanists. This is a holy war and we have to win," he said on the latest state television broadcast.
His words echoed similar comments he made back in December, when he said the country was living through "latter days."
"What's happening in Ukraine won't stay in Ukraine," he added. "A holy war is underway. We're fighting for the right of mankind to live in its original state, as designed by the Creator."
He then called those opposing the Russian invasion "fools" who were engaged in a "war with God."
Solovyov continued on to ask: "How can humanity that fights against God continue to exist?"
The Russian propagandist has repeatedly used the Kremlin's terminology in state television appearances, including the false justification put forward by Moscow that Russian forces were working to "denazify" Ukraine.
On February 24, Kremlin spokesperson Dmitry Peskov said that "Ukraine should be liberated, cleaned from neo-Nazis, from people sharing pro-Nazi sentiment and ideas," according to a state news readout.
Similar themes were rife in Putin's latest public speech, when he addressed factory workers in St Petersburg on January 18.
Referencing the breaking of the Nazi siege on the city by Soviet forces during World War II, the Russian leader drew parallels between the blockade of the 1940s and Russia's ongoing war in Ukraine, according to the Institute for the Study of War (ISW.)
Putin parroted "standard and longstanding Kremlin rhetoric," falsely claiming Russian forces were shielding occupants of Ukraine's Donbas region from "neo-Nazis who, the Kremlin claims, seized control of the Ukrainian government in 2014," the U.S. think tank wrote in its daily update on Wednesday.
By tying the Russian invasion to the "greater Russian national mythos of the Great Patriotic War," or World War II, Putin was likely hoping to muster up support for a protracted war effort or further mobilization, the ISW argued.