A new video features mobilized Russian soldiers blaming their commander for mixed messages and Russian President Vladimir Putin for putting them in harm's way.
The footage, which is just over a minute long, circulated online Wednesday and consisted of a group of soldiers from Russia's Yaroslavl region recording a message specifically addressed to Putin. They claimed that their battlefield commander wanted them to retreat from a mission yet now accuses them of desertion.
"We're asking you to find a solution to this situation," the message begins, according to an English translation. "The company commander gave us an order to retreat from positions as we were shelled by tanks, artillery. In turn, the command didn't give us cover and gave us no support. We only had assault rifles, and all other weaponry was damaged."
"Now, they want to declare us deserters since the company commander says he didn't give us an order. The command doesn't care about us," they added.
The soldiers go on to say that when they were first in the enlistment office upon being called up in the Yaroslavl oblast, they were supposed to be in "territorial defense."
"But we were deceived," they said. "Upon coming here, we went into assaults and stayed in the very front line. There was no third or fourth line as said by the president."
The footage was given to wives and mothers of the conscripted soldiers and obtained by the Yaroslavl publication Pro Gorod.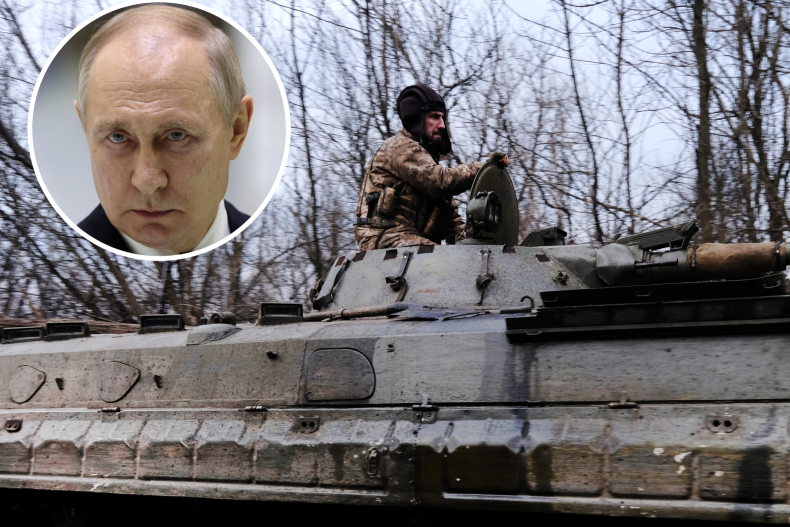 One day prior to the video's surfacing, about 10 wives and mothers went to the publication to discuss their loved ones. The soldiers are reportedly between the ages of 21 and 40, and they have participated in the war since November 28.
One unnamed woman said the soldiers, as mentioned in the video, were initially told that they would not face serious threats by being on the front lines. Now, the women intend to share the soldiers' concerns with Putin, Investigative Committee Chairman Alexander Bastrykin, and the military prosecutor of the Russian Federation, Valery Petrov.
"My husband was mobilized, we have three common children," a woman who went by the alias of Oksana told Pro Gorod, according to an English translation. "Children, of course, are proud of their father that he defends his homeland. And our husbands did not hide from the mobilization."
"We all want to win [in the conflict]," she added. "And that is why we demand the conditions for this: normal uniforms and weapons, as well as professional military personnel working in hot spots."
The women also claimed that the entirety of the soldiers' salaries was going toward clothing and equipment, including socks, thermal imagers, walkie-talkies and antennas.
Mikhail Troitskiy, professor of practice at the University of Wisconsin-Madison, told Newsweek that it's unlikely the mobilized soldiers in question expected to remain in "territorial defense."
"The draftees likely realized from the outset that they would have to fight, but the conditions they faced on the front turned out to be much more dangerous than they expected and the sense of responsibility of their commanders for their lives [was] much more limited than they wanted it to be," Troitskiy said.
In December, Russian Defense Minister Sergei Shoigu said his country wasn't ready for the partial 300,000-member mobilization that occurred at Putin's order in September.
Eight mobilized soldiers from Russia's Kaliningrad region who first entered battle in September left the front lines, ordering a cab to take them 300 miles back home. They were caught and are now facing up to 15 years of jail time for desertion charges, Russian newspaper Kommersant reported.
Earlier this month, the General Staff of the Armed Forces of Ukraine said that Russia recruited residents in the town of Horlivka, in the Donetsk oblast. Of the 30 soldiers drafted, four allegedly had disabilities.
A second mobilization has been rumored due to the state of the war and mounting casualties.
Newsweek reached out to the Ukrainian and Russian defense ministries for comment.