Former Russian President Dmitry Medvedev said Russia would not end the Ukraine war without the "total capitulation" of Kyiv, despite mounting losses for the Kremlin's military, on Monday.
Russian President Vladimir Putin launched the "special military operation" in Ukraine on February 24, 2022 and hoped his large military would bring Moscow to quick victory against Ukraine, viewed as having weaker armed forces. However, Ukraine responded with a stronger-than-expected defense effort that allowed them to begin their own counteroffensives in recent weeks.
Ukraine made significant gains over the weekend, with officials saying they took back more than 1,000 miles of territory formerly occupied by Russia in a surprise counteroffensive near Kharkiv. Kharkiv is the second-largest city in Ukraine and was home to 1.4 million people prior to the war.
Amid a string of successes, Ukrainian President Volodymyr Zelensky said on Saturday that it remains possible for Russia and Ukraine to negotiate the end of the war while speaking at the annual Yalta European Strategy meeting. But he has long emphasized that he would not accept a Russian ultimatum.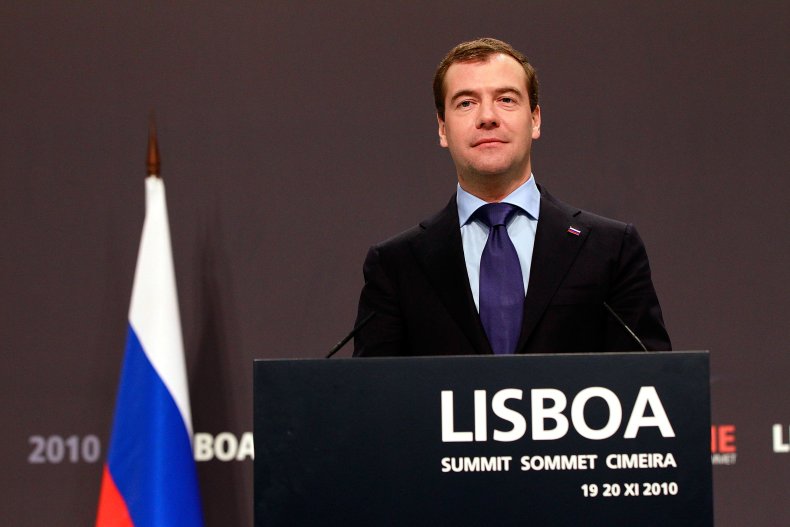 "We want to end the war, but [our] circumstances and capabilities have changed. [Our people do] not want to negotiate with terrorists. Although one can communicate even with terrorists, because at least they know what they want," he said, according to Ukrainska Pravda, a Ukrainian news outlet.
On Monday, Medvedev, who currently serves as the deputy chairman of Russia's security council, responded to Zelensky's remarks. He indicated Russia is not interested in negotiating unless Zelensky is willing to meet a major demand.
"Zelensky said that he will not conduct a dialogue on the topic of who puts forward ultimatums. Current 'ultimatums' are children's warm-up for the demands of the future. And he knows them: the total capitulation of the Kiev regime on the conditions of Russia," Medvedev wrote in a Telegram post Monday.
His remarks are a rare admission of Russia's intent in Ukraine. At first, Moscow dismissed accusations that they wanted to take Ukrainian territory—insisting they only wanted to "liberate" the separatist Donbas region and prevent Ukraine from becoming closely allied with the North Atlantic Treaty Organization (NATO), though the war has largely strengthened ties between Ukraine and the West.
Though Medvedev was once viewed by the West as more reasonable than other Russian leaders including Putin, he has supported the Ukraine war, at times using sharp rhetoric against the West. Earlier in September, Medvedev issued a nuclear warning to the West following the funeral of Mikhail Gorbachev, the last president of the Soviet Union. He accused the West of wanting to use the Ukraine war to "eliminate Russia from the political field."
"Those dreamers ignore a simple axiom: a forceful disintegration of a nuclear power is always a chess game with death, in which it's known precisely when the check and mate comes: doomsday for mankind," he wrote on Telegram.
He also predicted in May that sanctions imposed on Russia would have devastating consequences, leading to the "collapse of the idea of an American-centric world."
Newsweek reached out to the Ukrainian Ministry of Defense for comment.