Key events
Keegan admits she did not realise until recently teachers do not have to say in advance whether they will join strike
In interviews this morning Gillian Keegan, the education secretary, also admitted that she did not realised until recently that individual teachers did not have to say in advance whether or not they would be joining a strike. "It was a surprise to some of us that was in fact the law," she told Times Radio.
She also hinted that she would like to change this. She said:
I did write to everybody urging them to be constructive, to let their heads know, and I am sure many teachers will have done that.

There are discussions around minimum service levels, minimum safety levels, around hospitals around rail – education is part of that bill as well.

We are hoping not to use that, we are hoping to make sure we continue with constructive discussions and relationships but these things will always stay under review.
Gillian Keegan says 'majority' of schools in England and Wales will be open today despite strike
The "majority" of schools in England and Wales will remain open today, despite the strike, Gillian Keegan, the education secretary, has claimed. My colleague Aletha Adu has the story here.
Rishi Sunak to face PMQs as mass strikes take place across Britain
Good morning. Rishi Sunak was only born in 1980, which means he wasn't alive when governments of both parties were brought down to a large extent because they could not prevent industrial disputes in the 1970s, but he must know enough about British politics to realise that what is happening currently could make recovery for the Tories near impossible.
After Christmas Sunak initiated a series of talks between ministers and unions in the hope of resolving the disputes but, as we report in our overnight story about today's "walkout Wednesday" day of mass strikes, that process has stalled.
Sunak has also been hoping that, with strikes increasingly inconveniencing the public, people might turn on the Labour party, to which some of the unions that have been on strike are affliated (although not the National Education Union, which may cause more disruption today). But polling shows that there is no overwhelming public opposition to the strikes, and some groups of workers have more people supporting their strike action than opposing.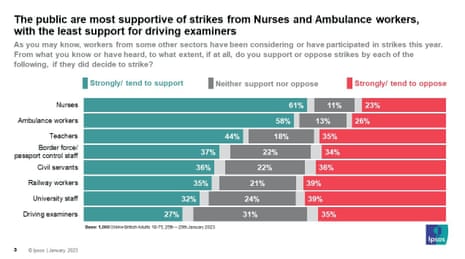 Sunak will undoubtedly face questions on this at PMQs.
My colleague Geneva Abdul has a separate live blog covering the strikes. It is here.
But I will be covering some of the political aspects here too.
Here is the agenda for the day.
Morning: James Cleverly, the foreign secretary, meets his Australian opposite number, Penny Wong, in London.
11am: Striking teachers start a march through London, culminating in a rally at Westminster.
12pm: Rishi Sunak faces Keir Starmer at PMQs.
4.30pm (UK time): Boris Johnson speaks at an Atlantic Council event in Washington.
I'll try to monitor the comments below the line (BTL) but it is impossible to read them all. If you have a direct question, do include "Andrew" in it somewhere and I'm more likely to find it. I do try to answer questions, and if they are of general interest I will post the question and reply above the line (ATL), although I can't promise to do this for everyone.
If you want to attract my attention quickly, it is probably better to use Twitter. I'm on @AndrewSparrow.
Alternatively, you can email me at [email protected]