Puccini with the prawn cocktail starter tonight? A little Lloyd Webber with the linguine? A growing number of London pubs and cafes are putting live music and performance on the menu to tempt reluctant patrons to dine out.
The trend, also mirrored in other British cities as the cost of living crisis threatens to keep customers at home, now encompasses classical music and musical theatre. It is no longer only jazz musicians who play regularly to diners at London venues such as Soho's Pizza Express or Toulouse Lautrec in Elephant and Castle. Even circus performers are taking to the small stages being set up in some restaurants.
"The market is changing to reflect the desire for more of an experience," said Michael Kill, CEO of the Night Time Industries Association (NTIA). "People want more of a bang for their buck, so if you can offer more with music as well as food, you are likely to attract them."
The high cost of concert tickets, coupled with the fuss of booking a table for a rushed, expensive meal either side of a performance, are reasons to stay in instead. A relaxed evening out in just one venue, in contrast, offers greater value for money. High energy prices and pandemic shutdowns have also put many live venues in peril or out of business.
Rafaello Morales is among those banking on this growing appetite. His customers want their dining combined with music that is much more than background sound. A musician and conductor, he is the founder and music director of the Fidelio Cafe in Clerkenwell, central London. "Classical music is not an artform that has to be enjoyed in restrictive surroundings," he said.
"It can be intimate. It helps that a lot of people who would not go to a concert venue or opera house would happily go to a restaurant or coffee bar."
His cafe in Clerkenwell Road is near The Piano Works in Farringdon Road, a music bar where punters select what the band plays.
Morales' enterprise, which opened three and a half years ago, has built a name for attracting some of the best international classical performers, including violinist Nicola Benedetti and the pianist Imogen Cooper. "The challenge at the start was convincing people it could be done at such a high level," he said.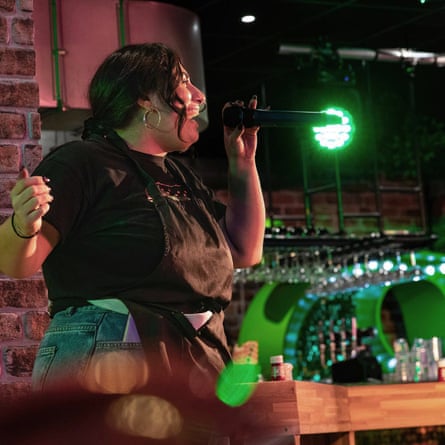 A maximum of 50 customers can book ahead, either for drinks or a full meal. "Luckily we got buy-in early on from some big names. It is still challenging to set up a restaurant but the money from the dining helps the sustainability of the model. We are only looking to break even, and then we make money from the private events we stage, like weddings, birthdays and corporate events."
Performance standards are so high, that the recitals finish before meals are served.
Last October also saw the opening of The Theatre Cafe Diner, an adjunct to the West End's Theatre Cafe. At this two-storey restaurant in Shaftesbury Avenue, diners are entertained by seemingly impromptu performances from the waiting staff, who are all trained musical theatre stars in the making. Stepping up to a central raised walkway, or sashaying through the chairs and tables, they belt out showstoppers before returning to taking orders.
Still more startling are the full-on acrobatic displays that the circus venue Aeronaut in west London brings right to your table. Shocks are also served as a regular side dish in the established Faulty Towers Dining Experience, which moves from the capital up to a hotel in Manchester at the end of February.
Most of the live venues make an effort to set the scene, despite the limitations of scale. The Theatre Cafe and its diner sister are both decorated with theatrical memorabilia, and at Fidelio Cafe, Morales has taken a similar approach: "The idea was to have a very high-level classical music performance in an informal 19th-century style atmosphere, a kind of coffee house setting. And people do get drawn in when they see pictures of Shostakovich and Brahms on the wall. They become interested."
For the NTIA, said Kill, these smaller venues are a symptom of falling disposable incomes and the 40% increase in the cost of heating venues. "People are having to think outside the box. We are seeing a 'doughnut effect' in entertainment activity, where people are staying nearer to where they live and avoiding the expensive city centres.
"We really need these independent, creative businesses because they are the heart of any area."