Phil Mickelson has been playing in mainstream Golf Tours for around three decades now. During the journey, the 52-year-old has seen through many ups and downs, learning valuable lessons on the road.
ADVERTISEMENT
Article continues below this ad
So it was inevitable when the man with a big heart took some time off his schedule and shared his tips on perfecting a golf tee. Mickelson once cleared a very common fault in amateur golfers with a solution that required no equipment nor money but involved a weird worm dance. Proceed at your own will!
ADVERTISEMENT
Article continues below this ad
Phil Mickelson offers generous advice to amateur golfers
Standing in his regular golf attire with a cart in view, Mickelson shared his tip for improving one's arm position while gearing up for a shot. "The biggest mistake I see among most amateurs is arm place, you want your arms connected close to your body," he said.
Mickelson revealed a majority of the amateur-level players kept their arms too far from their bodies, causing them to mistime their shots and drive inconsistently. The inability to hit cleanly invariably takes the fun out of the game.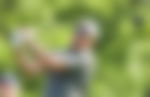 To get past this hurdle, Mickelson revealed his advice, which didn't require a golf club. The 6-time Major Championship winner resorted to lying stomach-down and pressed against the ground to help himself up. During the action, he also flailed his legs as high as possible, which eventually led to the exercise looking like a strange dance move. Check out the video yourself.
Mickelson revealed how the simple piece of advice would be helpful for budding golfers to attain a better swing. "Keep your elbows close. It allows for better tricep activation," he said.
What does 'Keeping your arms connected' mean?
ADVERTISEMENT
Article continues below this ad
Mickelson's advice is based on arm positioning, which is an important yet difficult aspect of the game. Coaches over the years have coined the term 'keeping your arms connected' to their tutelage, but what does it really mean?
As the name suggests, a golf swing should ideally encompass the arms close to the body. This improves the timing of the shot as well as keeping good control over other factors such as loft, distance, and speed.
A number of drills have been suggested to keep the arms together during motion. The most common advice involves practicing your backswing while keeping a towel between your armpit, with the intention of stopping the towel from falling. Mickelson's advice, as much as being unorthodox, adds another generous piece of advice for amateur drills sessions.
ADVERTISEMENT
Article continues below this ad