"It's something we're looking at," Premier François Legault said Wednesday in response to the groups' request.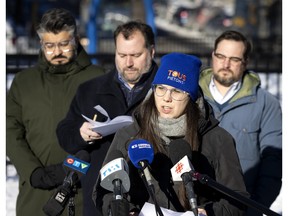 Article content
Warning the province is at an important crossroads, road safety advocates joined forces Wednesday to call on the provincial government to improve safety measures across Quebec.
Article content
More specifically, several groups are pushing for a Quebec-wide road safety strategy that would prioritize protecting vulnerable users and curb the number of deaths recorded each year.
Article content
Speaking near where 7-year-old Mariia Legenkovska was fatally struck in December, they noted 20 people have either died or been seriously injured by cars in Quebec during the last month alone.
"These deaths were preventable," Piétons Québec director Sandrine Cabana-Degani said on Wednesday. "They are the result of our lack of action and our collective unaccountability regarding road safety."
The groups are calling on Quebec to adopt a provincial strategy based on the Vision Zero approach. First adopted in Sweden in 1997, the approach aims to eliminate road traffic fatalities through co-ordinated efforts by legislators, transport officials and municipal authorities.
Article content
Cabana-Degani recalled that the Quebec government committed to implementing such an approach in 2018 but, she added, "more than five years later, we are still waiting."
More than 1,730 people have died on Quebec's roads in the last five years, the groups stated. Among pedestrians in the last 10 years, there have been 27,000 injuries and 650 deaths, they added.
"We know what to do to prevent these deaths," said Christian Savard, director of the organization Vivre en Ville. "We know it's possible and there are ways to change things — but we need a strong national leadership and concerted action by all public decision-makers."
Both Cabana-Degani and Savard said they've noticed a shift in public opinion since Legenkovska's death and called on the government to seize the moment to make the necessary changes.
Article content
Legenkovska, 7, was struck and killed in a hit-and-run while walking to school with her brother and sister in Montreal's Ville-Marie borough.
She had arrived in Montreal with her mother and two siblings during the summer after the family fled the Russian invasion in Ukraine. Her death sparked calls for change in the neighbourhood and re-ignited the road safety debate provincewide.
Two days after the accident, city workers installed bollards at the intersection in question to tame traffic. This week, the city of Montreal announced plans to bolster safety measures around school zones in 13 boroughs, including adding speed bumps and traffic lights.
On Tuesday afternoon, a crossing guard was struck by a car in Montreal's north end. Police said the collision was accidental and the woman suffered minor injuries.
Article content
Speaking at the weekly executive committee meeting on Wednesday, Mayor Valérie Plante said the city is committed to making the city safer for pedestrians.
"Everyone has a role to play, including other levels of government," Plante said, welcoming the push for a provincewide strategy.
"We have to make drivers responsible, and there has to be respect for the speed limit," the mayor added. "My message is that we all have a responsibility and we can't forget that a collision can cost lives."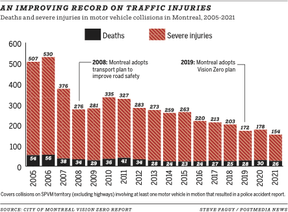 Asked about the possibility of a provincial strategy on Wednesday, Premier François Legault said his government is considering it.
"It's something we're looking at," Legault said in Quebec City. "We also have to ask people in Quebec to be more careful and we'll try if it's possible to change different regulations."
Article content
Cabana-Degani said the group has secured a meeting with representatives from the Quebec Transport Department on Friday, but would like to speak directly with Transport Minister Geneviève Guilbault.
She urged the government to treat the issue as a priority.
"We're at a crossroads," Cabana-Degani said. "We either refuse to see the problem, or we act by implementing a road safety strategy that will prevent future tragedies."
The Montreal Gazette's Jason Magder contributed to this report. 
Shock, anger after Ukrainian refugee, 7, killed by car in Montreal

Montrealers march for secure school zones after Ukrainian refugee killed by car

Ville-Marie borough adds safety measures after Ukrainian refugee killed by car