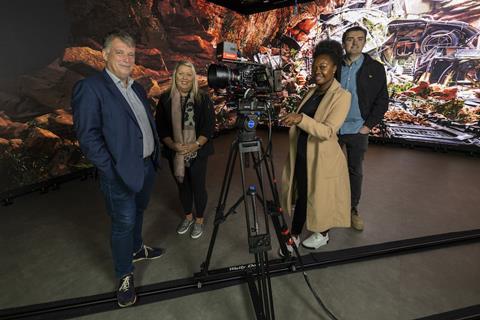 Northern Ireland Screen aims to increase screen contribution to the local economy by more than 40% through its new four-year strategy, titled Stories, Skills and Sustainability.
Launched today at Waterfront Hall in Belfast, the strategy looks to 'create ladders for the next generation of story tellers', by producing successful Northern Ireland film professionals such as Derry Girls creator Lisa McGee. Its initial year is funded by £4.8m provided by the Northern Ireland Department for Economy (DfE).
The new strategy replaces Opening Doors Phase II, which ran from 2018 to 2022. The combined budget for productions supported by Northern Ireland Screen during this period topped £1bn, with more than £330m staying in the local economy, surpassing the £300m target set in 2018. The target for the new strategy has increased by more than 40% to £430m.
Practical steps in the new strategy include an increase of more than double in Northern Ireland Screen's skills budget to £4m; and the introduction of environmental sustainability as a key consideration in all work.
The strategy will also place an emphasis on the innovative growth that will be drived by Studio Ulster, Ulster University's virtual production facility at Belfast Harbour Studios.
It is aligned to the DfE's 10X platform, which launched last year with the aim of delivering an economy that is '10x stronger, 10x more prosperous and 10x more resilient' according to the DfE; and to the Department for Communities' focus on tackling inequalities.
Northern Ireland Screen productions "provide highly skilled job opportunities, placements to develop our growing screen workforce, and establish significant supply chains that all contribute to stronger economic activity," according to economy minister Gordon Lyons.
"The emphasis and energy that NI Screen programmes place on attracting participation from underrepresented groups is a particular strength of the education programme," said communities minister Deidre Hargey. "Partnership is key to future success, for the screen industry and for our community."
"While we recognise that there is considerable market turbulence right now and that there are big challenges ahead, we are confident that there will still be sufficient opportunities for the industry to continue to grow and we will do what we can to assist with these challenges," added Richard Williams, chief executive of Northern Ireland Screen.