Ukraine's military will have a new weapons system to shoot Russian drones out of the sky under a newly unveiled $3 billion U.S. aid package, which the Pentagon called a showing of its long-term support for the country.
The Biden administration on Wednesday announced what it referred to as the largest single military aid package for Ukraine since Russia began its invasion six months ago. The announcement coincided with Ukrainian Independence Day, and Pentagon officials said the aid was intended to show Russian President Vladimir Putin that waiting for diminished Western support of Ukraine would not work.
The U.S. has committed more than $13.5 billion in military aid to Ukraine since January 2021 to help it defend against Russia's larger and better-equipped military.
Previous aid packages approved by President Joe Biden have provided Ukraine with stockpiles of U.S. weapons and equipment. The newest package will allow the U.S. to procure weapons from arms manufacturers that will be passed along to Ukraine.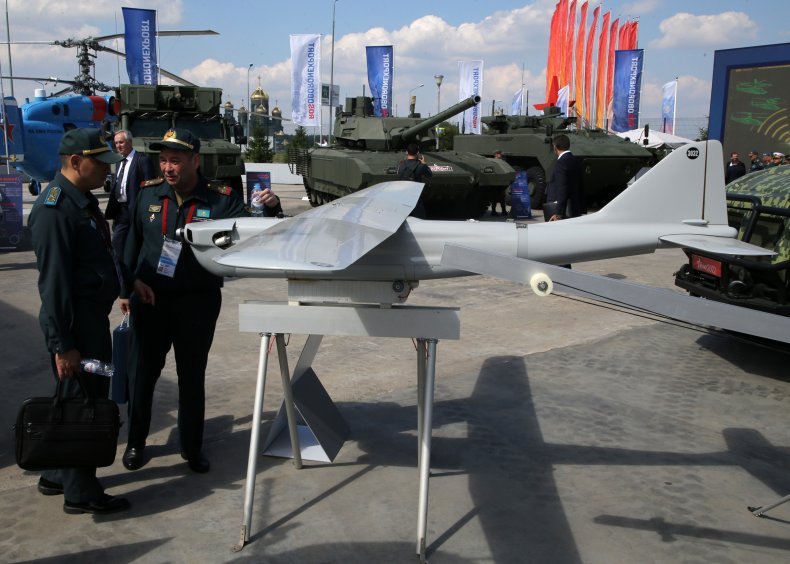 "This will allow Ukraine to acquire air defense systems, artillery systems and munitions, counter-unmanned aerial systems, and radars to ensure it can continue to defend itself over the long term," Biden said in a statement congratulating Ukraine for resisting Russia's invasion.
The new aid package includes "VAMPIRE Counter-Unmanned Aerial Systems" to the Ukrainians. Speaking at a press conference Wednesday, Colin Kahl, undersecretary of defense for policy, described it as "a kinetic system. It uses small missiles essentially to shoot (unmanned aerial systems) out of the sky."
Unmanned aerial systems, or "drones" have played an important role in the war. Ukraine and Russia have actively sought drones from allied countries.
Kahl provided few other details about the anti-drone system, including its manufacturer and how it fit into the broader strategy of helping Ukraine defend itself against Russia.
But L3 Harris, a U.S. arms manufacturer, confirmed to Breaking Defense that it was the manufacturer of the VAMPIRE, "Vehicle-Agnostic Modular Palletized ISR Rocket Equipment." The company told the news outlet that the system includes a four-barreled rocket launcher and a sensor suite designed to be easily installed on pickup trucks and commercial vehicles.
The company said in a statement to the outlet that the system means Ukraine will have "even more robust capabilities as they continue to defend their country and democracy in Europe."
The new aid package from the U.S. will also include surface-to-air missile systems, including up to 245,000 rounds of 155 mm artillery ammunition and up to 65,000 rounds of 120 mm mortar ammunition.
Additionally, the U.S. will supply Ukraine with 24 counter-artillery radars, Puma Unmanned Aerial Systems and support equipment for Scan Eagle unmanned aerial systems, according to the Pentagon. Training and maintenance for the new weapons systems will also be covered.
"The package of capabilities here are really aimed at getting Ukraine what they're going to need in the medium to long term," Kahl said. "So it's not relevant to the fight today, tomorrow, next week."
Instead, Kahl said the aid is intended to bolster Ukraine's defense a year or two years from now in response to Putin refusing to relent on his territorial ambitions on the former Soviet republic.
Previous military aid packages have been aimed at bolstering Ukraine's immediate defenses, Kahl said. With the Pentagon committed to playing a long game with Russia, he said Ukraine's military will be rooted in a smaller number of systems that are easier to sustain and maintain.
Newsweek has reached out to L3 Harris for comment.