Audio obtained from the Federal Aviation Administration Thursday reveals the final moments before a November collision between a World War II-era bomber and a fighter plane that left six airmen dead.
The audio recorded an air boss, who directed operations for the Wings Over Dallas airshow, giving direction ahead of a maneuver that resulted in tragedy.
"The audio lets you put the different pieces together," said former military pilot and aviation attorney Jon Kettles.
"The air boss is talking to the first of the three fighters, and he tells the lead fighter to see if he sees the B-17. The lead fighter says, 'I see the 17.' And then, he tells them to get in trail. And then as the first two fighters pass, he says, 'nice job," Kettles explained.
But Kettles says it's unclear whether the air boss noticed if the third fighter was in the correct position in the moments before it collided with the B-17.
In the final transmission before the moment of impact, the air boss can be heard saying, "nice job, fighters. Come on through. Fighters will be a big pull up and to the right."
Then, the tone shifts to one of urgency.
"Knock it off. Knock it off. Roll the trucks. Roll the trucks. Roll the trucks," said the air boss.
The next few seconds are used to redirect the other fighters that continue to fly before, again, calling for an emergency response.
"Knock it off. Roll the trucks. Roll the trucks. Let's go. Roll the trucks," he said.
The collision, which split the bomber in two, killed all aboard both planes. No one on the ground was injured.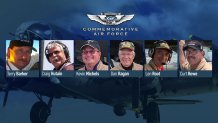 Kettles said while the NTSB's investigators may attribute fault, they're unlikely to determine a single cause.
"Most likely, they'll end up concluding that it was multiple small mistakes that came together to produce a catastrophic result," he said.
That could still be months away.
The Commemorative Air Force, which held that show, wasn't available for comment Thursday.
They've said in the past that they won't speculate on what went wrong and they're grateful for the NTSB's investigation.