We use affiliate links. If you buy something through the links on this page, we may earn a commission at no cost to you. Learn more.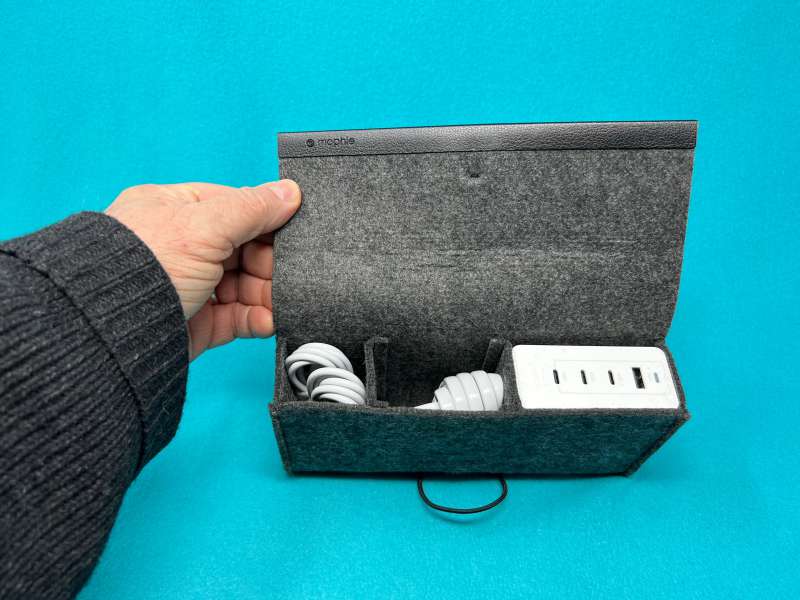 REVIEW – While I love wireless charging, wired charging is faster and more efficient. And larger devices don't usually have wireless charging options. I posted a news item about this unit as soon as I saw it because it scratches an itch for me. I like to be able to go anywhere and have the same access to charging that I do in my home. With GaN chargers, many manufacturers have started putting multiple ports into a single charger, making them smaller and more portable. This package, the mophie speedport 120 4-port GaN wall charger travel kit, is a freakin' awesome embodiment of this idea. Read on to find out what it is.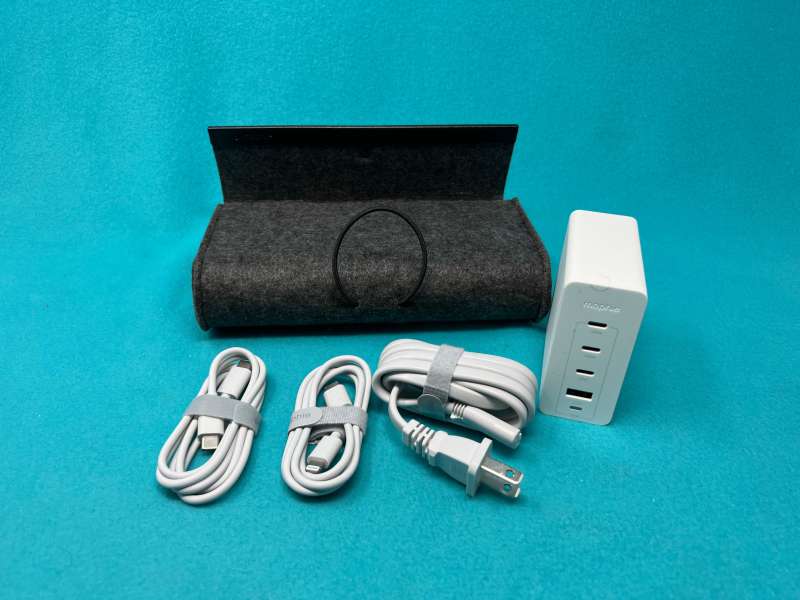 What is it?
The mophie speedport 120 4-port GaN wall charger travel kit is a wired charging kit with four outlets that supports up to 120 watts of total output.
What's in the box?
4-port charger
Power cable for charger (60″/1.5 meter)
USB-C<=>USB-C cable (1 meter)
USB-C<=>Lightning cable (1 meter)
Travel case
Hardware specs
From company website
120W of Total Combined Power
Galium Nitride (GaN) Technology
Charge Up to Four Device Simultaneously
Save Outlet Space
Premium Travel Case
Cables Included
Design and features
The Speedport series is a collection from Mophie (a division of Zagg) of GaN chargers. Some of them have more than one port, and the Mophie SpeedPort 120 is the current flagship of the line. With 3 USB-C ports and one USB-A port, as well as being world ready, this unit can be your only power source for a wide range of hardware.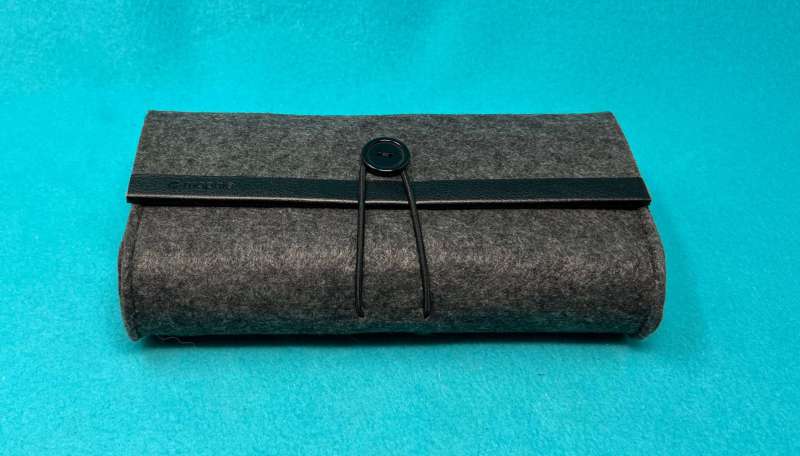 The mophie speedport 120 4-port GaN wall charger travel kit is packaged in a grey felt travel pouch closed with a button on an elastic cord, exactly like the Mophie Wireless Travel Kit I reviewed about a year ago. It is an 8" x 4" x 1.75" folio (compared to the 6.875" x 4" x 1.75" of the wireless kit) with three pockets, securely stitched together.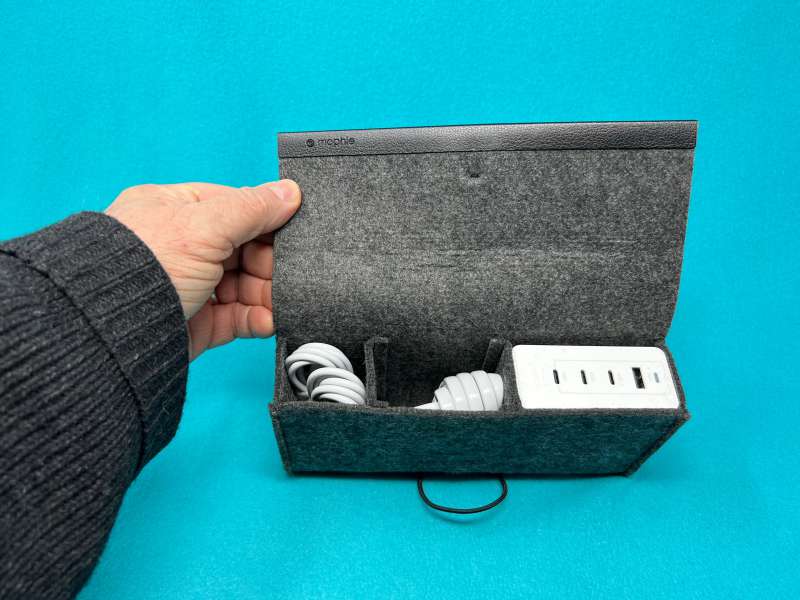 The mainstay piece, the Speedport 120 is a block 1.375" x 3.125" x 3.125" in a matte white with rounded edges. The rear panel has a figure-8 power inlet, and the opposite face has four USB ports (3 type C, one type A). There is a LED indicator below the outputs which glows bright white whenever the unit is connected to power. It's not as egregious as some of the LEDs I've seen on power units, but it's pretty bright. Not on my nightstand bright. YMMV.
There are three cables included in the kit, but one is the attachment to the AC outlet. The others are a USB-C<=>Lightning cable and a USB-C<=>USB-C cable. If you need to power two iPads and a MacBook, you'll need a few more USB-C<=>USB-C cables. The included cables are nicely tethered with hook-and-loop straps.
So, what makes a power supply "world ready"? To me, it is how much input power it can handle. This unit handles 100-240V- 50/60Hz 2 5A Max. That covers pretty much any power output for a consumer outlet in any country. You'll just have to get a cable that fits the figure-8 port, or an adapter for the US cable included with this kit to make it work globally. I've found these cables for as little as $8.50 on sites like eBay. With other world-ready devices, I have found a plug adapter is all you need, but check local wiring and be careful when attaching to the grid abroad.
Setup
There's not really any setup needed for the mophie speedport 120 4-port GaN wall charger travel kit, beyond plugging the cable into the Speedport 120 and your device.
Performance
The 4-outlet Speedport 120 allows for charging several iPads, MacBooks, or other devices at the same time. Obviously, if you have a power-hungry MacBookPro, it will reduce the power available for it and the others plugged in at the same time. But with less powerful units (say, an iPad Pro, a MacBook Air, or similar), you'll be able to charge all devices at their highest rate easily. Mophie doesn't give us a breakdown of the power limits, beyond what is on the SpeedPort 120 box when purchased individually, shown below.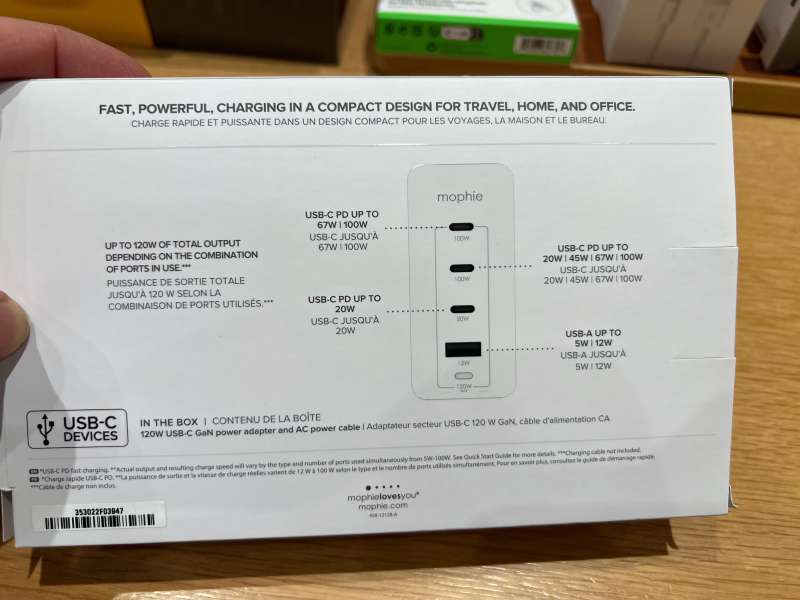 What I like
Full power for laptops or tablets
Included cables for two devices
Carry case
What I'd change
The cable that attaches the unit to the AC outlet is NOT a "power cable" that needs to be advertised. It's a needed part of the unit. (I kept looking for the third cable, thinking my unit was missing something since it was a review unit. I realized when I read the description a fifth or sixth time that they are counting the cable that goes to the wall as an "included cable". That's a bit disingenuous, in my opinion.)
Final thoughts
Early last year, I reviewed a wireless travel kit from Mophie that lets you charge your iPhone, iPods Pro, and Apple Watch wirelessly with a single connection. For someone invested in the Apple ecosystem, it's a great product. For those who may travel with larger screens, like an iPad, a MacBook, or similar, you're going to need wired charging. The mophie speedport 120 4-port GaN wall charger travel kit gives you those options in abundance. If you're the Gadgeteer I think you are, maybe you need two kits – one for the phones and other wireless things, and one for the bigger wired devices. Either way, it's a very compact, organized system that lets you keep your tech charged, whether you're on the go or at home.
I usually travel with a kindle, two iPads, my iPhone, wireless AirPods Pro, and Apple Watch. If it's been a busy travel day, those all may be needing to charge, and with this plus kit the Mophie Wireless kit, things can get back to full with only two outlets. Next time I travel overseas, I'll have to get something like this for the country I'm going to.
Price: $139.95
Where to buy: Zagg.com and Apple
Source: The sample of this product was provided by Mophie.