Mark your calendars: Super Bowl LVII takes place Feb. 12 at State Farm Stadium in Glendale, Ariz. And while kickoff is set for that Sunday at 6:30 p.m. ET, marketers from across the country have kicked off their Super Bowl efforts months—if not years—earlier. Take it from Ricardo Marques, the vice president of marketing for Michelob ULTRA, who sat down with BizBash to talk about the beer brand's plans for this year's championship game, which were set in motion back in May 2022.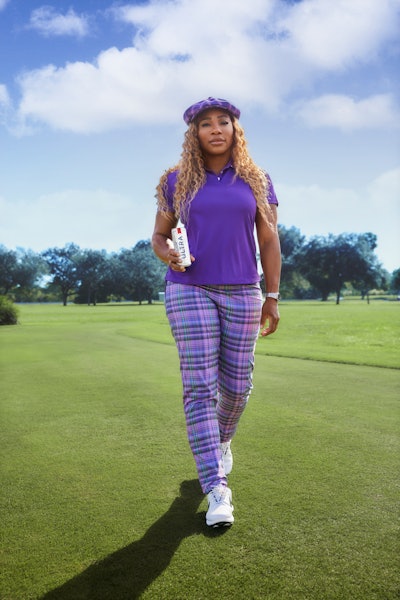 "We are incredibly excited with what we have in store for this year," Marques told BizBash. "We have not only one, but two amazing Super Bowl spots inspired by the transformation we see in the golf world [as it's] becoming more joyful, more exciting, [and] more inclusive." It's the result of Michelob's first-of-its-kind partnership with streaming service giant Netflix, which is set to release its professional golfer-centered docuseries, Full Swing, on Feb. 15.
Can't wait that long? "The only way you can be amongst the first to watch the first episode is by scanning the Michelob ULTRA can." But not just any can—naturally, only the cans in Michelob's limited-edition Golf Pack will boast the QR code. Marques reassured that you can buy the pack "anywhere, so you can buy it nationwide." He continued: "We'll have a period of 24 hours where you can watch [Full Swing] episode one if you just scan Michelob's can, which is really cool."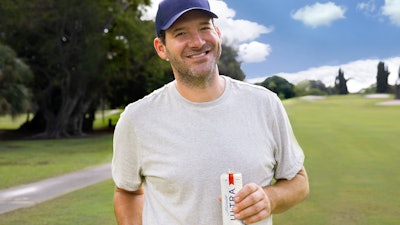 On screen, a 30-second ad spot for the show will premiere on Super Bowl Sunday following the national anthem. Tennis icon Serena Williams and Scottish actor Brian Cox will star in the teaser as they face off on the golf course. The commercial's themed after the '80s film Caddyshack and will also display the episode one-touting QR code. (The full ad spot can be viewed here ahead of game day.)
Off screen, Michelob has collaborated with Devereux (DVRX) Golf for the golf apparel company's first-ever women's line, where consumers can expect pieces inspired by retro golf culture. Those pieces will be shoppable via a QR code that'll be included in DVRX's Super Bowl spot. Marques said the efforts with DVRX are part of a commitment Michelob made in 2021 "to advancing visibility for women in sports. We committed $100 million for a period of five years, and we are once again living up to our commitment."
"If you look at the roster of talent we have on our Super Bowl spot, it's no coincidence that we have equal representation," he added.
But it doesn't stop there—Michelob and Netflix's partnership will be brought to life with an "on-the-ground activation in Phoenix." The event is set to take place at the Arizona capital's Phoenix location, and is planning to welcome as many as 1,000 guests for a viewing of Full Swing's first episode. Of course, Williams and Cox themselves will be in attendance. Marques said that he's thinking of the live event as the "[ad] spot in real life as the final showdown between Brian Cox and Serena Williams—and friends—[takes place as they're] firing away at Topgolf and settling that friendly competition that started with the spot."
Marques also teased that the space will be "customized to bring the Caddyshack theme to life from the very first moment you walk in." And when asked about the touchpoint he's most excited to see come to life, he replied: "I am really excited about the music acts that we're going to bring in," although he didn't divulge the celebrity names on the lineup.
The three-fold approach to the Super Bowl—with limited-edition products, commercials, and a live event—was no easy feat. Marques relayed that the most challenging aspect of the process was simply "pulling it all together in terms of how ambitious the plan is—both on the ground, with the experience we're recreating on the ground, but then also with the spot and all the stars aligning."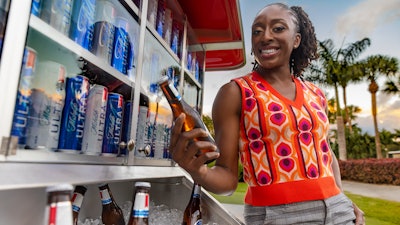 The plan "really required the full length of the last few months—closing in on a year—to put together where we are today," he said, adding that the anticipation is "also what gets us incredibly excited." 
What's top of mind in these last few days ahead of the Super Bowl? Marques said the live experience as well as social media in order to "execute the game day plan." He noted how his team is gearing up to be active on Twitter specifically as its "a key channel" where "conversation is key on game day."
"We have a few surprises on there [Twitter] as well to make sure that we keep engaging our audience all the way through…leading up to the Super Bowl, but then on Super Bowl Sunday as well," Marques explained.
To see inside Michelob's final event, plus other hot happenings surrounding Super Bowl LVII, tune back into BizBash following the championship game.