This past weekend, we attended a concert at the Cynthia Woods Pavilion in the Woodlands. It was our first concert since the COVID pandemic. Sure, I've caught other shows around town so I could review them for this column, but this was the first one I went to as a fan.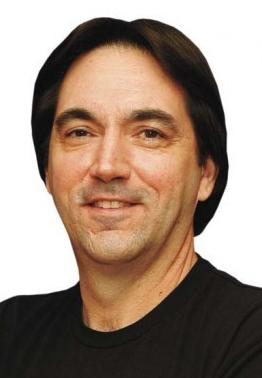 We did the full concert experience. I bought the tickets online, paid the super expensive service fee they charge now, hired a puppy sitter for Buddy, rented a room at a hotel next door to the venue, paid the $32 to park at the hotel, dealt with the clear bag policy and metal detectors at the venue, brought cash to spend at the show then learned it was a cashless event (only credit cards were accepted) and prepared ourselves for a hot humid night in Houston.
The weatherman predicted rain so we brought cheap ponchos but left them in the hotel room. That's what happens when you get old and only have a five-minute memory span. George Thorogood opened the show with a solid 50-minute set, obviously including his hits One Bourbon, One Scotch and One Beer and Bad to the Bone. Sammy Hagar and his band the Circle were the headliners and hit the stage promptly at 9:05 p.m. He opened with Crazy Times, the title track from his new album due out Sept. 30. After that, he deftly mixed in hits from all phases of his career. There was Rock Candy from his Montrose days in the 70s.
His solo hits from the 80s included Only One Way to Rock, Heavy Metal, 3 Lock Box, Can't Drive 55 and Your Love is Driving Me Crazy. His Van Halen era was represented with Poundcake, Finish What You Started, Top of the World and Why Can't This Be Love. He let bassist Michael Anthony sing lead on the early Van Halen gem Ain't Talkin' Bout Love, which they dedicated to the late great Eddie Van Halen. Since his drummer Jason Bonham is the son of legendary Led Zeppelin drummer John Bonham, they included the Zeppelin standard Rock & Roll.
At 74 years old, Hagar sang and played as well as he did when I first saw him in 1979. His energy level was insane. I'm 10 years younger than him and I get tired taking my trash can to the street. There are rumors that this may be Hagar's final tour and if it is, he is certainly going out with a bang.
Back to Basics Festival
When Waylon Jennings released the hit song "Let's Go To Luckenbach Texas (Back to the Basics of Love) in 1977, he had no idea the impact it would have on country music and the tiny Texas town. At the time, he had never even been there but when pal Chips Moman wrote the song, he thought Waylon would be the perfect singer for it.
He was right and it became a huge hit, even though Waylon later confessed to not really liking the song. It put Luckenbach on the map though and the crowds flocked to the town in droves.
On Saturday, Sept. 24, the town will host its first "Back to the Basics" Festival. The music starts at 11 a.m. on the outdoor stage with Summer Dean, followed throughout the day by Django Walker, Micky & the Motorcars, Mike & the Moonpies, Chris Knight, Cody Canada & the Departed, Hayes Carll, Cory Morrow, Jason Boland & the Stragglers and finally at 10:30 p.m., the Flatlanders.
Inside the dancehall you can catch Adam Carroll at noon followed by Gary P. Nunn at 1 p. m. There will be food and drinks available so if you are in the mood for a short road trip through the hill country, then head to Luckenbach on Saturday.
Check out their website at LuckenbachTexas.com for ticket prices and information about parking and artist schedules.
Gruene Cottages start fall season of concerts
Gruene Cottages will be starting their new fall season of concerts this Saturday night with Julianna Rankin opening for the Reed Brothers. On October 8, Courtney Patton will have a full band performance to promote her brand-new album, Electrostatic.
The opener for Courtney will be announced soon. Max and Heather Stalling will perform on Oct. 22 and the opener for their show will be determined later. On Dec. 3, Southern Brothers will be the season finale. This new duo consists of Jason Eady and Adam Carroll. More shows will be announced soon to fill in a few of the open dates.
Tickets for the December show are not on-sale yet but will be soon. Go to their website at GrueneCottages.com for tickets and additional information about these fun outdoor shows.
Dallas Burrow nominated for Ameripolitan Award
The Ameripolitan Music Awards are held each year in Memphis, Tennessee and were established to promote honky tonk, western swing, rockabilly and outlaw music. The awards will take place Feb. 17-19, 2023 at the Guest House at Graceland located at 3600 Elvis Presley Blvd. Local New Braunfels singer songwriter Dallas Burrow is nominated this year in the Honky Tonk Male category.
Fellow nominees include Garrett T. Capps, Jeremy Pinnell and Timbo. Previous winners include Charley Crockett, Jesse Daniel, Luke Bell, Jake Penrod, Charlie Thompson, Wayne Hancock and James Hand.
You can vote for Dallas on their website at Ameripolitan.org. Burrow is having a very busy year touring with his band, doing solo shows around the hill country and running the Redbird Listening Room. This weekend they have Warren Hood performing on Friday followed by Terri Hendrix & Lloyd Maines on Sunday.
If you purchase tickets for either of these shows, be sure to notice some of the amazing songwriters on their upcoming schedule. They have Shake Russell, Susan Gibson, Jason Eady, Adam Hood, Zack Walther, Kevin Galloway, Mike McClure, Darden Smith, Walt Wilkins, and Joshua Ray Walker coming soon. That is an incredible combination of songwriting talent if you ask me.
Random Notes from the Music Scene
Gruene Hall just announced several new shows coming this fall. Tickets for Paul Cauthen, ARC Angels, Shinyribs, American Aquarium and Kolby Cooper all go on-sale Friday morning at 10 a.m. at GrueneHall.com.
If you plan on seeing Rosanne Cash at the ACL Moody Theater on Dec. 2, you better get those tickets soon. They are selling fast and will be sold-out soon.
Tomorrow night the Brauntex Theatre will feature Spyro Gyra, the jazz fusion rock band from New York. They have 31 classic jazz rock albums in their catalog and tour all over the world. Get tickets now at Brauntex.org.
Country superstar Toby Keith is still battling stomach cancer and has canceled a few more live appearances. He recently updated his fans and said his treatment is going well and he hopes for a full recovery.
Bluegrass stars Dailey & Vincent have a new country album out this week titled 'Let's Sing Some Country.' It is the first all country release by the dynamic duo, known for their faithful dedication to traditional bluegrass and gospel music.
Marcus Mumford, lead vocalist for the indie folk group Mumford & Sons has released his first solo album and plans a tour of smaller venues to promote it.
Rock band Halestorm will be making three tour stops in the Lone Star State. Currently on their Back From The Dead Tour with openers The Warning and New Years Day, they will be in San Antonio on Sept. 29, in Corpus Christi on Oct. 1 and Lubbock on Oct. 2. Tickets are available at HalestormRocks.com.
Singer songwriter Mason Lively will headline a show on Saturday night at Billy's Ice. His latest self-titled album was produced by Wade Bowen and he just released a brand-new single called Hold On. Check out all of his music and upcoming live shows at MasonLively.com.
Del Rio native William Beckmann has two sold-out shows at Gruene Hall the next two Saturday's. He will also be performing at the Gruene Music & Wine Fest. Mark my words, Beckmann will be the next superstar on the Texas music scene.
My favorite 80s classic rock band Cadillac Drive will be playing a show on Friday night at the Phoenix Saloon. If you've never seen this band, I suggest you remedy that situation now and catch their show at the Phoenix Saloon.