click to enlarge
Looking for something new to listen to on your long commute? Learn all about the history and continued development of Pittsburgh's parks, the past, present, and future of the city's arts scene, and more from these podcasts by local organizations.

Artists in the World
WQED x Carnegie Museum of Art
cmoa.org/artists-in-the-world-podcast

A public radio station and art museum joined forces to release Artists in the World, a podcast devoted to amplifying "noteworthy artistic voices" in Pittsburgh and beyond.
Hosted by CMOA's director of education and public programs, Dana Bishop-Root, and WQED artistic director, Jim Cunningham, the podcast series — which officially launched in October 2022 — now has four hour-long episodes featuring a conversation and reading with poet Solmaz Sharif and writer Negar Azimi, insight from artists and curators involved with CMOA's 58th Carnegie International exhibit, and more.
Future episodes releasing in February and March will cover late feminist filmmaker Kate Millett, a conversation between writer, art historian, and curator, Zahia Rahmani, and Larry Glasco, an associate professor of history at the University of Pittsburgh.  Also in the works is a discussion between artist Banu Cennetoğlu and Thomas Keenan, associate professor of Comparative Literature and director of the Human Rights Program at Bard College. Stay tuned for details on future episodes in this 10-part series.
click to enlarge
Cut Pathways

Carnegie Mellon University
cutpathways.podbean.com
The Cut Pathways podcast comes courtesy of archivist Katherine Barbera and David Bernabo, a local artist and filmmaker who serves as the production assistant for the CMU Oral History Program.
The recently released third season, "Steel City Outsiders and the Institutional Avant-Garde," explores, according to a release, how Oakland "became an unlikely hub of avant-garde arts activities in the 1970s." The seven-episode season delves into bygone local arts organizations, including Pittsburgh Filmmakers, the Film Section at the Carnegie Museum of Art, the Selma Burke Art Center, and the University of Pittsburgh Electronic Music studio. The last episode also looks at the first wave of punk in Pittsburgh starting in 1976.
For the Love of Parks

Pittsburgh Parks Conservancy
pittsburghparks.org/podcast
The first-ever podcast from the Pittsburgh Parks Conservancy takes a deep dive into the city's urban greenspaces and the people who run them. The 12-episode series, launched in 2021 as part of the Conservancy's 25th anniversary, offers what the organization calls "compelling stories from everyday park users, civic leaders, and Conservancy staff about their experiences and connections to Pittsburgh's beloved parks."
Listeners can learn about the long road to transforming Schenley Park into central Oakland greenspace, the ecological threats to Riverview Park, and the story on Highland Park's reservoir.
click to enlarge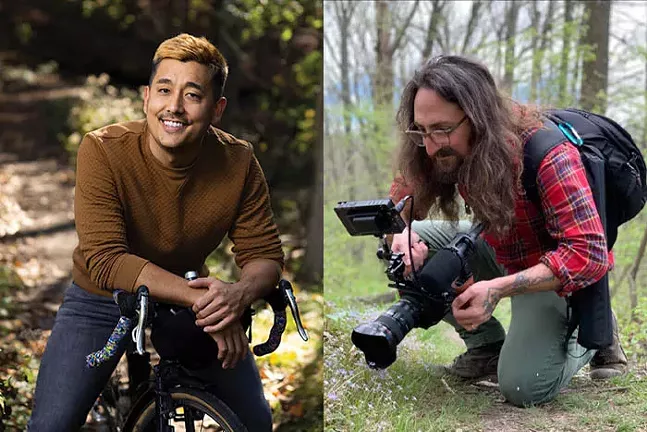 We Are Nature

Carnegie Museum of Natural History
carnegiemnh.org/learn/we-are-nature-podcast
Those interested in hearing experts speak on climate change, conservation, and other environmental issues should check We Are Nature.
Launched in November 2022, the podcast consists of 11 regular episodes and several bonus episodes featuring 30 interviews with museum researchers, organizers, policymakers, farmers, and climate scientists in Southwestern Pennsylvania. The Museum describes the goal of the series as sharing "how humans can create and are already working towards a livable, just, and joyous future."
Hosts Michael Pisano and Taiji Nelson welcome guests such as Radiolab creator Jad Abumrad, CMNH curator of Anthropocene Studies Dr. Nicole Heller, U.S. Rep Summer Lee, and others.