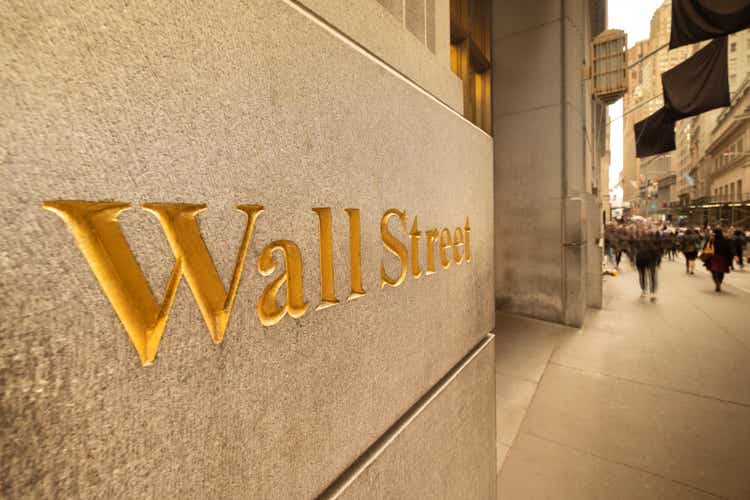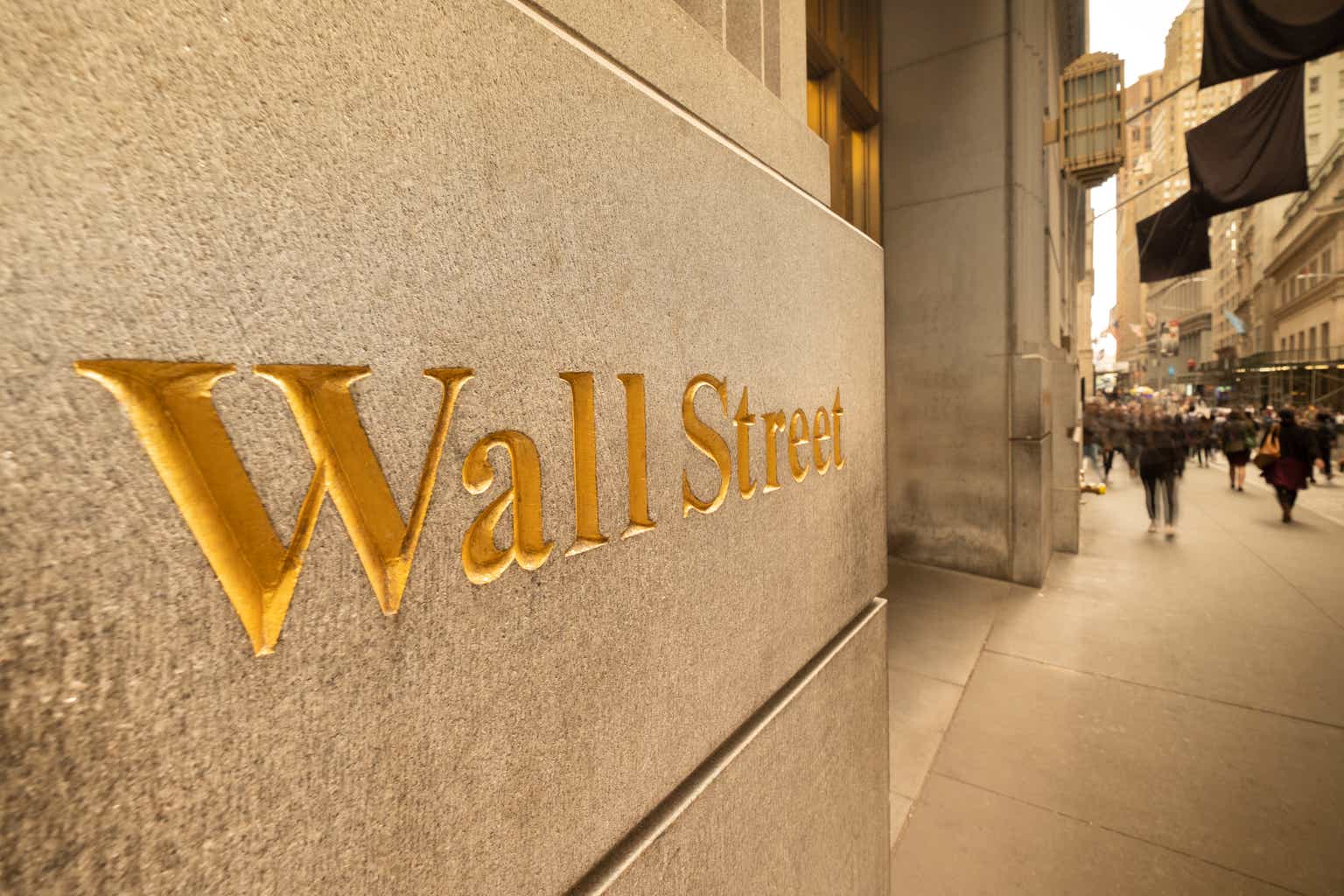 Last year, I stated that the 5.3% dividend of Lazard (NYSE:LAZ) was safe. Indeed, about three months after my article, the company raised its dividend by 6.4%. In addition, Lazard has maintained a wide margin of safety for its dividend, as it has kept a payout ratio of only 39%. Moreover, Lazard enjoys strong business momentum and is trading at a nearly 10-year low price-to-earnings ratio of 9.6, which has resulted primarily from the impact of inflation on the valuation of the entire stock market. Whenever inflation subsides, Lazard is likely to highly reward those who purchase it around its current price.
Business overview
Lazard is a financial advisory company, with a history of 175 years and operations in 41 cities worldwide. It has two business segments, namely Financial Advisory and Asset Management. The former includes investor analytics, debt issuance, mergers and acquisitions, debt restructuring, chapter 11 and capital raises while the latter is focused mostly on institutional clients.
Lazard enjoys a major competitive advantage, namely its reputation as one of the most reliable companies in the financial world. When a company or a country is under financial stress, it often consults Lazard in order to evaluate its options and restructure its debt in the most efficient way. While the customers of Lazard pay great amounts to the company for its consulting services, they earn even more thanks to the expertise of Lazard.
The current business landscape is ideal for Lazard. Most countries have offered unprecedented fiscal stimulus packages in an effort to mitigate the impact of the coronavirus crisis and the global energy crisis on their economies. As a result, they have resorted to excessive budget deficits and thus the global debt has skyrocketed, to a record level.
Moreover, due to the immense fiscal stimulus packages offered by most governments, inflation has surged to a 40-year high. This has led most central banks to raise interest rates aggressively in order to put a lid on inflation. Higher interest rates have begun to exert pressure on numerous companies and countries, as they have greatly increased the interest expense of those who carry a high debt load. Consequently, many companies and countries will have to resort to Lazard for financial advice, issuance of new debt and/or debt refinancing or restructuring.
In the most recent quarter, Lazard exhibited solid business performance. It grew its revenue 3% and its earnings per share 7% over the prior year's quarter, from $0.98 to $1.05, thus exceeding the analysts' estimates by an impressive $0.24. The company has exceeded the analysts' consensus by a wide margin in 9 of the last 10 quarters. This is a testament to the sustained business momentum of the financial advisory company and its solid business execution.
Growth prospects
Lazard has exhibited an admirable growth record thanks to its consistent performance in both of its divisions. As shown in the chart below, the company has steadily grown its assets under management since 2006, by a total factor of 2.5 over the whole period.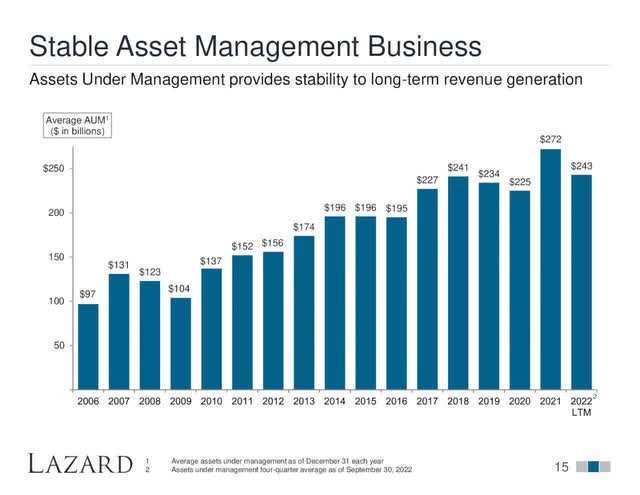 Due to the ongoing bear market in most countries around the globe, assets under management have decreased in recent months. However, as experience has shown, the global stock market is likely to recover at some point in the future. When that happens, the assets under management of Lazard are likely to return to growth mode.
It is also important to note that Lazard continuously tries to create new strategies in order to attract more customers and enhance its market share.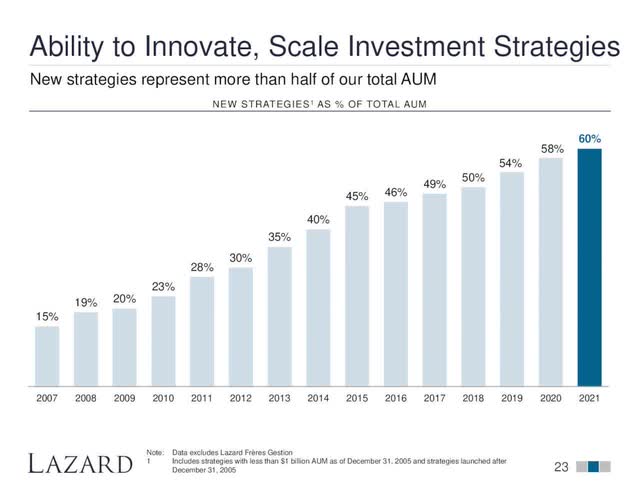 As shown in the above chart, about 60% of the total assets under management is related to new investing strategies. This is a confirmation of the success of Lazard in identifying new ways to attract customers.
Lazard has grown its operating earnings per share by 14.9% per year on average over the last decade. Thanks to its reliable growth strategy and the aforementioned business tailwinds related to the surge of global debt to record levels and the aggressive interest rate hikes implemented by central banks, Lazard is likely to continue growing its earnings per share meaningfully for many more years.
Valuation
Lazard is expected to report earnings per share of $3.94 for 2022. This means that the stock is currently trading at a price-to-earnings ratio of 9.6, which is much lower than the 10-year average price-to-earnings ratio of 13.2 of the stock. In fact, Lazard is currently trading at a nearly 10-year low price-to-earnings ratio.
The exceptionally cheap valuation level has resulted primarily from the impact of inflation on the valuation of the entire stock market. High inflation significantly reduces the present value of future earnings and thus it compresses the earnings multiples of stocks. However, the Fed has adopted an aggressive stance in order to restore inflation to its long-term target of 2%. Thanks to its aggressive interest rate hikes, the central bank is likely to achieve its goal sooner or later. Whenever inflation subsides, the valuation of Lazard will probably revert towards its historical levels. If the stock trades at its 10-year average valuation level in five years, it will enjoy a 38% rally (=13.2/9.6 – 1) during this period. Therefore, the stock has great upside potential merely thanks to the expected mean-reversion of its valuation.
Dividend
Thanks to its cheap valuation, Lazard is now offering a nearly decade-high dividend yield of 5.4%.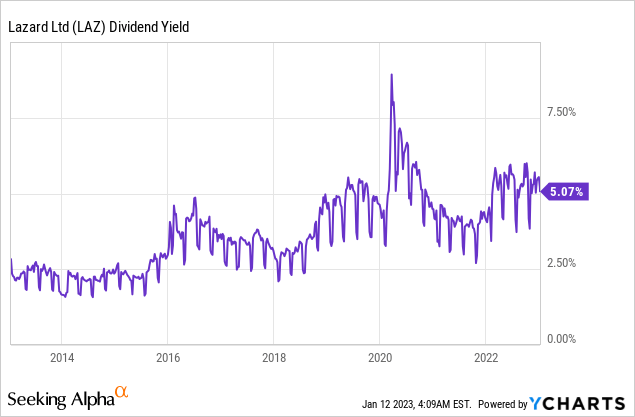 When a stock offers such a high yield, it usually signals that a dividend cut may be just around the corner. However, this is not the case for Lazard. The company has a healthy payout ratio of 39% and a strong balance sheet, with a BBB+ credit rating from S&P and Fitch. It is also remarkable that the company does not have any debt maturities until 2025 while management has repeatedly affirmed its commitment for a growing dividend. Given also the reliable business model of Lazard, investors should rest assured that its 5.4% dividend is safe.
Final thoughts
Bear markets are painful for investors, as they tend to cause material paper losses and often raise doubts over the strength of investing strategies. However, bear markets present rare opportunities to buy stocks with solid business fundamentals at bargain prices. This is certainly the case for Lazard. The company is on a reliable growth trajectory and its stock is trading at a nearly 10-year low price-to-earnings ratio, offering a nearly 10-year high dividend yield, primarily due to the impact of inflation on its valuation. Whenever inflation moderates, the stock is likely to highly reward patient investors off its current depressed price.