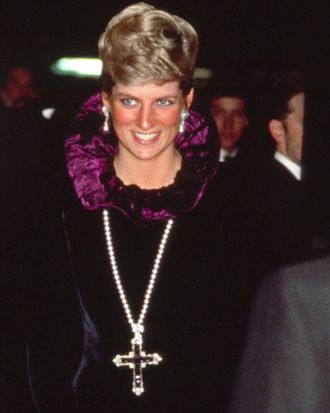 Photo: Graham Photo Library via Getty Images
Kim Kardashian has purchased a necklace worn often, but never officially owned by, Princess Diana. The Attallah Cross is made of amethysts surrounded by diamonds, and was loaned to Diana by Garrard Jewelers on multiple occasions. Yes, it's purple. How will the Princess of Greige incorporate the piece into her wardrobe? According to a release from Sotheby's obtained by People, the necklace was designed in the 1920s, but only ever worn by Diana. It hasn't been seen in public since her death.
The cross joins a small but exclusive group of dead celebrity memorabilia owned by/loaned to Kim K. For Christmas 2019, Kim got North West a jacket owned by Michael Jackson. It was the one he wore to Elizabeth Taylor's 65th birthday, so it's kind of a twofer on the notable dead celeb scale. And of course, we can't forget her brief dalliance with Marilyn Monroe's JFK birthday dress. Wait, Diana most famously wore the Attallah Cross at a charity event for those working in childbirth and pregnancy…does she only like celebrity birthday objects? We'll have to revise the official Vulture Big Conspiracy Corkboard.