Kenner Mayor Michael Glaser is terminating a contract that his predecessor signed with a trucking company to haul sewage "sludge cakes" from the wastewater treatment plant to the landfill.
It's the latest example of Glaser overriding decisions made by Ben Zahn, whom he defeated in the March 26 election.
The agreement was approved in the waning days of Zahn's administration, against the recommendation of Wastewater Director Joanne Massony.
Lawsuit exposure
Massony had selected Kenner-based Cross Road Centers Transporation LLC to receive the sludge hauling contract in August 2021, out of a pool of seven competitors. But when she was asked in June to sign off on the final contract language, she refused. In an email to the city attorney, she wrote it was "highly likely" that Kenner could be sued, given how the contract differed from the scope of work that Kenner described in its request for proposals.
Massony, who stayed on as wastewater director under Glaser, said she received no response to her email. Zahn later signed off on the contract.
As part of the contract, Kenner agreed to pay $513.36 for each trailer load of sludge cake, a fertilizer-like byproduct of the sewage treatment process, that Cross Road trucked to the landfill. Two provisions in particular concerned Massony.
Guaranteed minimum
First, the contract guaranteed Kenner would pay for a minimum number of loads per week. During the first seven months of the agreement, that weekly minimum was set at eight loads.
Kenner's wastewater plant rarely produced enough sludge to require that many trips, and records show City Hall paid the hauler $10,267.20 over the seven-month period to meet the minimum obligation.
Justin Gibson, chief financial officer at CRC Global Solutions, the hauler's parent company, said Kenner produced as few as three loads of sludge cakes in some weeks. He said he requested the weekly minimum in order to remain in business and cover the firm's fixed costs, and that the Zahn administration did not push back.
In her objection to the city attorney, Massony said the haulers were aware of what they were signing up for, noting that Kenner's request for proposals stated that "loads per week may vary" and that estimates provided were "not intended as guaranteed amounts."
Gibson also pointed to language in the solicitation stating that Kenner, "in the event a greater or lesser quantity is needed," reserved the right to increase or decrease the amount of loads it paid for.
Repairs, reimbursements
Massony also objected to a second provision of the contract, in which Kenner agreed to reimburse Cross Road as much as $35,950.86 for repairs to the city-owned trailers used to hold the sludge.
The request for proposals said the contractor would "be responsible for preventative maintenance and corrective maintenance (repairs/replacement) for each sludge trailer," and firms were instructed to take those costs into account when proposing a fee schedule.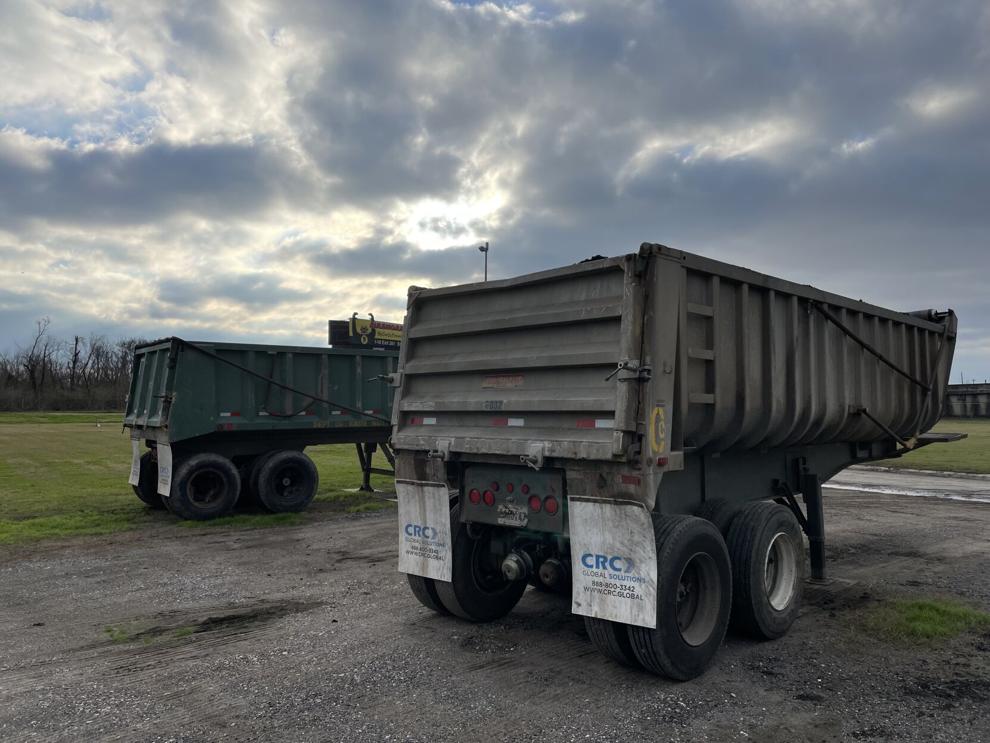 Massony argued in her email that Cross Road should bear the cost of repairs, and warned that including the reimbursement in the contract could lead to lawsuits from other vendors. In an interview, Massony said the trailers had passed their annual inspection and were being used by the previous sludge hauler, up until Cross Road took over.
Gibson, however, said the trailers were in such a state of disrepair that it was unsafe – and likely illegal – to have them on the road. Among other issues, the trailers' seals were not properly seated in the frame, allowing cargo to leak.
"We were pushing them to be safer," Gibson said.
Zahn defended the reimbursement, saying that "once the trailers were inspected, it was found they were in such a state of disrepair that they could not legally be on the road."
'It's just bad'
Kenner delivered a 30-day termination notice to Cross Road earlier this month. Glaser called the contract an example of "bad government," and said he was especially irked by the provision guaranteeing payments for a minimum number of loads per week.
"We're paying for services that aren't being provided," he said. "It's just bad. It needs to be rebid."
Responded Zahn: "It's time for Glaser to put his big boy pants on and run the city of Kenner" and "stop pointing fingers at the past administration."
Glaser, who took office in July, said he ran for mayor to "make government run the way it's supposed to." He's reversed several of Zahn's decisions, including by moving municipal workers out of the Macy's at The Esplanade mall. 
Kenner is working on specifications for a new solicitation. Glaser said his administration has asked Cross Road to stay on until a new contract is finalized.