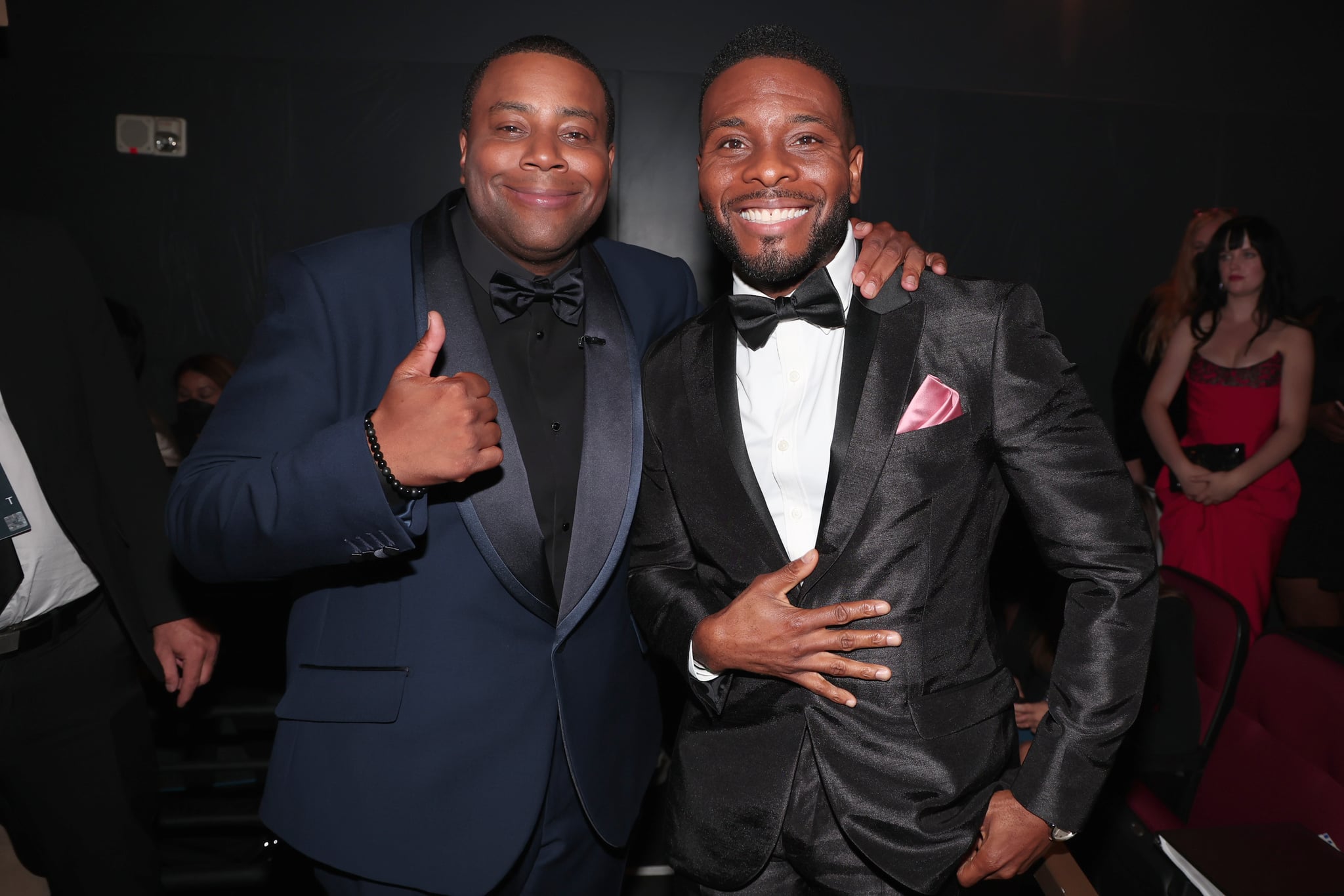 Image Source: Getty / Christopher Polk/NBC
Kenan Thompson pulled out all the stops Monday night during his Emmys hosting gig. The "Saturday Night Live" vet kicked off the award ceremony with a dance-filled opening monologue, but halfway through the show, he shocked the audience with yet another surprise: a reunion with his "Kenan & Kel"https://www.popsugar.com/"Good Burger" costar Kel Mitchell.
Right before comedian Jerrod Carmichael accepted the Emmy for outstanding writing for a variety special, Thompson and Mitchell played out a quick bit at a bar setup where the former tapped his old partner in crime and embraced him in a warm hug. But not before the two turned to the audience and said, "Sequel coming at ya!" Could they be hinting at their rumored "Good Burger" sequel?
Thompson previously teased a potential follow-up to their 1997 classic comedy during his Aug. 17 appearance on "The Tonight Show Starring Jimmy Fallon." When asked if "Good Burger 2" was happening, the comedian told the late-night talk-show host, "I would like it to." He added, "We're working harder on it than ever, so it's about meeting the numbers, letting them numbers match up." Thompson even pitched a funny plot for the sequel and said, "I feel like Kel, Ed's character should have a million kids and then I'm coming out of jail for something that he put me in jail for."
After their Emmys bit, Thompson and Mitchell posted a photo of their reunion on Instagram captioned, "My brotha!!✊🏾 #KenanAndKel #GoodBurger #Reunion #Emmys #Emmys2022." If these two surprise fans with any more appearances together, it seems more and more likely that a "Good Burger" sequel will come to fruition.