Jonathan Majors shares the hard work and sacrifices he made to physically transform for his upcoming roles, including giving up his favorite food.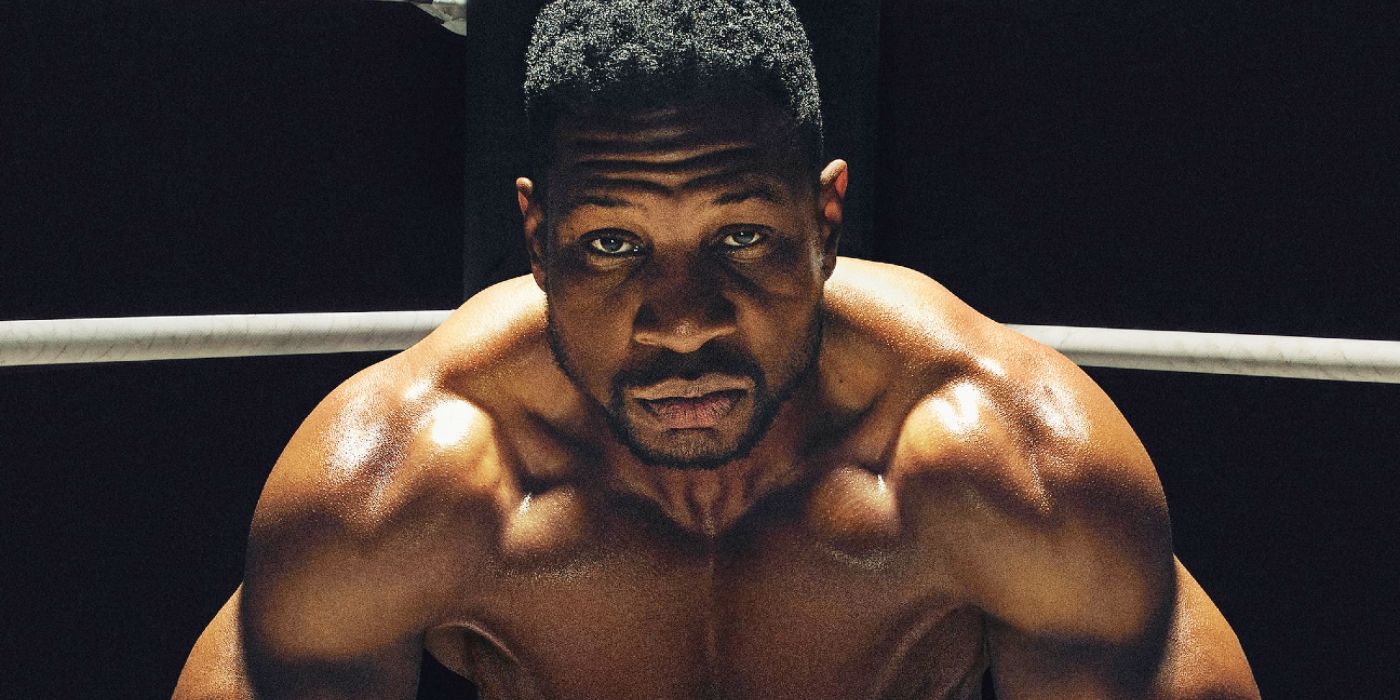 In preparation for his upcoming performances as a physically antagonizing foe in both Ant-Man and The Wasp: Quantumania and Creed III, actor Jonathan Majors committed to an intense training schedule and a strict diet.
In an interview with Deadline, Majors detailed the rigorous body-building process he followed to prepare for his roles. "You're working out, three times a day. And you've got to eat seven meals a day. You are pacing up and down your apartment, force-feeding yourself the food you need to grow." Majors had to follow a strict diet, going two years without any carbohydrates, and even forsaking his favorite food. "I mean, yeah, it was tough. It was tough. But that's the job, you know? But, I like french fries. That's kind of my thing. I really like them. But once I got over that, I was locked in."
RELATED: Quantumania Reveals the Best Look Yet at Hope Pym's New Wasp Costume
Majors has taken to social media before to showcase his physical transformation during his training, and revealed to Deadline that he can now bench press 340 pounds. After completing production on the third installment of both Ant-Man and Creed, Majors continued training for another 18 months for his next role playing a socially awkward, aspiring bodybuilder Killian Maddox. The independent drama, Magazine Dreams, written and directed by Elijah Bynum, also had Majors constantly training for the role. After so much body-building, Majors felt that when he would venture out in public "[I was] feared by people because of my stature or cause of my race… There were towns along the way where, when I got out, I wasn't viewed as Jonathan Majors as much as I was Killian Maddox."
From Lovecraft to Marvel
Majors is a relatively new performer in Hollywood, earning an Emmy nomination for his breakout role as Atticus Freeman in the 2020 HBO show Lovecraft Country. Though the show was not renewed for a second season, not long after it was announced that Majors would be joining the Marvel Cinematic Universe, playing He Who Remains in the first season of Loki, a variant of Kang The Conqueror.
RELATED: Ant-Man and The Wasp: Quantumania Showcases Janet in Freedom Fighter Gear
The actor has discussed playing a different version of Kang for the third Ant-Man film. In fact, though nothing has been officially announced, reports have surfaced suggested the next phase of the MCU will feature multiple variants of Kang. Details concerning those variants have yet to be released. When it comes to Ant-Man 3's specific version of the villain, director Peyton Reed has revealed he is the most powerful force in the Multiverse.
Ant-Man and The Wasp: Quantumania will come on Feb. 17, 2023, with Creed III following on March 3, 2023.
Source: Deadline