"The immediate priority is to ensure fiscal policy is not adding to inflationary pressures and to begin budget repair," the budget strategy notes.
"Over time, the focus will shift to achieving measured improvements in the budget position to stabilise and reduce gross debt as a share of the economy.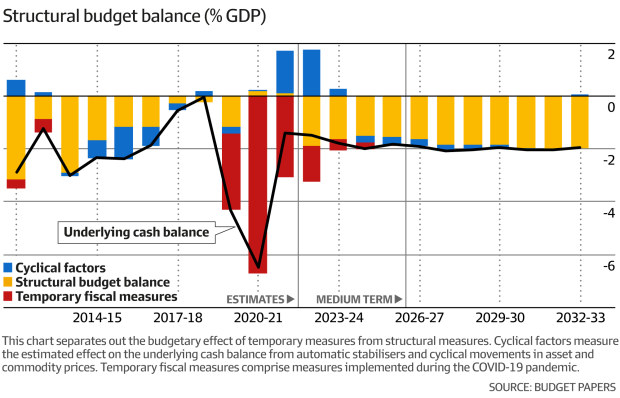 "These objectives will be achieved by investments that grow the economy and expand productive capacity, and budget discipline that restrains spending growth and enhances the quality of spending."
The budget is facing three big pressures that increase debt above $1 trillion and maintain structural deficits of about $50 billion a year over the medium term.
The big three are a jump in debt payments due to higher interest rates; a weaker and more realistic productivity assumption that reduces tax revenue; and the spiralling National Disability Insurance Scheme poised to hit $50 billion a year by 2025-26.
The NDIS could potentially exceed $100 billion by 2032 based on the compound annual growth rate of 13.8 per cent.
Officially, the government's fiscal strategy includes the following commitments:
Allowing tax receipts and income support to respond in line with changes in the economy and directing the majority of improvements in tax receipts to budget repair.
Limiting growth in spending until gross debt as a share of GDP is on a downwards trajectory, while growth prospects are sound and unemployment is low.
Improving the efficiency, quality and sustainability of spending.
Focusing new spending on investments and reforms that build the capability of people, expand the productive capacity of the economy, and support action on climate change.
Delivering a tax system that funds government services in an efficient, fair and sustainable way.
Most of the guard rails would be considered prudent budget accounting, but they are also open to interpretation and give the government flexibility to manoeuvre around them as political necessity evolves.
The government says it is delivering on its strategy by largely offsetting new policies across this year and next when inflation pressures are expected to be most acute.
The government will implement $28.5 billion in savings over the four years to 2025–26, by "unwinding wasteful spending, redirecting spending to higher quality areas, deferring infrastructure spending to not compound supply constraints or to better assess their merits."
Some $22 billion of that is spending cuts and deferrals, with another $6 billion extracted from cracking down on tax minimisation by corporates, the wealthy and higher fees on competition law breaches and foreign investors.
About 90 per cent of the $124 billion improvements in tax receipts (excluding GST) from estimates variations will be dedicated to improve the budget position over the four-year forward estimates.