THE FLATS – Georgia Tech men's basketball was unable to stop its current skid as it fell 80-63 to Syracuse on Saturday afternoon at McCamish Pavilion.
The Orange (13-7, 6-3 ACC) were red-hot from the field, shooting 55 percent overall and 42.9 percent from downtown. The Yellow Jackets (8-11, 1-8 ACC) were able to shoot 43.9 percent from the field, but made just 10-of-31 three-point attempts. Tech was also held to just six free-throw attempts compared to Syracuse's 18.
Tech got off to a quick start, leading 21-10 almost halfway through the first half, but a back-breaking 19-2 run from Syracuse over the next five minutes, added with a 3-minute scoring drought early in the second half, proved too much to overcome.
The Jackets were led offensively by Deebo Coleman, who finished with 17 points off 5-of-8 shooting from beyond the arc. Miles Kelly and Jalon Moore also recorded double digits with 13 and 11 points, respectively, while Deivon Smith finished with nine points and seven assists.
The Orange were led by Joseph Girard III, who finished with 28 points.
Georgia Tech heads back out on the road for a rematch with No. 19 Clemson on Tuesday, Jan. 24. Tipoff is set for 9 p.m. and will be broadcast live on ACC Network.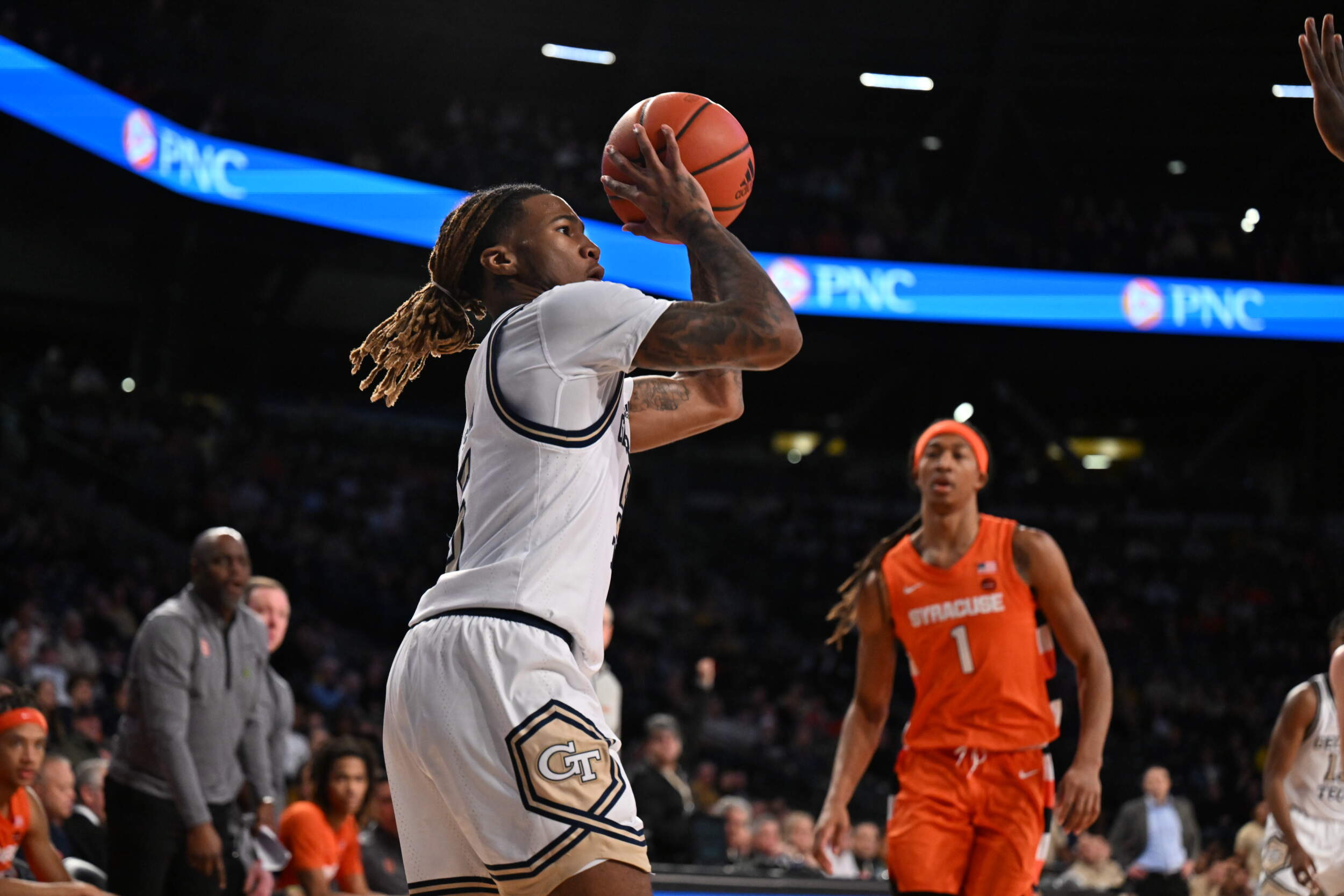 Deivon Smith (5 – above) finished with nine points and seven rebounds to run the offense on Saturday. (photo by Danny Karnik)
Post-Game Notes
TEAM TRENDS
Georgia Tech utilized its ninth different starting lineup this season. Nine Yellow Jackets have started at least two games this season, and none have started every game.
With Lance Terry (hamstring) and Tristan Maxwell (hip pointer) both unavailable, Tech utilized eight players for only the fifth time this season Nine or more Yellow Jackets have taken the court in 14 of 19 games. Tech ranked No. 121 in the nation this season in bench minutes (32.7 pct. entering the game), and only one other Josh Pastner Tech team has seen its reserves play more.
Tech has hit 10 or more three-point field goals in three games this season (13 vs. Alabama State, 12 vs. Pittsburgh, 10 vs. Syracuse).
Tech has averaged 24.5 three-point attempts in ACC games, trying at least 20 in every game except Virginia (16). The Jackets' 31 attempts were the most for the team since trying 32 against Georgia State on Nov. 25, 2020, a game that went four overtimes.
Tech is 1-11 this season when the opponent makes a higher percentage of its field goal attempts, 7-0 when it has a better percentage. Syracuse as the fourth opponent to hit 50 percent of its shots against the Yellow Jackets this season (Georgia, Clemson, NC State were the others).
Tech is 6-1 this season when scoring 70 or more points (1-0 in the ACC), 2-10 when failing to reach 70.
Tech is 11-for-28 from the foul line in its last two games after hitting 75.6 percent from the stripe in its first six ACC games.
Tech's bench has outscored that of its opponent 12 times in 19 games this season. Syracuse was the first team whose reserves outscored those of the Yellow Jackets since Miami on Jan. 4. The Jackets entered this weekend's games No. 1 in the ACC in bench scoring (22.9 ppg).
Tech's 20 assists on 25 made field goals was a season best by percentage (80 pct.) and second best in terms of total assists (25 vs. Alabama State is the season high).
Tech ranks No. 2 in the ACC and in the top 20 in the nation in three-point defense (29.2 pct.) – Syracuse was 6-of-14 (42.9 pct.) against the Jackets, all six of the makes from one player. Notre Dame, Virginia, FSU and Syracuse combined to hit 35-of-85 (41.2 pct.) against the Jackets, while North Carolina, Clemson, Miami, Pitt and NC State were 26-of-104 combined (25 pct.).
PLAYER UPDATES
Deebo Coleman scored a season-high 17 points against Syracuse, surpassing the 16 he scored at Georgia State in the second game of the season. He matched a career-best by hitting five three-point field goals. Coleman's career high in points remains the 19 he scored in the second game of his college career against Lamar, the same game in which he hit five threes for the first time.
Miles Kelly returned to double digits in points for the first time in three games, getting 13 points against Syracuse. He went 5-of-14 from the floor and 3-of-11 from three-point range.
Kelly has hit three or more 3-point field goals in 10 games this season and has connected on 37.2 percent of his attempts in all games, 37.1 percent in ACC games.
Kelly's 9.1-points-per-game improvement over his freshman year is the second-largest jump among ACC players. Kelly averaged 4.5 points per game as a freshman, 13.6 per game this season.
Jalon Moore posted his 11th game in double-digit scoring this season and has 28 points in his last two games (17 vs. NC State, 11 vs. Syracuse).
Rodney Howard has connected on 36-of-54 shots from the floor (66.7 pct.) dating back to Nov. 23 vs. Marquette, covering 14 games. For the season he has connected on 60.3 percent of his field goal tries, 58.3 percent in ACC games.
Deivon Smith matched his season high in assists with seven against Syracuse against one turnover. Smith ranks fourth in the ACC with a 2.43 assist/turnover ratio (his ratio last season was 1.1).
Tech's sophomore trio of Deebo Coleman, Miles Kelly and Jalon Moore rank 1-2-3 on the Yellow Jackets' scoring chart. They have accounted for 46.4 percent of the team's total points this season and have taken 43.8 percent of the shots from the floor. In ACC games, they have accounted for 50.3 percent of the points and 47.2 percent of the shots taken.
Tech's starting guard trio of Kelly, Coleman and Lance Terry have taken more than two-thirds (66.9 pct.) of the Yellow Jackets' three-point attempts and collectively have made 35 percent of them.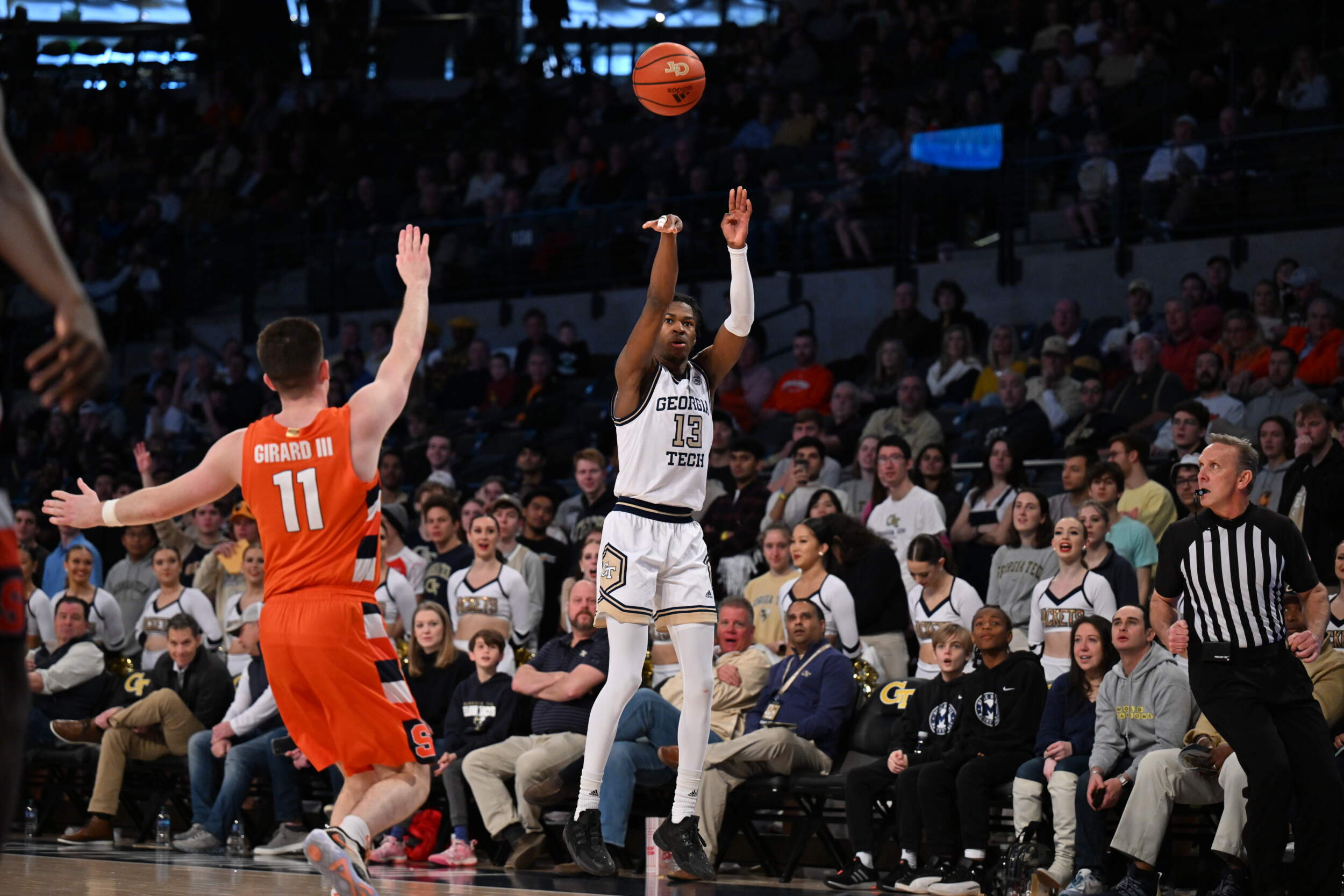 Miles Kelly (13 – above) finished with 13 points, four rebounds and four assists on Saturday. (photo by Danny Karnik)
Post-Game Press Conference