Richard Williams is not famous only for introducing the tennis world to two of the best tennis personalities. Apart from shaping the legendary careers of Venus and Serena Williams, he is also famous for having multiple relationships. This has in fact been a point of contention for the Williams sisters too. However, as per Richard Williams, that is not the case anymore as he is a changed man because of religion.
Williams attributes his change of attitude towards women to his religion, and the values attached. He looked back on his frivolous relationships with multiple women. This is what he said.
Richard Williams attributes his change to religion
ADVERTISEMENT
Article continues below this ad
People talked about Richard Williams for his multiple children with multiple women. Despite being an astounding coach, he gained a bad name because of this. However, now he feels he is a changed man, and he owes it all to Jehovah's Witness.
In an interview with the U.S. Sun, Williams stated, "Before following Jehovah, I had a lot of women, too many women …. from America, outside of America, and so on and on."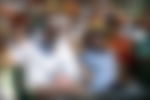 Furthermore, owing to his religion he feels that he has changed. Williams stated, "Since becoming a Jehovah's witness years ago, I've focused on just one woman, I had too much junk in my life."
Richard Williams married Lakeisha Graham and had a son. However, that also did not go well with the pair splitting up in 2012. Moreover, due to Graham, Williams lost his family mansion back in Florida.
ADVERTISEMENT
Article continues below this ad
Serena Williams once got irked by a man claiming to be Richard Williams' son
The Williams sisters have a huge family consisting of siblings and step-siblings. On their father's side, there were also children out of wedlock, which was not very pleasant for his daughters either.
Back in 2012, while shooting a documentary, a man popped up and claimed to be Richard Williams' son. At that point, Serena was irked and stated that she does not know him. Furthermore, she also declared she would ask her father as she did not know how many siblings she had.
ADVERTISEMENT
Article continues below this ad
WATCH THIS STORY: Danica Patrick Was Kept in Same Bracket as Serena Williams and Cristiano Ronaldo for Prestigious Honor Back in 2018
Things seemed to come to rest now. Richard Williams is living with his son Chavoita LeSane who is his primary caretaker at the moment. There has been little information about his mother too.