From her impeccable, head-turning style to glimpses of her personal life, Kylie Jenner sure keeps the fans intrigued and entertained. The youngest of the KarJenner clan also frequently shares sneak peeks of her diet and fitness routine. In 2020, Kylie spoke to Harper's Bazaar about everything she eats in a day. She made a special mention of one fruit — the very humble pomegranate. "I love pomegranate seeds. I've always loved pomegranate seeds. I could eat jars of them," she stated.
Recently, Kylie also shared a visually scrumptious Instagram story of her favourite pomegranate seeds. Check it out here: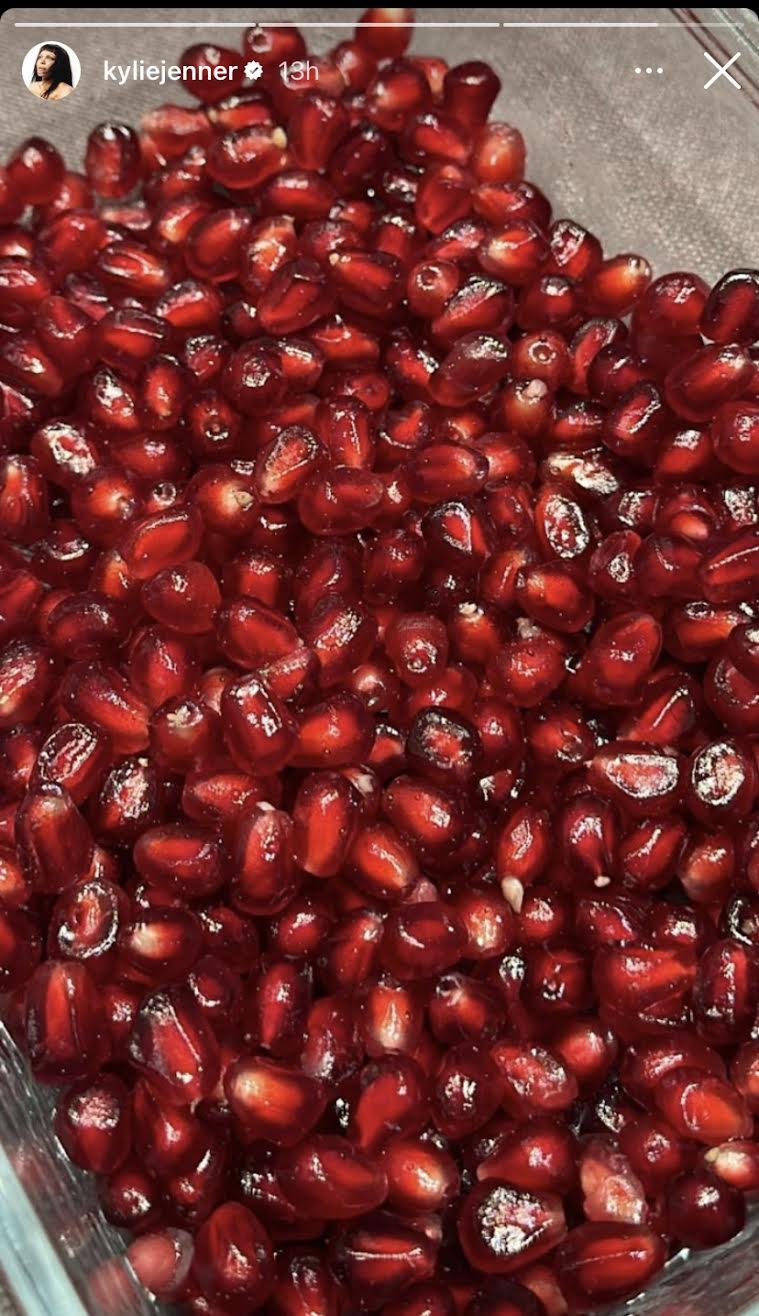 Kylie Jenner's story, on her Instagram page, features her go-to snack – pomegranate seeds. (Source: Kylie Jenner/Instagram)
Did you know that pomegranates are not delicious but also extremely healthy? Garima Goyal, a dietician, shared why she often recommends this fruit to her clients. "Pomegranate seeds are loaded with antioxidants. The compounds present in this fruit and its juice help to decrease the spread of cancer cells in the body too, if detected in the early stage," she told indianexpress.com.
She added that one can fight certain types of microbes, such as bacteria, yeast and fungi, with pomegranate juice consumption. "The richness of antioxidants and anti-inflammatory compounds such as Punicalagin in this fruit also help prevent chronic inflammation of body cells that lead to chronic diseases such as Alzheimer's disease, heart diseases and obesity," Goyal said.
The expert added, "Not many people realise how helpful pomegranate is for the gut, too. The high content of fibre in this fruit marks its importance in digestive health and tackles various gut issues such as constipation, haemorrhoids, acidity and colon cancer."
Surprisingly, while the seeds may be tiny, they also offer increased exercise endurance. "Consumption of even just a small extract of pomegranate juice has shown to be effective in increasing exercise endurance. However, more human research is needed in this category," she said.
📣 For more lifestyle news, follow us on Instagram | Twitter | Facebook and don't miss out on the latest updates!