---

Going out: Cinema
Babylon
Out now
Ever since his breakout hit Whiplash in 2014, director Damien Chazelle has shown an interest in performance and spectacle. From the intricate opening dance scene of La La Land to firing Ryan Gosling into space in First Man, it feels as if it's all been building to Babylon, his sprawling homage to 1920s Hollywood decadence.
Holy Spider
Out now
Somewhere in the city of Mashhad, a serial killer (Mehdi Bajestani) is murdering sex workers, while leading a double life as a family man. Based on real events, Ali Abbasi's striking film is a well-made if uncomfortable work that attempts to explore the mind of a killer and the social context in which he briefly thrived.
More Than Ever
Out now
Fresh from a stunning turn as a depressed empress in Corsage, the talented Vicky Krieps is on sober, searching form in this drama about a woman's unexpected connection with a stranger in Norway who seems to have insights into her health troubles beyond the comprehension of her husband (Gaspard Ulliel).
The Book of Vision
Out now
A fantasy drama influenced by both The Goonies and Terrence Malick (who exec produces), and starring Charles Dance, in which a doctor studying the history of medicine discovers a book by an 18th-century physician. Catherine Bray
---
Going out: Gigs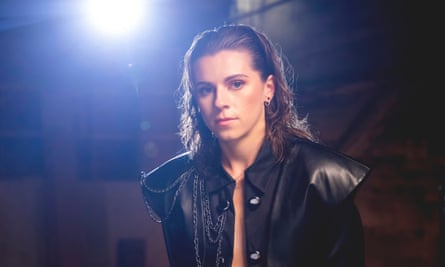 PVRIS
22 to 26 January; tour starts Glasgow
US electro-rock noise merchants Lynn Gunn and Brian MacDonald, arrive in the UK for a whistlestop tour. The band recently teased their next era with the singles Anywhere But Here and future crowd favourite Animal, which is built round a pulverising riff. Michael Cragg
Tim Garland & Jason Rebello
Café in the Crypt, London, 21 January; The Maidment Building, Shrewsbury, 27 January
Saxophonist Tim Garland and pianist Jason Rebello have shared many stages over three decades (and gigged separately for Sting, Wayne Shorter, Chick Corea and others), but this tour debuts their first duo album, Life to Life. John Fordham
Lucinda Williams
21 to 26 January; tour starts London
In the UK to play as part of the Glasgow festival Celtic Connections' 30th anniversary (23 January), Americana great Lucinda Williams has 14 albums' worth of material to draw on, so expect a bulging setlist of rustic, confessional classics. MC
Cara Bali Concerto
BBC Hoddinott Hall, Cardiff, 27 January
Alexandre Tharaud is the soloist with BBC National Orchestra of Wales in the piano concerto written for him by Thierry Pécou, inspired by the gamelan ensembles of Bali. Conductor Marzena Diakun prefaces the UK premiere with Debussy's Prélude à l'Après-Midi d'un Faune, and follows it with Martinů's Third Symphony. Andrew Clements
---
Going out: Stage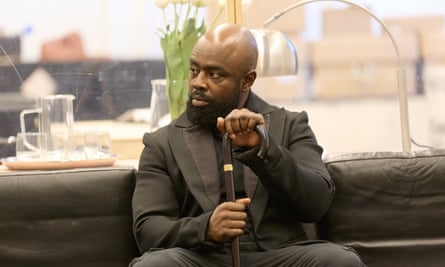 The Lehman Trilogy
Gillian Lynne theatre, London, 24 January to 20 May
Director Sam Mendes's Tony award-winning production returns, charting the humble rise and catatrophic fall of Lehman Brothers. Starring Michael Balogun, Hadley Fraser and Nigel Lindsay. Miriam Gillinson
Head Over Heels
Hope Mill theatre, Manchester, 26 January to 4 March
Queer jukebox musical from the creative team behind Spring Awakening and Avenue Q. Adapted from Sir Philip Sidney's 16th-century poem Arcadia and set to the music of the Go-Go's, it follows a royal family on a quest to save its kingdom. MG

Acosta Danza
Royal Opera House: Linbury theatre, London, 23 to 30 January
Carlos Acosta's company has some wonderful dancers. This bill draws on influences from classical, contemporary and Cuban dance, with works by choreographers including Sidi Larbi Cherkaoui and Goyo Montero. Lyndsey Winship
Babatunde Aléshé
26 January to 27 May; tour starts Brighton
Having found fame as Mo Gilligan's (arguably funnier) mate on Celebrity Gogglebox, last year standup Aléshé swapped the sofa for a big log during his I'm a Celeb stint. Now the 36-year-old returns to live comedy with this nationwide tour. Rachel Aroesti
---
Going out: Art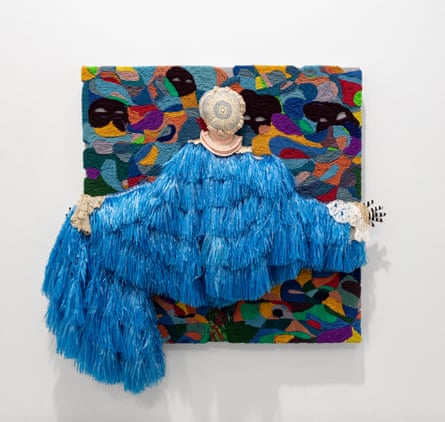 Alberta Whittle
The Holburne Museum, Bath, 27 January to 8 May
Bath is a city whose Georgian squares and Assembly Rooms were erected in the age of the slave trade. Scottish artist Whittle takes on that history here. But her key themes are community, care and healing, so expect a show that offers hope as well as critique.
Spain and the Hispanic World
Royal Academy of Arts, London, 21 January to 10 April
Goya's great portrait of the Duchess of Alba, pointing firmly at the ground as she stands in traditional dress, is one of the treasures of New York's Hispanic Society Museum & Library in this show. An early map of the world, Islamic art from Andalucía and paintings by Velázquez also star.
Mohammed Sami
Camden Art Centre, London, 27 January to 28 May
Memories of Iraq haunt Sami's paintings. Born in Baghdad in 1984 and granted asylum in Sweden before settling in the UK as an artist, Sami paints big shadowy abstract canvases that are full of smoky violence. The afterglow of oppression and war lingers here like a stain in the sky.
Jade Montserrat
Manchester Art Gallery, to 29 January
A last chance to see this show in which Montserrat combines her watercolours with a study of the idea of "constellations", which she translates from myth and astronomy to mean supportive social and cultural networks. Her piece A Return to Breath portrays the eyes of people including Marcus Rashford and Bobby Sands. Jonathan Jones
---

Staying in: Streaming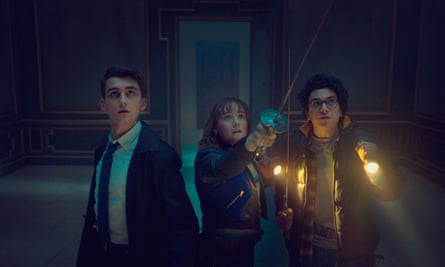 Lockwood & Co
27 January, Netflix
In his debut film Attack the Block, Joe Cornish merged high-stakes fantasy with humdrum London life to enjoyable effect. Promisingly, he's mining a similar seam for his first big TV project: a hair-raising adaptation of Jonathan Stroud's YA novel series about a gang of ghost-hunting teens
Fight the Power: How Hip Hop Changed the World
21 January, 9pm, BBC Two & iPlayer
There have been umpteen docs tracing hip-hop's legacy (even one with this very title), but this four-parter hosted by Chuck D is a cut above, as major figures and first-hand witnesses to the genre's rise contextualise its artistic innovations and societal impact.
Shrinking
27 January, Apple TV+
How I Met Your Mother's Jason Segel is Jimmy, a grief-stricken therapist who starts doling out shockingly frank advice to his patients in this mordant new dramedy that has big names behind the scenes (Ted Lasso's Brett Goldstein and Scrubs creator Bill Lawrence co-write) and out front (Harrison Ford co-stars).
Everyone Else Burns
23 January, 10pm, Channel 4 & All 4
Will from The Inbetweeners with an even nerdier hairdo? Yes please! Simon Bird dons a striking bowl cut to play the patriarch of an ultra-religious clan eagerly anticipating the end times in this new sitcom, whose supporting cast – Morgana Robinson, Al Roberts, Lolly Adefope, Kadiff Kirwan – is a draw in itself. RA
---
Staying in: Games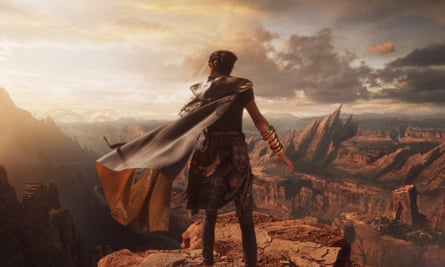 Forspoken
Out 24 January, PS5, PC
A woman is plucked from the streets of New York, given magical powers and dropped into a fantasy world full of monsters to fight. Graphically astonishing, but the jury's still out on the story setup.
Pocket Card Jockey: Ride On!
Out now, iPhone, iPad
From the creators of Pokémon, this adorably illustrated mashup of solitaire and horse racing (yes, really) is unexpectedly compelling. Keza MacDonald
---
Staying in: Albums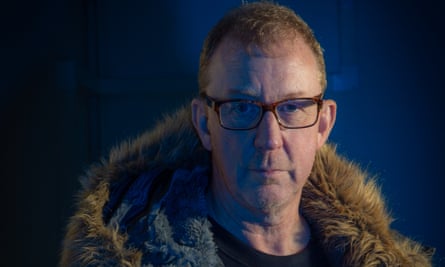 Dave Rowntree – Radio Songs
Out now
The debut solo album by Blur drummer Dave Rowntree is inspired by a childhood spent tuning into global radio stations on battered sets. With its 10 songs built round recordings of atmospheric, between-stations static, Radio Songs is imbued with the lo-fi experimentation of his day job circa 1997.
Biig Piig – Bubblegum
Out now
Irish singer and rapper Jessica Smyth, has been teasing this debut mixtape since September, with three of its seven songs already out there, including the excellent club throb of Kerosene. Of the others, the lilting Liquorice shows Smyth's softer side.
Låpsley – Cautionary Tales of Youth
Out now
Since releasing second album Through Water, singer-songwriter and producer Holly Fletcher has split her time between co-writing bangers for other people (Joel Corry and Jax Jones's Out Out) and studying at London's Goldsmiths college. She has also crafted this new collection of tactile electronic pop, which lyrically charts the disintegration of a relationship.
Mac DeMarco – Five Easy Hot Dogs
Out now
In January 2022, crumpled troubadour DeMarco set off on a road trip, the idea being he'd drive north and not return home to LA until a new album was finished. The result is this collection of 14 hazy instrumentals, each named after a different city on his journey. MC
---
Staying in: Brain food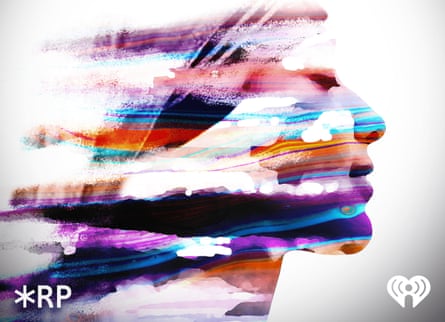 The Turning
Podcast; out 24 January
Erika Lantz's first series of The Turning was a fascinating look into Mother Teresa's secretive Catholic order. Season two continues the theme of using personal testimony to uncover hidden worlds, this time focusing on American ballet.
Grayson Perry's Full English
26 January, 9pm, Channel 4 & All 4
Artist Grayson Perry proved he is a deft chronicler of national identity with his 2020 show Big American Road Trip. He now turns his gaze closer to home with a three-part series examining the objects that constitute "Englishness".
BBC Motion Graphics Archive
Online
Ravensbourne University's digital archive is a nostalgic trip through 80 years of BBC test cards, idents and graphics. With more than 3,000 entries to riffle through, you can search for everything from Andy Pandy intros to the EastEnders theme. Ammar Kalia