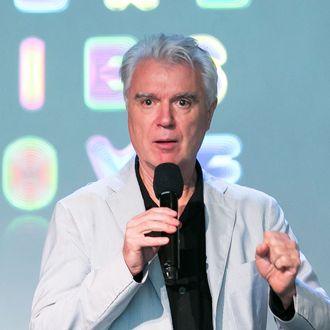 Photo: Ben Hider/Getty Images
Here we go: After more than a decade, Here Lies Love will open its disco dance foor on Broadway this summer. David Byrne and Fatboy Slim's immersive musical, which follows the rise and fall of former Philippines first lady Imelda Marcos, will debut on July 20 at New York's Broadway Theatre. Previews begin on June 17. According to a press release, the show will "transform the venue's traditional proscenium floor space into a dance club environment, where audiences will stand and move with the actors." Ruthie Ann Miles, who starred as Imelda in the original off-Broadway run, previously described the way that actors touch the audience as the action whirls through the room to Vulture: "We call it the blender!" she said in a 2013 interview. If you're rhythmically challenged or just prefer not to be on your feet, fear not — a "wide variety" of standing and seating options will be available for the Broadway run.
Here Lies Love was previously released as a concept album in 2010. Bloody Bloody Andrew Jackson director Alex Timbers and helped stage it as a production, starting with a run at the Public Theater in 2013. He and choreographer Annie-B Parson will both return this summer for the show's Broadway run. Filipina American actress Giselle "G" Töngi has also been hired as the show's cultural and community liaison.
It's an interesting time to revisit Imelda's story, given that her son, Ferdinand "Bongbong" Marcos Jr., was elected as the president of the Philippines last year. Imelda and her late husband, Ferdinand Marcos Sr., previously fled the country in 1986 after the People Power Revolution ended years of rule under martial law. She and her children were allowed to return in 1991. "The history of the Philippines is inseparable from the history of the United States," Here Lies Love's producers — who describe themselves as a binational team that includes Filipinos — said in a joint statement, "and as both evolve, we cannot think of a more appropriate time to stage this show."