THE FLATS – Georgia Tech freshman Alejandra Cruz was tabbed the Atlantic Coast Conference Co-Freshman of the Week after collecting four wins in the Carolina Kickoff. She shared the honor with Miami's Mia Mack. The weekly accolade marks the first for Cruz.
Georgia Tech opened the spring slate this past weekend, competing in the Carolina Kickoff, hosted by the University of South Carolina. Cruz posted a 4-2 record between singles and doubles. In singles action, the Jacket collected two three-set wins over Wake Forest and Wisconsin.
In doubles action, Cruz partnered with teammate Kylie Bilchev to go 2-1 in the tournament. The pair rebounded from dropping their first match to collect two wins to close out the tournament, defeating Wake Forest and South Carolina.
During the fall season, Cruz went 7-5 in singles action and 7-3 in doubles. With Bilchev, the pair posted a 6-1 record, highlighted by reaching the semifinals of the ITA Southeast Regionals.
Georgia Tech women's tennis opens the home slate on Friday, welcoming Georgia State to the Ken Byers Tennis Complex. First serve is slated for 4 p.m.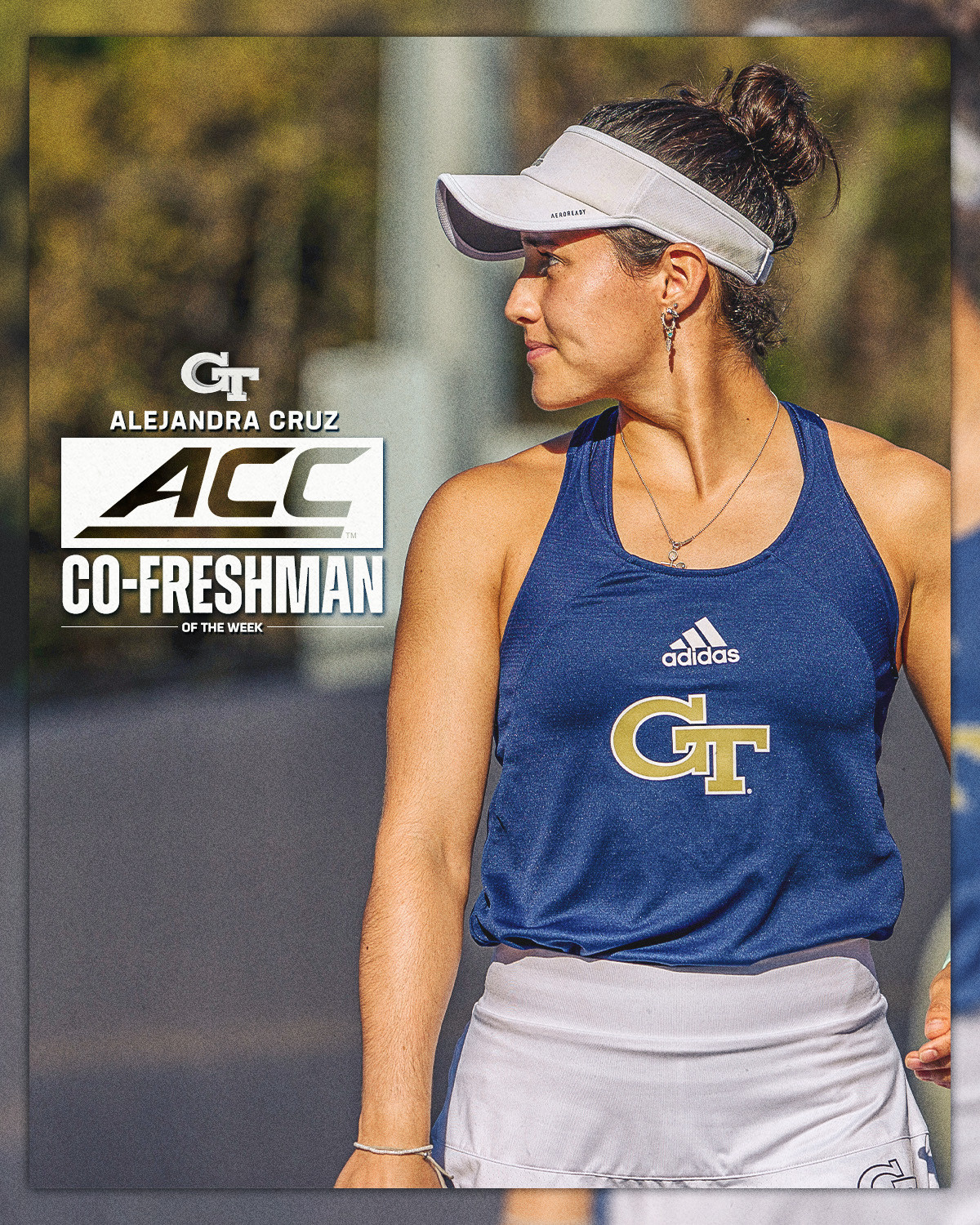 Alexander-Tharpe Fund
The Alexander-Tharpe Fund is the fundraising arm of Georgia Tech athletics, providing scholarship, operations and facilities support for Georgia Tech's 400-plus student-athletes. Be a part of developing Georgia Tech's Everyday Champions and helping the Yellow Jackets compete for championships at the highest levels of college athletics by supporting the Annual Athletic Scholarship Fund, which directly provides scholarships for Georgia Tech student-athletes. To learn more about supporting the Yellow Jackets, visit atfund.org.
For the latest information on the Georgia Tech Yellow Jackets, follow us on Twitter (@GT_WTEN), Instagram (GT_WTEN), Facebook (Georgia Tech Women's Tennis) or visit us at www.ramblinwreck.com