While much of the political focus of late has been on Kevin McCarthy's tumultuous path to become speaker of the House, the 118th Congress will turn the spotlight to a number of key finance topics that could have wide-ranging implications for commercial real estate.
Republicans narrowly seized control of the House of Representatives during the midterm elections, which changed the composition of committees important to the CRE industry, most notably the House Financial Services Committee where U.S. Rep. Patrick McHenry (R-N.C.) replaced Maxine Waters (D-Calif) as chair. Even though the Freedom Caucus consisting of the most conservative Republican members gained increased power during McCarthy's speaker nomination battle, McHe​​nry is not expected to guide the committee in an extreme direction.
"Patrick McHenry is a thoughtful member and he is a good man who cares about the issues that his committee has jurisdiction over," Isaac Boltansky, director of policy research at BTIG, said Tuesday during a CRE Finance Council panel entitled "Government Relations Update and Regulatory Pipeline" at the Loews Miami Beach Hotel. 
Bolansky stressed that McHenry will be spearheading oversight into a number of financial services activities that relate to CRE, including cryptocurrency. He said there likely won't be any comprehensive legislation to overhaul crypto in the current Congress, but some changes to stable coins could be on the table. 
On the legislative side, CREFC is lobbying hard for changes to the Home Mortgage Disclosure Act in response to potential compliance challenges confronting some non-bank CRE multifamily lenders. 
"If you made between 25 and 100 multifamily loans in the preceding two years and you are not a bank, you probably have a new compliance obligation with the Consumer Financial Protection Bureau," said David McCarthy, managing director and head of policy at CREFC. "We're working on it as a legislative priority." 
Tuesday's panel also included Sairah Burki, managing director, regulatory affairs & sustainability at CREFC; Scott Sinder, CREFC general counsel and partner at Steptoe & Johnson; and Genger Charles, managing director, head of external affairs and impact strategies at Amherst Holdings. The discussion was moderated by Justin Ailes, managing director, government relations at CREFC. 
Burki said among regulatory policies the CRE industry should monitor closely is the 
Securities and Exchange Commission's proposed rule to require publicly listed companies like real estate investment trusts to disclose greenhouse gas (GHG) emissions data and climate-related risks. She stressed that the portion of the SEC proposal referred to as Scope 3, where companies are expected to report GHG information if they cause material financial impact, would especially affect CRE. 
"There's been so much discussion about emissions, data, etc., but I do think people should also be focusing on other parts of the proposed rule, in particular the requirement that organizations disclose climate-related impacts on their financials if it's a reasonable chance that it's material," Burki said. "It's very difficult, as we don't have standardized climate models and we don't have a standardized way to interpret the climate models for financial statements."
A big wild card for this year will be if the House under GOP control with some extremist members guiding policy will support raising the federal debt ceiling, since failure to do so would risk a U.S. default. Boltansky said he expects the debt ceiling to be addressed but is concerned about a possible repeat of 2011, when the issue last came to the forefront and Wall Street took major financial hits as a result.
"What I'm scared of is there's going to be some sort of Rube Goldberg-esque legislative response like we had in 2011 with a Budget Control Act that constrains our fiscal support mechanism on Capitol Hill right at the time of an economic downturn," Boltansky said. 
Prior to politics taking center stage, the CREFC crowd was treated to an escape with a keynote speech by professional skateboarding legend and entrepreneur Tony Hawk, who helped spark the launch of ESPN's long-standing X Games competition in the mid-1990s. Since navigating through market volatility often requires sportsmanship, positive attitude, resilience and patience, Hawk, known as "Birdman," was a fitting choice to highlight his unprecedented success from skateboarder to CEO.
Hawk's legendary sports career had an incredible second act at Activision in 1992, launching his Pro Skater brand. His skateboarding video game series is now a billion-dollar franchise.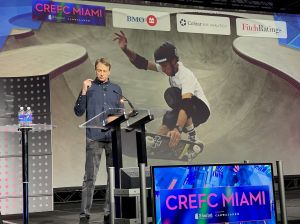 "I was very proud of being able to help create something like that to help promote skateboarding and better life," Hawk said during his keynote speech to a packed crowd Tuesday at the Loews. 
An interesting side note: The skateboard legend mentioned he bought his first house at 16 when he was in high school. Hawk doesn't own any commercial real estate today, but a career that involves getting back up again after taking spills can only be a good template for those riding the roller coaster of the current market. 
Andrew Coen can be reached at [email protected] and Emily Fu can be reached at [email protected].