Accelerates Expansion of Automated 'Barista-in-a-Box' Kiosks Amid Tight Labor Market.
Retail Store Strategy Centered on 'Experience,' Not Café Competition, Exec Says.
Coca-Cola's US strategy for Costa Coffee came into sharper focus last week at the NACS convenience retail show. The company unveiled a new ready-to-drink canned coffee for the US market, showed off its Smart Café automated coffee kiosk program, and shed light on plans to add standalone cafés. Since buying the UK-based coffee chain in 2019, Coke was forced to re-evaluate and shuffle its strategy for the brand after the café chain was slammed a year later by the global Covid pandemic that temporarily shut down stores and disrupted the business globally.
US RTD DEBUT. Costa will launch the brand's first ready-to-drink offering in the US in December at Sprouts Farmers Market before expanding distribution in early 2023. Called Flat White by Costa Coffee, the espresso and milk beverage will be packaged in 11-oz slim cans. Flavors are signature blend, mocha, and caramel. The drinks contain 85g of caffeine, have about 20g of sugar, and contain 140 to 150 calories per can. Flat White will retail for $3.29. Distribution will be handled with warehouse delivery through third-party distributors, rather than direct store delivery via Coke bottlers. The name Flat White, printed across the can in letters far larger than the Costa brand name itself, was meant to grab attention on a crowded coffee shelf and create intrigue for consumers unfamiliar with the Costa brand, executives told BD. (Flat White caught the attention of Kitu Super Coffee Co-Founder and COO Jordan DeCicco, who told Coca-Cola's New Revenue Streams Chief Daniel White on LinkedIn that he tried the product and found it "on point as always." White responded: "Thanks and much respect to Super Coffee for setting a strong standard in the market for clear functional coffee. We should all continue to be amazed at how much room there is for people to be in the beverage business!" Super Coffee is master distributed by Anheuser-Busch.)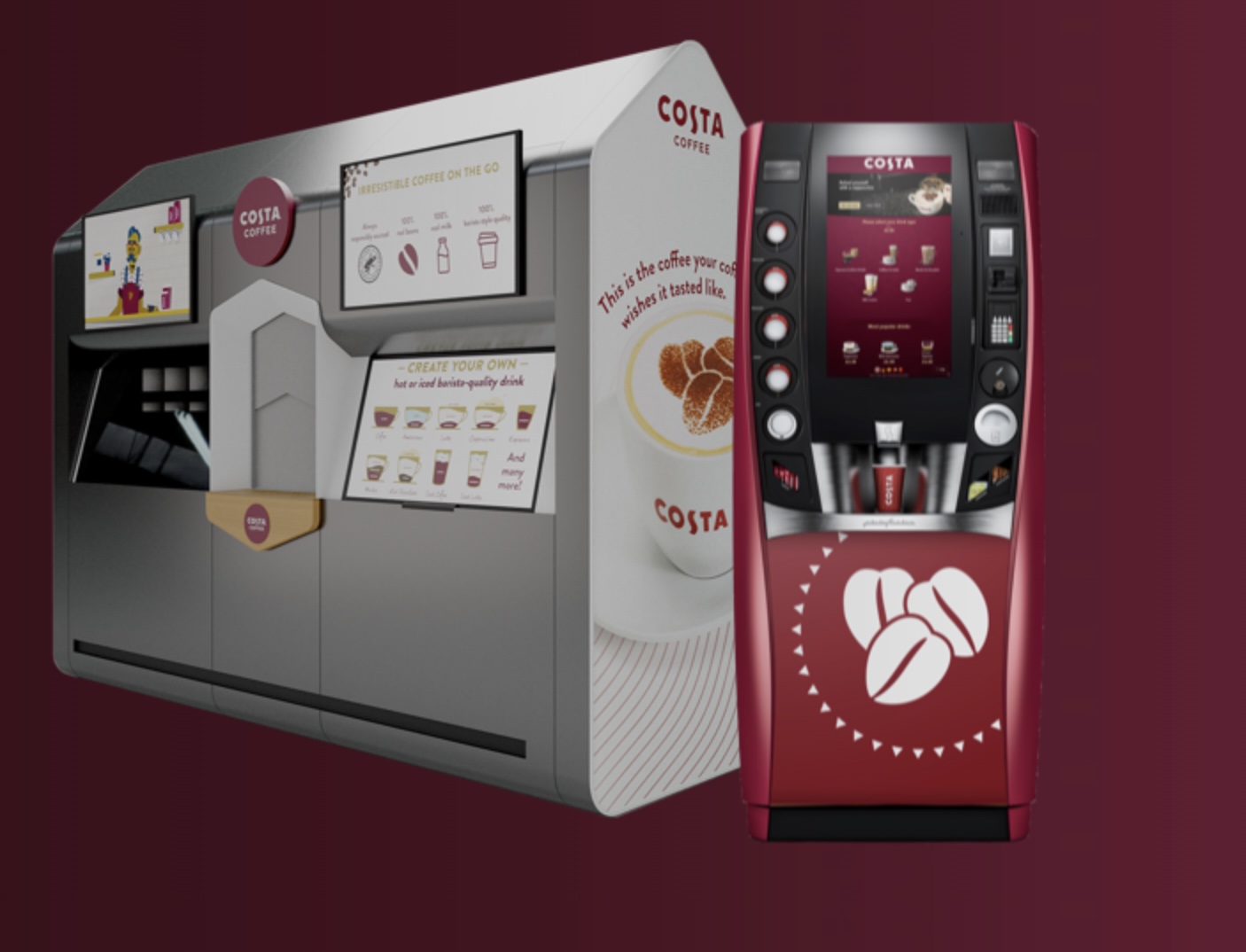 AUTOMATED COFFEE KIOSK. Costa's US strategy is leading with an automated kiosk called Smart Café. The Freestyle-like machines use ground espresso roast beans, fresh milk, powder, and syrups to create what Costa says are barista- quality coffee and hot chocolate drinks without the need for a human. A newer version of the Smart Café produces cold beverages, and stripped-down countertop units are available for crew use or self-serve at smaller retail locations. Costa is accelerating the rollout of the Smart Café program as a solution to labor shortages now faced by operators of cafes, restaurants, hotels, airports, university cafeterias, and similar locations, said Joe Gaines, Costa's US sales director for self-served platforms. The touchscreen-controlled machine can produce more than 200 drink options and was designed by Pininfarina, the same Italian firm that (coincidentally) designed Coke's Freestyle fountain machine. Coca-Cola has placed about 150 units to date in the US, Gaines said. Smart Cafés are provided to customers and revenue is shared on a sliding scale tied to the number of cups sold per day, which can generally range from 50 to more than 200, Gaines said. Smart Café uses the same UK- roasted beans served in Costa coffee shops. There are plans to one day roast the beans in the US, Gaines said. Coca-Cola also is developing what it calls a BaristaBot, a much larger and even more automated machine that incorporates robotics and cloud computing with mobile app- based technology to provide touchless service on demand and more than 1 million combinations of coffees, gourmet syrups, sweeteners and other ingredients, according to Costa.
RETAIL STORE STRATEGY. Costa raised questions among some industry watchers recently when it opened its first US café in an Atlanta office building near Coca-Cola headquarters. The shop serves barista-crafted hot and cold drinks and serves breakfast, lunch, and bakery items "freshly made in-house," according to a LinkedIn Post. Costa Coffee US has since opened a second shop at Emory University's Goizueta Business School (named for the legendary Coke CEO Roberto Goizueta). Gaines said that while other stores are planned, Costa isn't looking to build a Starbucks-like network of cafes or compete with important restaurant customers (such as McDonald's) who sell coffee beverages. "We will be thoughtful and disciplined with any expansion," Gaines said. The stores will give consumers a place to go to "experience" the Costa brand, especially when they have been introduced to Costa at sampling events, he said. The shops are a way to introduce US consumers and foodservice customers to the Costa brand in support of the RTD and automated Smart Café businesses, Gaines also said.