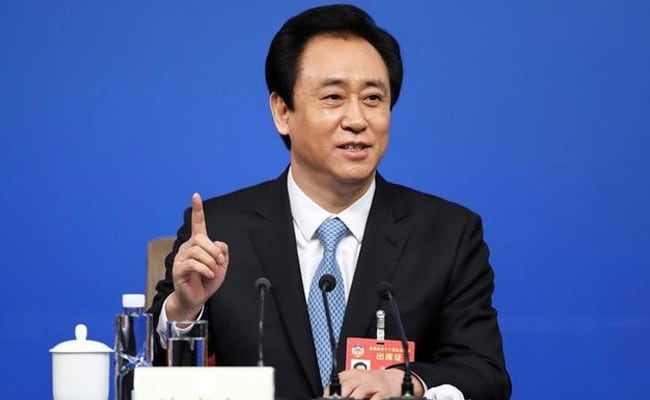 A Chinese billionaire, who was one of the country's most wealthy and influential businessmen, has seen a 93 per cent dip in his fortune. Hui Ka Yan, the Chairman of China Evergrande Group was once worth $42 billion, which made him Asia's second-richest person. However, his wealth has declined to $3 billion, Bloomberg Billionaire Index showed, as reported by CNN. 
Evergrande is the country's most indebted developer with $300 billion in liabilities and has been at the heart of China's real estate problems since 2021. To save his company, the billionaire also ended up selling his houses and private jets. 
The company has about 200,000 employees, raked in more than $110 billion in sales in 2020 and owns more than 1,300 developments in more than 280 cities, the publication added. The company also failed to deliver its preliminary debt restructuring plan last year, stoking questions about its future, as per CNN. 
In addition to his wealth declining, Mr Hui is also finding himself increasingly isolated politically, with the latest signal coming from the Chinese People's Political Consultative Conference (CPPCC). CPPCC is an elite group comprising government officials and the biggest names in the business. 
The businessman had been part of CPPCC since 2008 and of its elite 300-member standing committee since 2013. However, he was told not to attend the annual convention last year as his property empire became the biggest casualty of the nation's credit crunch, reported Sydney Morning Herald. Not only that, he has now been excluded from the latest list of individuals who will form the CPPCC for the next five years. 
"The CPPCC role is like an honorary reward that China gives to faithful business people to make contributions to the country. It's not surprising at all that property tycoons like Hui, who created trouble in the property sector with their over-leveraging, are out of the list," Willy Lam, an adjunct professor at the Chinese University of Hong Kong who has authored several books about Chinese politics told Bloomberg. 
"2023 is a crucial year for Evergrande Group to fulfil its duty as an enterprise and deliver projects in every possible way," the property magnate had said in a New Year message seen by Hong Kong-based newspaper South China Morning Post (SCMP). 
"I believe we can complete our mission of delivery, repay various debts, eliminate the risks, and start a new chapter on survival, as long as all of our work together and never give up on resuming our construction, sales, as well as operations," he had said. 
The Bloomberg Billionaire Index further showed that China's five richest property tycoons also lost about $65 billion combined in the past two years.  
Featured Video Of The Day
Does India Need A Safety Net In Batting?