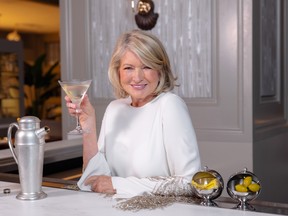 Article content
Somewhere, Martha Stewart is smiling.
Article content
More precisely, the lifestyle icon's gleaming image looms large on a video screen high above the Las Vegas strip, just beneath the hot-air-balloon-like sign for the eminently posh Paris Las Vegas hotel and casino.
Article content
Inside Paris Vegas, there's Stewart again, in a more human-scale video outside her very first restaurant, The Bedford by Martha Stewart. The upscale three-month-old eatery's name and farmhouse-chic ambience are meant to make guests feel as if they've come to dine at Stewart's home in Bedford, New York.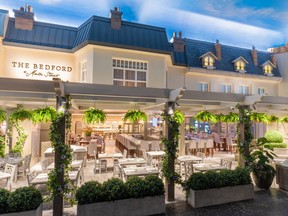 This restaurant of nearly 200 seats is the latest dining destination on the Las Vegas strip that conflates celebrity, fantasy and affluence with great, approachable food and lavish decor. But while the prevailing ambience elsewhere tends to the sleek and dark, the Bedford feels impeccably homey, with a wall of perfectly gleaming copper pots separating the busy kitchen from the marble tabletops in a dining room almost as bright and white as Stewart's smile.
Article content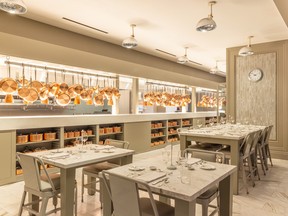 The menu, we were told, includes the same elevated comfort-food dishes that Stewart serves when entertaining. We dug into oysters Rockefeller, a supremely meaty crab cake, plump perogies garnished with caviar, a fantastically bronzed roast chicken and classic desserts fit for a billionaire and her family and friends.
We fall a few zeroes short of being billionaires. Still we were pampered at the Bedford, as crisply clad servers worked tableside at every opportunity, making huge, icy martinis, carving and saucing a roast chicken and even smashing and then garnishing baked potatoes.
Our dinner at the Bedford was just one highlight during several days of celebrity-associated dining and drinking, with some shows and sightseeing thrown in to whet our appetites or help us digest.
Article content
Restaurants and lounges associated with everyone from star chefs like Bobby Flay and Gordon Ramsay to music icons Blake Shelton and the Jonas Brothers have recently opened, or are about to open, in Las Vegas. Indeed, one Vegas insider told me celebrity-themed restaurants do better than their less star-studded peers because tourists reserve hoping to catch a glimpse of the rich and famous.
"Gordon Ramsay has six restaurants here. That's how well the celebrity restaurants do in Vegas," she said.
We also made a brief stop at Ramsay's Kitchen, which opened Nov. 10 inside Harrah's Las Vegas. While Ramsay's name looms large at this restaurant's entrance, his presence otherwise in the dining room is more understated than at his Hell's Kitchen restaurant in Caesar's Palace. Here, there was just an abstract-art likeness not far from the sleek raw bar.
Article content
Ramsay's Kitchen boasts an eclectic, globetrotting menu that nonetheless includes the British star's signature beef Wellington and sticky toffee pudding. At the appealing bar, we enjoyed tuna tartare, simple but perfectly seasoned, and a smooth, satisfying Witch's Elixir cocktail.
Before dinner at the Bedford, we stopped for cocktails at Vanderpump à Paris, also located in Paris Las Vegas. The British TV personality made famous by The Real Housewives of Beverly Hills, Vanderpump Rules and Vanderpump Dogs opened this flowery, lushly feminine lounge last spring. Here, eye-popping drinks, often pink and sometimes served with a smokey flourish, were tops.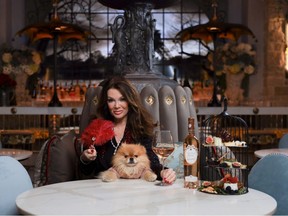 We had a grand tour of the culinary hits at RPM Italian, which opened in the Forum Shops at Caesars Palace in June 2022. Some of its cachet stems from its celebrity-couple co-owners Bill and Giuliana Rancic, respectively the winner of season one of The Apprentice and an E! News host, who together starred in their reality TV series Guiliana and Bill.
Article content
RPM Italian, which the Rancics co-own with the Lettuce Entertain You Restaurants group, competes in Vegas's crowded upmarket Italian eatery space. For starters, there are two celebrity-branded Italian eateries connected to Food Network personalities — Giada Di Laurentiis's eponymous eatery at the Cromwell Hotel Las Vegas and star chef Flay's new restaurant Amalfi in Caesars Palace.
At RPM Italian, the fare was familiar but modernized and luxurious, including truffled garlic bread, burrata ringed with pieces of Maine lobster, and squid-ink spaghetti with spicy king crab. Best of all was a showstopping dry-aged bistecca Fiorentina, a doubly thick porterhouse bolstered by cloves of roasted garlic or a squeeze of lemon. Somehow, we had room for feather-light Italian doughnuts called bomboloni and a massive and superior chocolate tartuffo.
Article content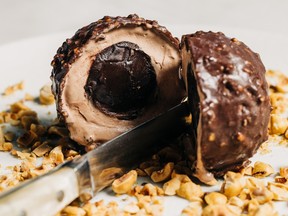 We also visited haunts where celebrities hang out.
At Eight Lounge, the cushy cigar bar in Resorts World Las Vegas, we bumped into Mark Davis, owner of the Las Vegas Raiders. We were equally impressed by the bar's humidor, which contains a half-million dollars' worth of cigars and accoutrements, plus cigar lockers for members such as Michael Jordan and Luke Bryan.
Our best brunch was at CATCH, in the ARIA Resort & Casino, a place where famous folks such as Jay Z, Kim Kardashian, Chrissy Teigen and others pop by, based on the star-studded video playing on an endless loop near the entrance.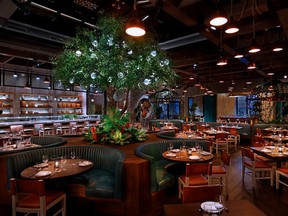 While we had no celebrity run-ins, we were wowed by the oh-so-Instagrammable waffle-and-ice-cream tower, crunchy-fluffy cinnamon pancakes and plates of high-end sushi, of which truffle sashimi was the most irresistible.
Article content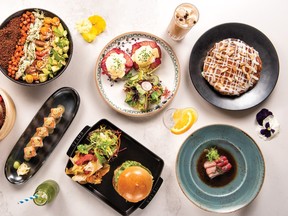 At Barbershop Cuts & Cocktails, a speakeasy and intimate live music venue inside the Cosmopolitan, musical greats such as Bruno Mars and John Legend have taken to the stage unannounced. We enjoyed an afternoon tour of this hidden gem, sampling the handiwork of ace mixologist Tony Arnone, including his Smooth as Silk cocktail, a coconut rum-based drink made for R 'n' B star Mars.
Between meals, we hit some of Las Vegas's must-see attractions.
Opened in February 2021, Area15 is a trippy "immersive entertainment district" of nearly 400,000 square feet that kept us amused for an afternoon. Inside, multiple art installations blew our minds while cut-above eateries and bars provided sustenance.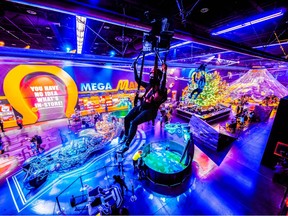 Outside, we went up the LIFTOFF, an open-air observation tower-type ride that slowly ascends more than 100 feet before its gentle spin offers a panoramic view.
Article content
We also left the ground on the High Roller ferris wheel for a night-time view of the Las Vegas Strip from more than 500 feet up.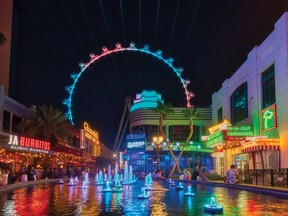 Freestyle Love Supreme, the Lin-Manuel Miranda-produced show that just arrived at the Venetian Resort Las Vegas, was filled with ingenious rapping based on stories elicited from audience members. Mad Apple, the Cirque du Soleil show at New York-New York Hotel & Casino, was a wild blend of astonishing acrobatics and dance, visceral music, and admittedly raunchy stand-up comedy.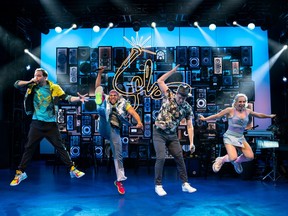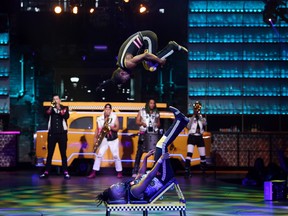 As jam-packed as the Vegas strip is with star-powered restaurants, next year is to see a host of additions.
Among them is Blake Shelton's Ole Red, a massive restaurant and music venue set to open at the Grand Bazaar Shops at Bally's Las Vegas. Completely different are the intriguing modern Mediterranean restaurants HaSalon and Pomegranate, expected next year at the Venetian and Wynn Las Vegas respectively.
HaSalon, from the celebrated Israeli chef Eyal Shani, has outposts in Israel, New York and Miami, all famed for their party spirit and lofty yet whimsical food. Pomegranate's chef is Israeli-born, New Orleans-based Alon Shaya, a multiple James Beard Foundation award-winner.
All the more reason to return to Vegas, I would say.
Peter Hum visited Las Vegas in November 2022 as a guest of the Las Vegas Convention and Visitors Authority.