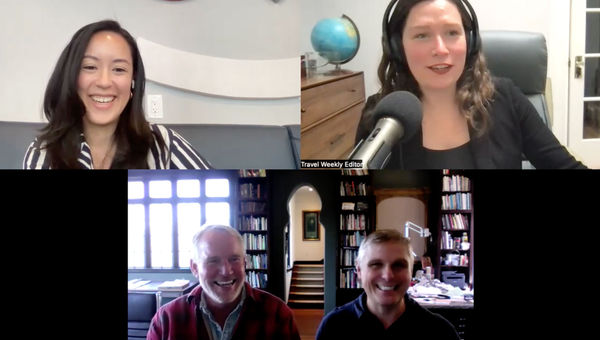 Clockwise: Christina Jelski and Rebecca Tobin of Travel Weekly with Brian Adkinson and Jim Roberts of the Madrones and Brambles hotels, which includes an onsite dispensary and wine tasting room.
As more places in the U.S. have legalized or decriminalized marijuana, and more travelers are interested in using  marijuana during their vacations, are cannabis-friendly hotels on the rise — and have they gotten more luxurious?
In this episode, host Rebecca Tobin and senior hotels editor Christina Jelski talk with Jim Roberts and Brian Adkinson, the co-owners of the Madrones and the Brambles, two boutique properties in Mendocino County, Calif., on how their onsite dispensary and cannabis program takes inspiration from the wine tourism industry.
Plus, we discuss how this sector of the travel industry is growing, and how hotels and inns can strike a balance between appealing to both cannabis users and to those who don't partake.
This episode was recorded Oct. 11 and has been edited for length and clarity.
Related links
Cannabis-friendly hotels target high-end travelers
Jamaica cannabis dispensary touts 'world-class' experience
Consuming weed in Las Vegas is about to get easier
The Madrones and the Brambles hotels in California