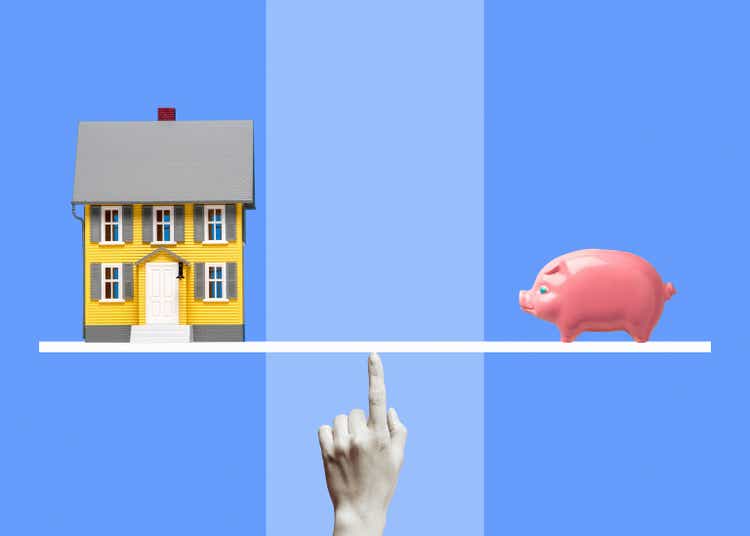 Radian's January 18th big news
I'll quote from its press release, then put in my two cents:
"Radian Guaranty has not paid an ordinary dividend to Radian Group since the start of the financial crisis in 2007, due to its negative unassigned surplus and the restrictions for doing so under Pennsylvania's insurance laws."
The Radian stock we can buy is for a holding company, which in turn owns insurance subsidiaries as its operating businesses. Amazingly, for the last 15 years, the regulator of Radian's insurance subs has greatly limited the subs' ability to pay its earnings to holding company investors.
"As a result of the favorable impact of these recent capital actions to Radian Guaranty's unassigned funds balance and the expectation for continued positive financial results for Radian Guaranty, the company expects Radian Guaranty to resume paying recurring ordinary dividends to Radian Group, without the need for prior regulatory approval, beginning in the first quarter of 2023."No more restrictions on payments to shareholders!

"Distributions from Radian Guaranty to Radian Group of $382 million… on December 30, 2022." That's $2.43 per share newly available to shareholders for dividends or stock buybacks.

"Authorization of New $300 Million Share Repurchase Program." Radian is getting right to work returning this cash to shareholders.

"The company expects Radian Guaranty to pay total ordinary dividends to Radian Group during 2023 of approximately $300 to $400 million. Beginning in 2024, the company expects Radian Guaranty's ordinary dividend capacity to be primarily driven by the entity's ongoing statutory earnings." Another roughly $2.25 per share is headed our way this year, and at least that much per year for the foreseeable future, assuming steady earnings.
What this announcement means for Radian's shareholders?
A rising dividend. Radian currently pays an $0.80 dividend, for a current yield of 3.9%. I expect that dividend to increase by 5-10% a year.
A steadily declining share count. Over the past four years, Radian bought back 29% of its shares. I expect the company to fully utilize its current $300 million buyback authorization this year, which at the current stock price of $20.90 reduces its share count by 9%. And it can keep buying back 9% a year if its stock price doesn't change. That equates to 9% annual EPS growth if dollar earnings stays flat.
All of this for a 7 P/E ratio stock! Seeking Alpha says that Wall Street analysts expect Radian to earn $3.09 per share this year. For a company that should grow EPS by 9% a year, all else equal.
Why this great news is happening? – The capital-light strategy
Radian is an insurance company, protecting its insureds – holders of mortgages with low downpayments (nearly always Fannie Mae and Freddie Mac) – against the risk of default. Radian has to hold investors' capital as a buffer for the insureds in case default costs exceed the revenues Radian collects for insurance premiums paid by its mortgage borrowers.
Over the past decade, Radian has adjusted this operating model by increasingly reinsuring its risk – sharing with other insurers its premiums earned and potential default costs. The negative of this strategy is that it gives away revenues. For example, in 2014 Radian earned $845 million in premium income from $172 billion of insurance in force. In Q3 '22, despite 50% growth in insurance in force, it earned only 14% more premiums.
But the reinsurance creates three positives for Radian:
Its default costs will obviously be lower.
Its earnings will be more stable, because the sharing of losses kicks in when a housing recession occurs.
Radian's regulatory capital requirement is much less, by about one-third.
The third point is why I call the active use of reinsurance as a "capital-light" strategy. The result is that while Radian's dollar earnings are lower with active reinsurance, those earnings are very largely free cash flow available to investors. Radian can therefore issue the press release I discussed above. And grow its EPS by 9% a year with flat dollar earnings.
But can Radian's dollar earnings truly stay flat, or even grow? That depends upon the outlook for mortgage defaults. I am confident that mortgage defaults will rise only moderately even if the U.S. this year slips into a recession, and is generally expected. Here is my reasoning.
The housing big picture: We're simply not facing another '08 for housing
Most of you remember the serious travails of the housing market in the wake of the '08/'09 Great Recession. (If you're too young to remember it, thanks for taking time from TikTok.) But as I keep saying in Seeking Alpha articles, current mortgage credit risk is almost the polar opposite of '08, in four crucial ways:
Housing supply and demand
Mortgage underwriting standards
Housing affordability
Unemployment
Housing supply and demand. The balance between housing supply and demand is easily measured by housing vacancy rates. This chart shows the vacancy rate history for the U.S. housing market, including both single- and multi-family: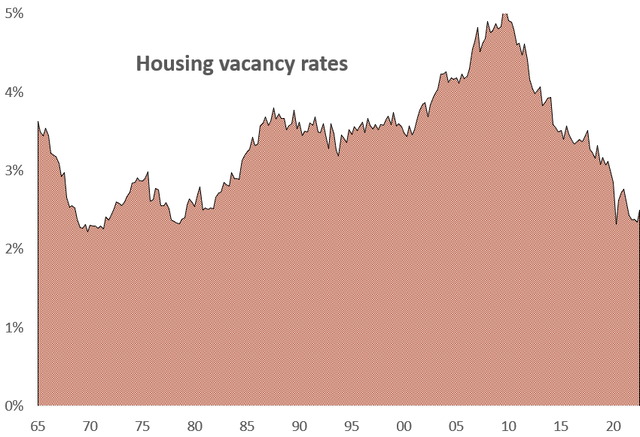 The U.S. had a record 2 million excess empty homes in '08. Today it has a near-record shortage of about 1½ million units. That shortage significantly limits the downside for home prices.
Mortgage lending standards. Leading up to '08 was almost certainly the worst home mortgage lending standards in U.S. history. Today, we are continuing a more than decade-long stretch of conservative lending standards. This chart presents the evidence: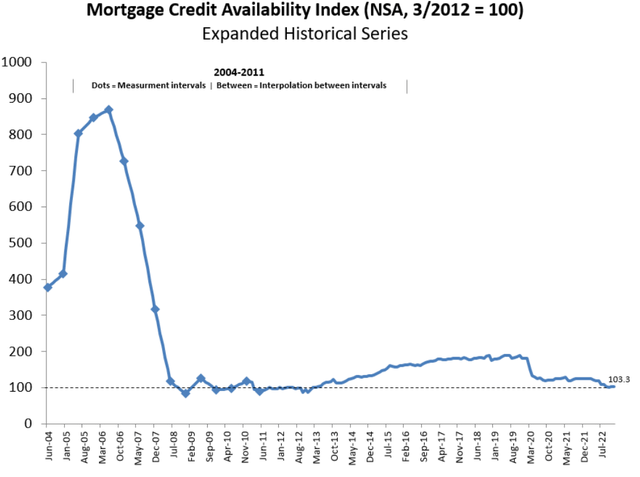 Better lending standards means fewer borrowers who have to default, which in turn also limits the downside for home prices.
Housing affordability. I argue that as far as mortgage credit managers are concerned, housing today is very affordable. What am I talking about? For example, from the Fannie Mae National Housing Survey (January 9, 2023):
"Only 21% of respondents believe it's a good time to buy, likely owing to the ongoing affordability challenges posed by elevated mortgage rates and home prices."
But this quote is about buying a home today. Mortgage credit managers are concerned about the ability of existing mortgage holders to maintain their payments. Here is a history of the cost of existing mortgage debt: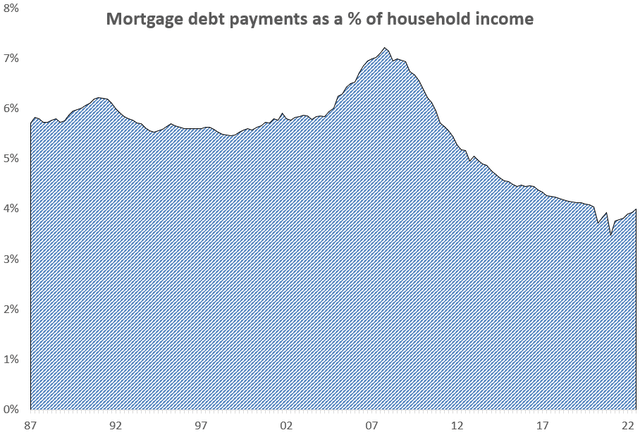 Mortgage payments are near a record low as a share of household income, compared to a record high going into '08. That will certainly limit the number of homeowners who have to default in the likely coming recession.
Unemployment. Job loss of course is the first step in creating the risk of a mortgage default. The unemployment rate rose from 4½% to 10% during the '08/'09 recession, a 5½ percentage point increase. Today it stands at a mere 3.5%, one of the lowest rates in history. How much higher can it go if indeed we are heading into a recession?
I doubt anywhere close to 5½ percentage points higher. A major reason for my belief is this next chart, which shows the "JOLT" survey of business job openings:

There are 10 million job openings today, a near record. A recession therefore should mean that many businesses can pull back on capacity merely by withdrawing a job search rather than by firing somebody. Which of course would limit the number of defaults.
Wrapping up – Radian's stock is cheap, as are its mortgage insurance peers
Peers MGIC (MTG), Essent (ESNT) and National Mortgage (NMIH) all follow the same capital-light strategy. All obviously benefit from the same protections against mortgage defaults. And all three are cheap, at 6.2-6.5 P/Es based on Seeking Alpha's summary of '23 analyst EPS expectations.
The S&P 500 is trading at over a 17 P/E using the current optimistic S&P 500 EPS estimate of $225 by Yardeni Research. The mortgage insurers are therefore selling at less than 40% of the valuation of the average company. A 50% rise in their stock prices takes them to a 10 P/E and still less than a 60% relative valuation. Downsides from here for the mortgage insurer stocks almost certainly require significant housing problems, which in turn require a pretty serious recession. In which case, the mortgage insurers will have plenty of company.