One of Buffalo's fastest growing immigrant communities might trace its political "arrival" to a snowy day in 2019, when Fillmore Common Council aspirant Mitch Nowakowski was seeking signatures for designating petitions.  
The ultimately successful Council member recalls his list of Democrats included names with far different spellings than the Polish or Black families long connected with the neighborhood. On Woltz Avenue, Nowakowski recalls, he knocked on the door of Mohammed Choudhury, a native of Bangladesh and part of a recent wave of transplants from New York City. After the new American took his new friend Nowakowski to the homes, mosques and meeting places of Buffalo's Bangladeshi population, a new political alliance was born.
"We realized that this community was not engaged electorally," Nowakowski said. "Together, we devised a plan to engage this electorate and explain the importance of voting. He then joined my campaign as a volunteer and we worked to mobilize their vote. I claimed victory and won the Broadway-Fillmore election districts along the way."
Since then, Buffalo's Bangladeshi community has followed the trails blazed by Fillmore's Black and Polish communities before them, and in other parts of the city, by the Irish, Italians and Germans. Now Buffalo absorbs still another immigrant community into its politics, with Bangladeshis voting, holding patronage positions and even forming a  Buffalo Bangladeshi Democratic Club.
"They are definitely a force and are definitely involved," Erie County Democratic Chairman Jeremy J. Zellner said. "They're growing, and learning the political system and government structure because they want government services delivered just like everybody else."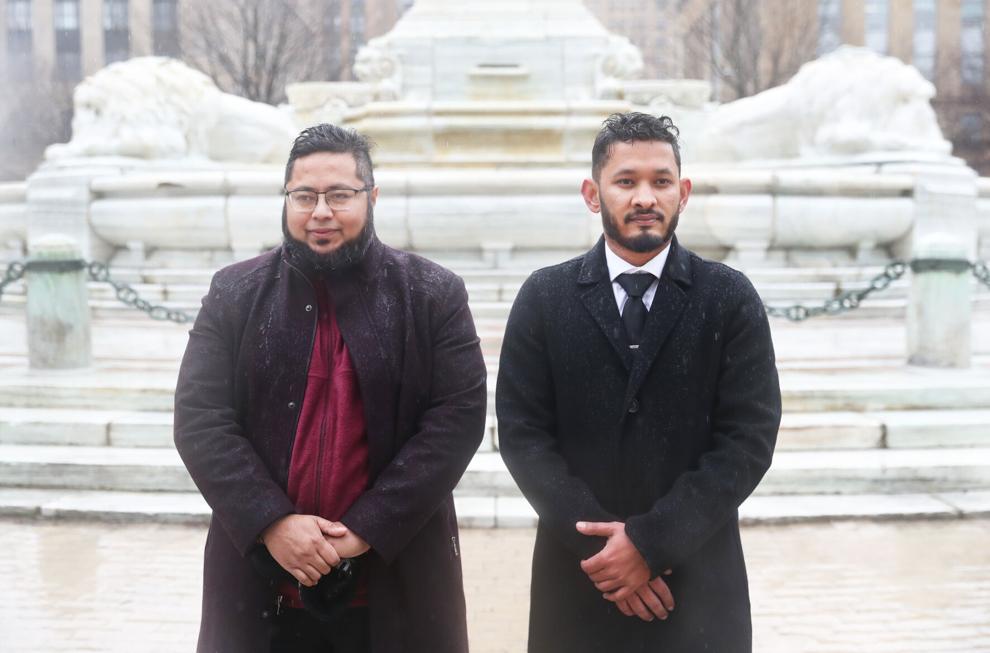 With some estimates of more than 1,000 families relocating from Queens and the Bronx over the past decade, Buffalo's Bangladeshi community is already well documented for opening new businesses, repairing much of the East Side's dilapidated housing stock and converting shuttered churches into mosques. Officials say at least 50 new Bangladeshi businesses have opened in the Broadway-Fillmore area, and new census figures show an increase of more than 3,100 new people, reversing decades of decline and ranking it among Buffalo's fastest-growing.
Many found their way to Buffalo seeking a sizable community minus the big city challenges.
"One of my uncles came here in 2006, and my dad and I, we came up to visit one day in 2009," said Maruf Ahmed, 32, a real estate investor. "We said to each other: 'This is nice.' "
"But then there were only about 20 Bangladeshi families here," he added. "We were on a mission: We were calling everybody and telling them to come to Buffalo."
More and more Bangladeshis took up Ahmed and others on the suggestion. Their pitch usually involved a tour of the city, including the East Side where deteriorated homes could be cheaply bought and fixed. Soon, the transplants established the Buffalo Muslim Center at 995 Fillmore Ave., which now draws 700 to 800 people every Friday for prayers.
"This is how it all started," Aruf said.
Since then, the community has found more and more ways of establishing itself as part of Buffalo. During the Christmas blizzard, for example, several Bangladeshis banded together in a door-to-door effort to check on residents, and also made requested spot checks and house calls. They drove seven vans over nearly a week on main roads, then walked on side streets. Overall, group leader Mohammed Osman Shimul said, they transported nearly 500 people from their homes to a network of warming centers the group set up at several Bangladeshi-owned businesses, buildings and homes.
Now their participation in Democratic politics may signal a major assimilation. Choudhury, president of the Buffalo Bangladeshi Democratic Club, says the community got involved right after Nowakowski began knocking on their doors.
"Nobody had ever knocked on our doors before," he said, adding Bangladeshis signed up as Democrats because no Republicans ever approached.
But growing pains accompanied the new community. Despite their significant investments in real estate, crime often plagued their neighborhoods. And as new arrivals, Bangladeshis had no idea how to seek services from City Hall or settle their children into Buffalo Public Schools.
"How do you do this? How do you do that?" Aruf said. "Slowly, people started complaining."
One of the community's first accomplishments stemmed from cultural challenges posed by public schools. Muslim children found no foods prepared in accord with Islamic dietary laws (halal) available at lunch, prompting Nowakowski and Lovejoy Council Member Brian Bollman to seek their introduction. And as the community grew, Democrats began connecting. Eventually, Ahmed and Choudhury formed the Buffalo Bangladeshi Democratic Club, now boasting more than 400 members with about 250 who are active.
Choudhury explained the club performs all the functions of traditional political organizations throughout the city.
"We do campaigning and organizing. We do petitions and make calls on Election Day. We help with transportation," he said. "And if there's any kind of problems in the community we try to help."
Last year the club worked for Mayor Byron W. Brown's re-election, and joined rallies last fall for Gov. Kathy Hochul. Its growth as a political force, says Ahmed, may have crystallized last March at an introductory lunch attended by the area's top Democrats: Rep. Brian Higgins, County Executive Mark C. Poloncarz, county legislators, City Council members and Assembly members.
"This was big; it was huge," Ahmed said. "That was the first event where we brought all the leaders together. On that day everyone now knew there was something called the Buffalo Bangladeshi Democratic Club."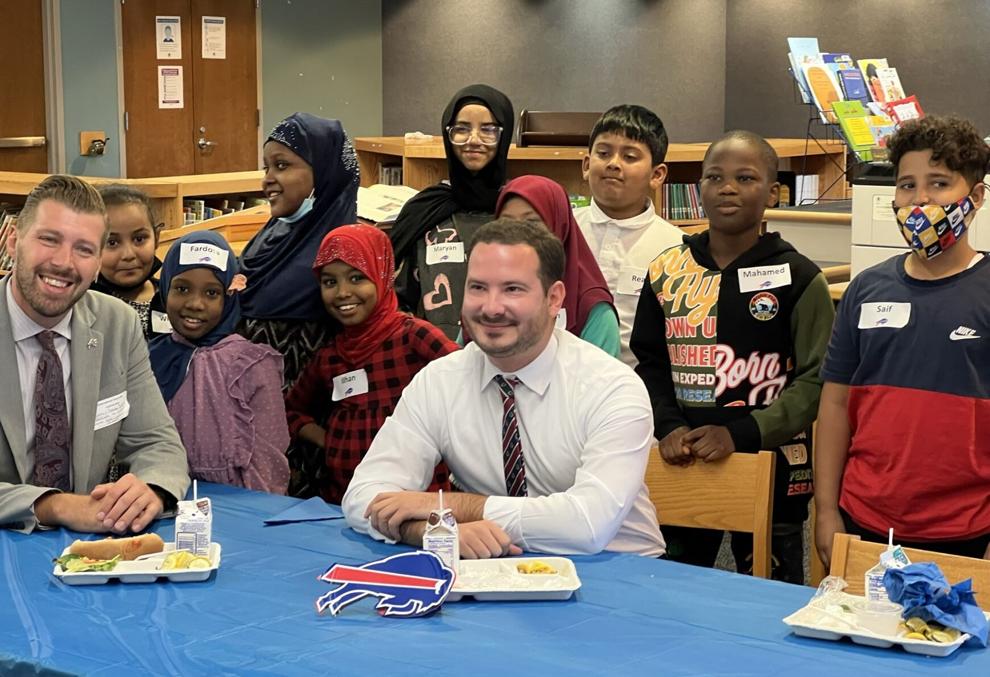 The Bengladeshi entrance into Buffalo politics represents nothing new – just by different people from a different part of the world at a different time. Historian Scott G. Eberle, who has written extensively on Buffalo history, notes the long influences of ethnic and national groups who supplanted the early Anglo Saxon Protestants in the city's politics. Buffalo's political history in the 20th century, he says, is reflected in its mayoral surnames, starting with the Germans (Diehl, Fuhrmann, Schwab, Roesch, Zimmerman), the Poles (Mruk, Pankow, Kowal, Makowski), the Italians (Sedita, Masiello), the Irish (Kelly, Dowd, Griffin), and finally Blacks with the election of Brown in 2005.
Now Buffalo, despite its struggles with poverty and ingrained problems, beckons again.
"Just as Roman Catholic parishes eased the way for new immigrants from Germany, Ireland, Italy, Poland and other European countries, and Protestant congregations helped anchor Black neighborhoods, Muslim institutions in Buffalo now act as magnets for Bangladeshi migrants in Buffalo," Eberle says. "Immigration has enriched Buffalo for two-and-a quarter centuries. The faces and languages change, but the benefits continue to accrue."
Now Bangladeshis are spotted in Buffalo's halls of power as much as members of other key ethnic groups. Choudhury, for example, holds a key post under Zellner at the Erie County Board of Elections. Another increasingly visible member of the community – Sahi Choudhury, 24 – works for Nowakowski in City Hall as a Bangladeshi liaison. Some have taken exams for the Police Department. 
Ahmed and Mohammed Choudhury realize Bangladeshi dominance of Buffalo politics may loom far in the future, but feel good about what they have accomplished and what lies ahead. For now, they are excited about continuing their partnership with Nowakowski, who still represents the long Polish dominance of the district's politics.
Ahmed notes a Bangladeshi woman was just elected to the New York City Council from Brooklyn, and envisions the day when it could happen in Buffalo. But not yet.
"We don't have anyone yet would have the ability, but I can see it happening," he said. "Right now, it's Mitch. When he's ready to move out, then maybe in the Fillmore District we can see what we can do."
Ahmed and comrades seem in no hurry, thankful for what Buffalo has already offered.
"This is America," he says. "You have freedom of speech and the right to be whoever you want to be."